'Broader Financial Stress May Emerge:' IMF Warning About Evergrande Crisis
Chinese property developer Evergrande's struggles could ripple through the global economy, according to the International Monetary Fund (IMF). It came as the debt-laden property giant has missed payments on bond interests for the third time in three weeks.
"While the authorities have the tools to step in if the situation were to escalate, there is a risk that broader financial stress may emerge, with implications for both the Chinese economy and financial sector as well as global capital markets at the extreme," the IMF said in its Global Financial Stability Report (pdf) published this month.
Researchers said the strains can widely spread to the domestic property market, financial institutions such as banks and trust companies, offshore markets, and global investors.
"There are challenging trade-offs in terms of the extent of support to affected financial entities and sectors and the timing of the intervention," according to the report.
Since Evergrande's eye-watering $300 billion debt pushed the property developer to the brink of collapse, with hundreds of unfinished projects nationwide, Chinese authorities have been worried about knock-off effects over the market future.
A state-owned company stepped in to buy Evergrande's stake in Shengjing Bank for $1.5 billion. Reuters said Beijing has prodded government-owned firms and state-backed property developers to purchase some of Evergrande's assets, citing unnamed sources.
"[The Chinese regime] will first spin-off Evergrande's assets, the ones with good cash flow or good values, to a state-owned enterprise," Hong Kong-based finance and economics columnist Liao Shiming told The Epoch Times.
Hong Kong-listed real estate firm Hopson Development planned to purchase around 51 percent of Evergrande's property services unit, Chinese media reported.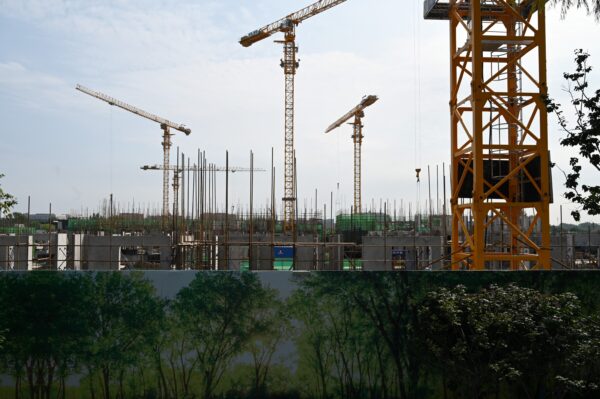 Yet problems have already spread well beyond just Evergrande, as more high-profile real estate companies joined the ranks, possibly running into serious trouble.
Last week, mid-sized rival Fantasia missed paying $206 million worth of bonds that had matured.
More recently, Beijing-headquartered developer Modern Land with $1.35 billion of bonds outstanding, is seeking an extension to avoid a possible default; Shanghai-based homebuilder Sinic Holdings said in an announcement (pdf) on Oct. 11 that it would be unable to repay a $250 million dollar bond due Oct. 18.
China's once-booming property sector now sees a cooling housing market as home sales fall, despite Beijing's claim to have maintained "the steady and healthy development" of its real estate market.
"A slowdown in economic growth and a tightening in financial conditions in China could bring spillovers to the rest of the world," the IMF said.