CECC Holds Hearing on 'Two Decades of Human Rights Abuse and Defense in China'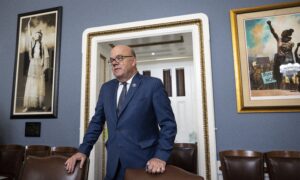 The Congressional Executive Commission on China will hold a hearing on Tuesday, Dec. 13, entitled, "CECC at 20:  Two Decades of Human Rights Abuse and Defense in China," to hear testimony on China's current domestic situation and international legal landscape as part of its continual effort to monitor and assess the Chinese Communist Party (CCP) record of human rights over the past 22 years.
CECC Chair Sen. Jeff Merkley (D-Ore.) and Cochair Rep. James P. McGovern (D-Mass.) will preside over testimony from Hauser Human Rights Scholar and Pozen Visiting Professor Teng Biao, Senior Fellow of the Robert S. Strauss Center for International Security and Law Rana Siu Inboden, and China Director of Human Rights Watch Sophie Richardson.
The bipartisan and bicameral commission is made up of nine senators and nine members of the House of Representatives along with five senior administration officials appointed by President Joe Biden. An eight-member staff, comprised of U.S. experts on the CCP specializing in religious freedom, labor affairs, Tibet and ethnic minorities, law, the internet, and free-flow of both broadcast and print journalism, serves the commission in research and advisory roles.
The CECC submits an annual report to congressional leadership and the president. This report is based on information gleaned from formal hearings and informal roundtables, listening to the testimony presented by a variety of CCP experts and activists from academia and the governmental and business sectors. The report also incorporates the intelligence that the CECC staff gathers from its frequent trips to China, where members meet with CCP officials, U.S. diplomats, and various scholars and analysts.
The CECC Dec. 13 hearing comes one month after releasing its 2022 Annual Report.
CECC Chair Merkley said of the report: "The Chinese Communist Party's 20th Party Congress last month reinforced Xi Jinping's grip on the levers of power in China, which continue to be weaponized against the universally recognized human rights of the people of China and, increasingly, those outside China's borders."
"This report from the Congressional-Executive Commission on China documents the reality of authoritarian control and the moral bankruptcy of Chinese authorities' view of human rights," he said.
NTD will livestream this event from 10 a.m. ET on Dec. 13.