China Buys American Land Near Military Base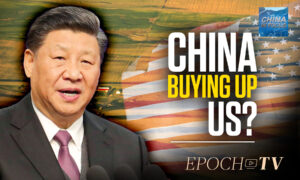 The Chinese Communist Party is buying up farmland in North Dakota. But there's a problem: the land is near a military base. And lawmakers are voicing concerns.
Huawei is reportedly caught sniffing around U.S. nuclear sites. The Chinese telecom giant has been installing its gear close to the facilities. With it, the FBI says the company may be able to disrupt U.S. military communications.
A report shows the Chinese regime is building a network of informants inside America's central banking system. Allegedly, Chinese officials even threatened to imprison a Fed economist to force him to hand over sensitive economic data.
Some Americans are more willing to share their DNA with genetics companies—hoping to learn more about their health and heritage. But a lawmaker is warning against the services. He says foreign adversaries could use it to make targeted bioweapons.
Topics in this episode:
China Buys American Land near Military Base
Concerns Over Chinese Purchase of U.S. Farmland
China Now Top Foreign Buyer of U.S. Real Estate
China Tried to Build Fed Informant Network: Report
Huawei Telecom Gear Built near U.S. Nuclear Bases
Lawmaker Warns of Targeted Bioweapons That Use Dna
Taiwan Military Conducts Annual Naval Exercise
Taiwan Holds Annual Air Raid Drill Amid China Threat
Fmr Ambassador: Beijing Allowed the Virus to Spread
Have other topics you want us to cover? Drop us a line: chinainfocus@ntdtv.org
Have other topics you want us to cover? Drop us a line: chinainfocus@ntdtv.org
And if you'd like to buy us a coffee: https://donorbox.org/china-in-focus
Subscribe to our newsletter for more first-hand news from China.
Follow China in Focus on social media:
Twitter: https://twitter.com/ChinaInFocusNTD
Truth Social: https://truthsocial.com/@chinainfocus
Gettr: https://gettr.com/user/chinainfocus
Facebook: https://www.facebook.com/NTDChinainFocus
Gab: https://gab.com/ChinaInFocus
Telegram: https://t.me/ChinainFocusNTD
Click the "Save" button below the video to access it later on "My List"