China Stages More 'Combat Drills' Near Taiwan During US Lawmakers' Visit
The Chinese regime staged more military drills around Taiwan on Aug. 15, as a group of U.S. lawmakers met with Taiwanese President Tsai Ing-wen.
The five-member U.S. congressional delegation, led by Sen. Ed Markey (D-Mass.), arrived in Taipei late on Aug. 14. Their unannounced two-day trip came on the heels of a similar visit by U.S. House Speaker Nancy Pelosi (D-Calif.) that drew the wrath of the Chinese Communist Party (CCP).
The Chinese military organized "multi-service joint combat readiness patrols" and "actual combat drills" in the sea and air spaces near Taiwan, Wu Qian, spokesperson of Beijing's Defense Ministry said in an Aug. 15 statement.
The new drills were a "resolute response and solemn deterrence to U.S-Taiwan collusion," Wu said. "The Chinese People's Liberation Army (PLA) continues to train and prepare for war."
The communist regime in Beijing views the self-ruled island as its own territory, to be taken by force if necessary. It is also against any official exchanges between Taiwan and other governments around the world that might suggest its status as a de facto island-state.
The latest announcement came after the CCP drew international condemnation for using Pelosi's visit earlier in August as a pretext to launch a series of escalated military operations. These drills include live-fire military exercises and sending several ballistic missiles flying over Taiwan.
As of 5 p.m. local time, Taiwan's Ministry of National Defense reported five Chinese military warships and 30 aircraft in and around Taiwan Strait.
We condemn PLA for jeopardizing the peace and security of our surrounding region with announcements of military drills. #ROCArmedForces monitor activities around our surrounding region and respond to every situation with professionalism to #ProtectOurCountry.

— 國防部 Ministry of National Defense, R.O.C. 🇹🇼 (@MoNDefense) August 15, 2022
The Meeting
Tsai, who met with U.S. delegations in her office in Taipei, said Beijing's "prolonged military exercises" have "greatly affected regional peace and stability."
"We are engaging in close cooperation with international allies to closely monitor the military situation," she said. "At the same time, we are doing everything we can to let the world know that Taiwan is determined to safeguard stability and the status quo in the Taiwan Strait."
Markey reaffirmed Washington's support for the democratically governed island.
"We have a moral obligation to do everything to prevent an unnecessary conflict," he told Tsai. "Taiwan has demonstrated incredible restraint and discretion during challenging times."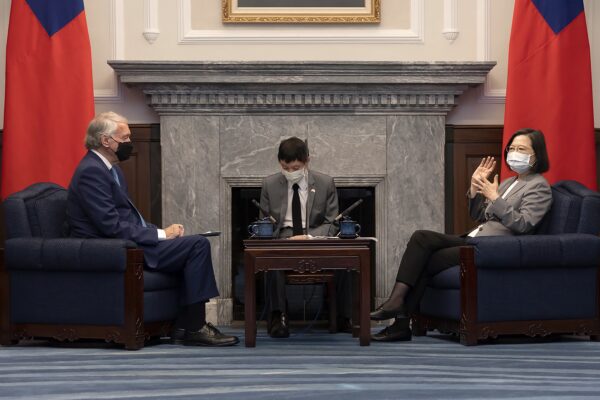 This week's delegation also includes Reps. John Garamendi (D-Calif.), Alan Lowenthal (D-Calif.), Don Beyer (D-Va.), and Delegate Amata Radewagen (R-American Samoa).
But unlike Pelosi's, this group's trip was relatively low-key. Tsai's meeting with the lawmakers was not carried live on her social media pages, which is the general practice when high-level foreign guests visit.
The group left Taiwan in the late afternoon on Aug. 15, and only then did the presidential office release footage of the meeting with Tsai. It was not immediately clear where they were traveling next.
Full of thanks for the bicameral & bipartisan #US congressional delegation led by @SenMarkey for their visit. Authoritarian #China can't dictate how democratic #Taiwan makes friends, wins support, stays resilient & shines like a beacon of freedom. JW pic.twitter.com/H31SILqAvo

— 外交部 Ministry of Foreign Affairs, ROC (Taiwan) 🇹🇼 (@MOFA_Taiwan) August 15, 2022
Taiwan Premier Su Tseng-chang later said they would not be deterred by China's response to such visits by foreign friends.
"We can't just do nothing because there is an evil neighbor next door, and not dare to let visitors or friends come," he told reporters.
Reuters contributed to the report.