China's COVID-19 zero-tolerance approach has locked down one city after another, hence workers of the "world's factory" are blocked at home and can't get to work, trucks can't ship non-pandemic-related goods, and ports can't take care of ships.
"Lockdowns in China are already causing disruptions [in global supply chain]," economists at Japanese financial holding company Nomura said in a report on Jan. 7.
As a manufacturer for the global market, China imports raw materials from all around the world and exports labor intensive products. In 2021, over 22 percent of global trade was shipped into or out of China. China's trade in 2021 was 39.1 trillion yuan ($6.185 trillion).
Statista reported data from the United Nations Statistics Division in May 2021: "China accounted for 28.7 percent of global manufacturing output in 2019."
No Production
The lockdown and quarantine policies launched by the Chinese regime in the cities that announced COVID-19 outbreaks have forced factories to be shut down.
In the cities where no pandemic was reported, many factories were shut down anyway because they couldn't receive  raw materials due to lockdowns in other cities or didn't have enough orders.
Xi'an, the largest city and business center in northwestern China, with a population of 13 million, was locked down for weeks in December 2021 and January 2022.
American Micron and South Korean Samsung have factories in the city to produce the processor chips used in smartphones, personal computers, auto parts, and services. Both of the companies warned in early January that the sudden lockdown could affect these factories' operation, and would intensify the global chip shortage.
Samsung's Xi'an factories manufacture about 42 percent of the company's NAND, which is equal to 15 percent of global NAND production, Associated Press quoted Shelly Jang of Fitch Ratings.
NAND (Not AND) is a non-volatile storage technology that doesn't require power to retain data. Electronic products use NAND memory chips to store data files.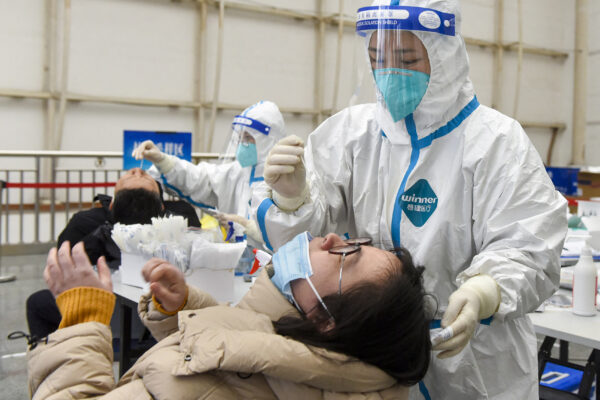 Tianjin, the largest coastal city in northern China and home to 13.87 million people, followed Xi'an's step and locked the city down in January.
On Jan. 13, German vehicle manufacturer Volkswagen confirmed that it shut down two factories in the city—FAW-VW vehicle plant and VW Automatic Transmission Tianjin component factory—on Jan. 10 due to the regime's COVID-19 policies.
On Jan. 12, Japanese vehicle manufacturer Toyota stated that it shut its vehicle manufacturing base in Tianjin on Jan. 10 and all employees had to take COVID-19 tests regularly according to the regime's standards.
Chinese media Caixin reported on Jan. 6 that factories all around China were shutting down to prepare for the upcoming Chinese New Year that is on Feb. 1. The shut down is "weeks early [than previous years] due to a combination of sluggish orders and supply disruptions caused by strict measures to contain regional COVID-19 flare-ups," Caixin reported.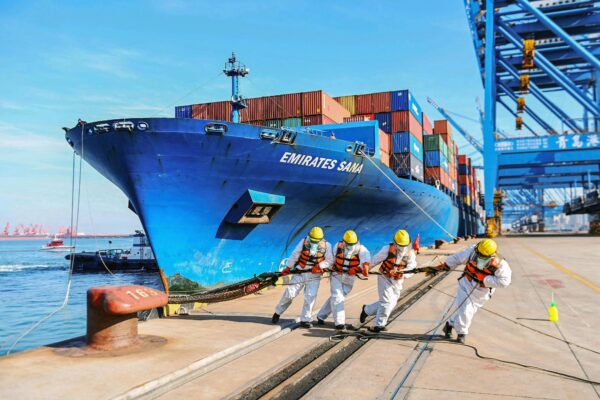 Transportation
The regime's "COVID-zero" approach has slowed down processing at ports across the country, and pushed up the freight shipping costs for shipments via sea, air, and land.
"Although ports are still open, current restrictions—like mandatory quarantines and testing—continue to slow down transport and cause delays," CNBC quoted Atul Vashistha, founder and chairman of supply chain consultancy Supply Wisdom, on Jan. 24.
The same report quoted Judah Levine, head of research at freight booking platform Freightos Group, as saying that the price of air freight shipping increased as much as 50 percent in some cases, and sea shipping rates crept up four percent from Asia to the U.S. West Coast.
Operations at Ningbo-Zhoushan Port in eastern China's Zhejiang Province, the world's third busiest container port, have slowed down since December 2021 when the regime locked down the Beilun district of Ningbo city.
The Loadstart quoted local people on Jan. 5 saying it's difficult to access the port because of the zero-tolerance policy and a large number of truckers live in Beilun, a district that is locked down.
"It's extremely difficult to bring containers in or out," the report quoted an insider. "We recommend shipping as early as possible from alternative ports instead of queuing for Beilun."
Tianjin, northern China's largest port, is facing more challenges because the whole city was under lockdown.
On Jan. 27, the Chinese regime announced new COVID-19 infections in Zhejiang, Beijing, Shanghai, Tianjin, Heilongjiang, Hebei, Henan, and Xinjiang. The regime immediately locked down any neighborhood that identified an infected resident.