China's Flagging Economy Fueled by Zero-COVID Has 'No Cure', Analysts Say
China's economic outlook is grim after months of on-and-off COVID-19 lockdowns disrupting industry around the country, and the Chinese Communist Party's (CCP) top leadership are on edge.
Local officials were recently ordered to stimulate the now-shrinking economy in this crucial political year, when CCP leader Xi Jinping will launch his unprecedented bid for a third term in power at the 20th National Congress this fall. But analysts suggest such an order would be hard to implement given weak underlying economic conditions, and that the regime's hardline "zero-COVID" policy has the imprimatur of Xi and thus unlikely to be eased.
Premier Li Keqiang, China's second-in-command, on May 25 took the unprecedented step of conducting a virtual conference with 100,000 officials from provincial, city, and county-level authorities to issue severe warnings about the state of the economy.
"The difficulties, in some aspects and to a certain degree, are even greater than 2020 when the pandemic hit hard," Li said, according to a short version of his speech published by China's state media.
The warning came amid growing frustration toward CCP leaders' commitment to its zero-COVID policy among economists, foreign business groups, and even the public. Many believe that it's impossible to maintain economic growth while maintaining the Xi's zero-tolerance approach toward the virus.
The policy has resulted in dozens of cities going into lockdown since late last year as the regime seeks to containe the fast-spreading Omicron variant, severely disrupting life and businesses in the world's second-largest economy.
Analysts at Japanese bank Nomura estimate 26 Chinese cities were implementing full or partial lockdowns or other COVID measures as of May 23, accounting for 208 million people and 20.5 percent of China's economic output.
Li's move also fuelled speculation of a split, or political infighting, within the CCP's top leadership. Some observers pointed out Li didn't even mention Xi's zero-COVID strategy once at the conference.
"The messages from Xi and Li are conflicting, so local officials are confused now," said Li Hengqing, a China expert at the Washington Institute for Information and Strategy think tank.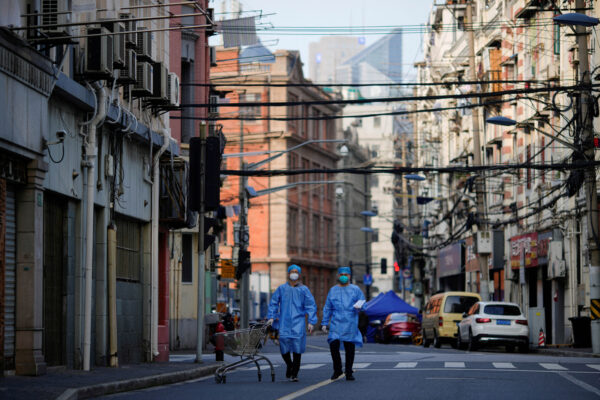 He suggested officials are now "waiting to see which way the wind blows" before they decide whether to prioritize economic development or COVID-19 control measures.
To Li Hengqing, CCP's top leaders are likely not signaling "a shift to developing the economy" at the expense of zero-COVID. He cited a commentary published by official media to support his view.
Economic Daily, a newspaper affiliated with the cabinet-like State Council led by Li, published a lengthy commentary just hours after the video conference, putting a positive spin on the country's economy.
The article called for assessing China's economy rationally and highlighted its "long-term growth fundamentals," with no mention of Li's remarks. The full text of the commentary was widely reprinted by CCP's mouthpieces on May 26.
Grim Outlook
Xi's zero-COVID crusade has brought dozens of cities to an abrupt halt, shutting factories and shops, adding piling pressure on the country's shaky economy.
In an extreme case, the financial hub of Shanghai, which experienced a more than two-month-long lockdown starting from March, recorded zero car sales in April, according to Shanghai Automobile Sales Trade Association.
Investment banks have revised down their projections for China's economic growth after April's official economic data were released. Even optimistic expectations are below the CCP's official growth target of "some 5.5 percent."
Citigroup and S&P Global expected China's economy to expand by 4.2 percent and 4.9 percent, respectively. UBS cut the gross domestic product (GDP) forecast to 3 percent this year. The most grim prediction is from Bloomberg economists, who projected only 2 percent growth this year. Bloomberg Economics said the U.S. economic growth might outpace China for the first time since 1976, the final year of China's tumultuous Cultural Revolution.
Even if the regime misses its growth target, analysts believe that the CCP will inflate its published data so that the target is met on paper—especially given how important this is to Xi as he makes his bid for another term in office at an important party conclave this autumn.
"He definitely will edit the figure if he was in charge [when official data is released]," Li Hengqing said, referring to Xi. "The true data will only be revealed if Xi was not the Party leader or not directly in control."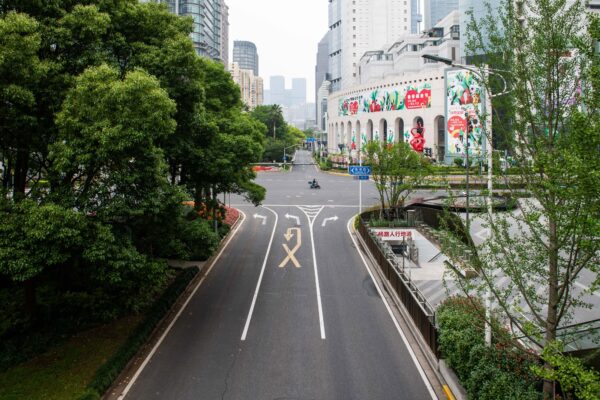 'No Cure'
Despite integrity concerns, official figures in April has already illustrated a sharp slowdown.
As tens of millions of consumers were kept at home, retail sales fell for two straight months in April and hit the lowest level since the beginning of the pandemic in 2020, official data showed. Although some workers were allowed to work and live on factory compounds, industrial production in April fell 2.9 percent from a year earlier.
The latest data published by China's statistics bureau on May 31 showed that factory activity still struggled in May, though at a slower pace of contraction. The official manufacturing purchasing managers index fell to 49.6, slightly increasing from 47.4 in April. The reading still remained below the 50-point mark, which indicates a contraction.
On May 31, China's State Council published details of a 33-point plan, covering fiscal measures, financial, investment, and industrial policies to boost the economy.
Analysts, however, are not optimistic, saying Xi's policies has damaged business confidence.
"The slowdown of China's economy in recent years was largely a result of Xi's control model, which is like returning to Mao Zedong's era," said Hsieh Chin-ho, a Taiwanese economic scholar, in reference to the CCP's first leader who attempted to implement a socialist planned economy.
Last year, authorities launched a sweeping regulatory crackdown under Xi's "common prosperity" campaign, wiping billions of values from China's homegrown tech giants, leading to tens of thousands of lay-offs.
The latest COVID-19 lockdown further inhibited demand in the country's labor markets. China's unemployment rate hit a two-year high in April when officials shut down businesses in metropolises like Shanghai. The urban youth jobless rate for those aged 16 to 24 reached 18.2 percent.
In addition, over 10 million new college students are due to graduate this summer. The record number of new job seekers come as the threat of repeated lockdowns shaved business' revenues and dampened sentiment.
"Many small-and-medium size businesses have bankrupted," a small business owner in Beijing told The Epoch Times on May 30. "We have already lost confidence, definitely."
The uncertainties from authorities have led to business confidence falling, and residents tend to save up instead of spending, Li said.
"How can you expect a big turnaround in China's economy?"
"There is no cure for China's economy," said Li.
Luo Ya and Reuters contributed to this report.