China's Hospitals Unable to Fulfill Mass PCR Testing Responsibilities, Leaked Document
China's zero-covid policy has triggered a new round of draconian lockdowns along with mass PCR testing of tens of millions of people. A government agency in Qingdao city, Shandong Province, conducted an undercover telephone survey of 77 hospitals in the city that advertise a variety of PCR testing services. The findings were far lower than expected. One-third of the hospitals did not even answer the phone calls.
The Epoch Times obtained a Qingdao Health Commission leaked document, dated Feb. 28, 2022, saying that the Commission made several rounds of phone calls to 77 hospitals in the city to check if they could provide the PCR testing services they advertised. Twenty-five hospitals could not be reached via their published customer service numbers. None of the hospitals who answered the calls could do all the services they promised.
The advertised services include 24-hour testing, pooled sampling, results provided in 6 hours, reports in English, digital reports, testing appointment, and others.
The document concluded that "the hospitals did not fulfill their PCR testing responsibilities and the monitoring agencies have been too lenient" in following PCR testing guidelines.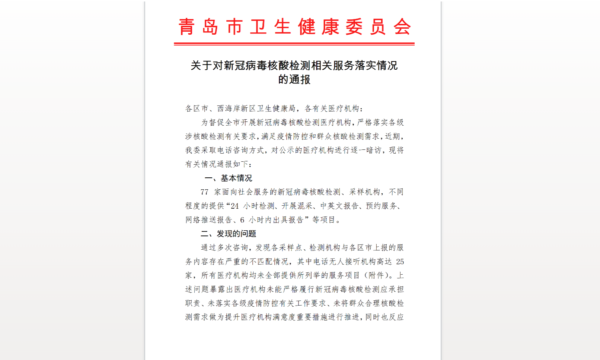 Mass PCR Testing Touted as the Solution
The Chinese National Health Commission's "Guideline for Mass COVID-19 PCR Testing" dictates cities with under 5 million people to complete mass testing within 2 days, and cities with over 5 million to finish within 3 days.
Since 2000, Chinese state run media and academic research papers hailed mass PCR testing as the strategy that kept China "nearly COVID free."
A research article published in Nature Medicine in April 2021, by authors from the Chinese Center for Disease Control and Prevention, said that the first city-wide mass screening was completed between May 14 and June 1, 2020 in Wuhan city, where nearly 10 million people were tested.
The article also claimed that 10.9 million in Qingdao city were tested from Oct. 11 to Oct. 16, 2020.
A Xinhua, the official Chinese state-run media, report dated Oct. 15, 2020, praised Qingdao's ability to test 10 million people in 5 days.
While Qingdao has been depicted as the model of mass PCR testing, the 2022 survey done by its own agency shows none of its 77 hospitals is capable of fulfilling the testing responsibilities they promise. These hospitals range from large public general hospitals to district clinics.
Third-Party Testing Facilities Overwhelmed
Due to the huge demand, third party testing facilities have been requested by all levels of local government to handle more testing than they are capable of.
A Feb. 14 report by Chinese media Caixin said that the third party testing contractors have limited personnel as well as equipment, the huge amount of testing exerts pressure on them, and they had to make up results for samples that were not tested.
Cheating Inevitable, Experts Say
Political commentator Tang Jingyuan said, mass testing is at the core of the Chinese government's zero-covid policy, and has been highly politicized. To test millions or tens of millions of people in a short time frame is all but impossible, but since it's linked to the jobs of those in charge, cheating is inevitable.
Sean Lin, a microbiologist and former lab director at Walter Reed Army Institute of Research, told The Epoch Times that mass testing is not feasible to begin with. Not only does it waste a huge amount of medical supplies, it also exhausts the medical personnel.