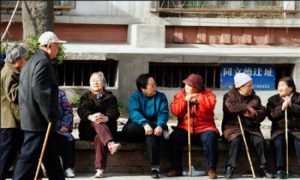 Once touted by the Chinese Communist Party as China's "model county in family planning" in the 1970s and 1980s, Rudong County in eastern China's Jiangsu Province has now become the Chinese county with the oldest population, with 39 percent of its total population aged 60 or above.
Located in China's eastern coastal region facing the mouth of the Yangtze River and Shanghai, Rudong County had a total population of 879,500 at the end of 2021—a decrease of 0.08 percent from the previous year, according to a statement released by the county government.
Of the total population, 71,700 are aged 0 to 14, accounting for 8.1 percent; 464,800 are aged 15 to 59, accounting for 52.9 percent; and 343,000 are aged 60 or above, accounting for 39.0 percent. The county's birth rate is 4.07 per thousand, while the death rate is 12.64 per thousand. The natural population growth rate is -8.57 per thousand.
Chinese news portal Sohu reported on March 5 that in the past, Rudong County was once rated as a "national model county for family planning" every year, with 95 percent of families strictly complying with the Chinese Communist Party's (CCP) one-child policy for several decades. It was even praised by the CCP's top official newspaper, the People's Daily, as a "model county" in family planning.
However, due to the younger generation leaving the county to work elsewhere, most of the permanent residents in the county today are elderly people over 60 years old. If you walk on the streets, you will notice that almost all the pedestrians are old people.
The Epoch Times was able to reach the government office of Rudong County by phone on March 9.
Li Wei (pseudonym), a government employee, told The Epoch Times that in those years when the one-child policy was enforced, almost every family in Rudong County only had one child. Decades have passed and the number of deaths now exceeds the number of births.
"It has been like this for some years, with a precipitous drop in the birth rate. Naturally, the demographic trend is toward an older population," he said.
It is estimated that by 2030, the proportion of individuals aged 60 and older in the county will reach 57 percent.
The Epoch Times also spoke to an employee at the Rudong County Education Bureau on the same day. Zhang Yang (pseudonym) revealed that there used to be three or four elementary schools in the town, and later they were merged into one.
"There are almost no schools in rural areas, and local students in villages and township have to go to the county to attend middle schools," he added. "Now, the number of students is decreasing. Although the government now promotes the two-children and three-children policy, due to heavy economic burdens and pressures, very few people dare to have children."
Ma Yan (pseudonym), a Nantong resident, told The Epoch Times on March 9 that the current declining birth rate is the result of the CCP's self-inflicted disaster.
"It still makes me feel scared when I think of the one-child policy in the old days. If someone conceived a second child, the couple will be fired from their public office position and face financial penalties. Even the supervisors in their workplace would be punished. So no one dared to have a second child back then.
"Now, there are fewer children and young couples are allowed to have more than one child, but many people have lost their jobs in the three years of the epidemic. They can no longer afford to have more children," Ma said.
In an interview with The Epoch Times on March 12, freelance writer Zhuge Mingyang commented that the CCP's inhumane family planning policy has exhausted China's demographic dividend, and that CCP officials at all levels, especially in rural areas, were truly brutal when enforcing the political policy of "one family, one child."
He shared one of his personal experiences.
"It was 1987. I went on a business trip to Jiangxi Province. The local village Party boss and director of the Women's Federation treated me to dinner. While we were eating, they told me that their village was also a 'model village for family planning,' and there is no family that dares to violate the rule.
"I asked them why the peasants were so obedient? They answered boastfully, 'We have our own method. If someone gives birth to a second child, we send a car of militiamen, armed with guns and doctors, and go to his house to do sterilization operation on the spot. Who would dare not listen?"
"Their words made my hair stand on end. It was just horrible! The regime treats Chinese civilians like pigs and dogs," Zhuge said.