Chinese Billionaire 'Vaping Queen' Implicated in Corruption Probe
China's leading e-cigarette flavor maker, Huabao International Holdings, announced on Jan. 24 that its chief executive officer and chairwoman, Chu Lam Yiu, is under investigation for "suspected disciplinary violations."
Huabao—a leading flavors maker for tobacco, e-cigarette, and condiments—is listed on the Hong Kong Stock Exchange. Its share price plummeted over 65 percent on Monday. The total market value of the company evaporated by HK$31.2 billion.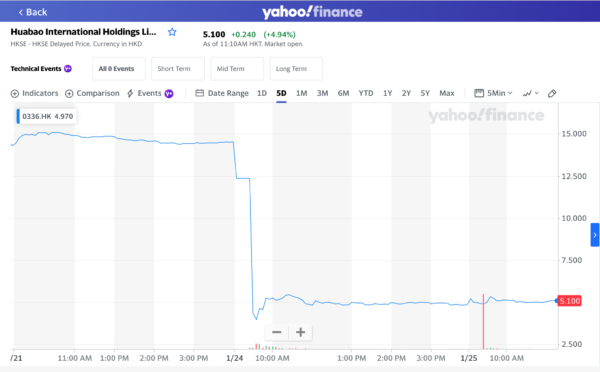 Chu, dubbed "fragrance queen," is infamous for her mysterious background. According to public data, Chu is from Sichuan Province in central China. After graduating from college in Beijing, she started a fragrance and flavor trading company, and later established Shanghai Huabao with her husband. Employees at Huabao have said that Chu keeps a low profile and seldom talks to the media.
With a net worth of nearly $6 billion, Chu was ranked as the 21st richest woman in Hurun Report's "Richest Self-Made Women 2021" list.
Chu is now being investigated by the Supervisory Commission of Leiyang city, Hunan Province, where another tobacco company is also under investigation. The nature of Chu's alleged crimes is unclear.
The so-called "Supervisory Commission" is the anti-corruption organ of the Chinese Communist Party (CCP). Like other CCP agencies, it consists of a top-down network from the highest National Supervisory Commission, which is at the same administrative level as the Supreme People's Court, to the provincial, municipal, and district levels.
Huabao's Ties to Chinese Tobacco Companies
In China, tobacco business is monopolized by the government. The biggest tobacco production and trading firm, China Tobacco, is a government agency.
Huabao's earliest business was tobacco flavor. It later expanded to food, perfume, and e-cigarette flavors; but tobacco flavor has always been its main source of income. China's top 10 biggest cigarette makers—including those in Hunan, Yunnan, and Zhejiang provinces—are all clients of Huabao, totaling 80 percent of Huabao's income.
It is commonly known by insiders that since the tobacco industry is completely controlled by the CCP, it is not easy to become the supplier to so many large tobacco companies.
In addition, public information shows that Huabao and other tobacco companies have joint equity interests. For example, Huabao and Hongta invested in Tianhong in Yunnan Province in 2001, with Huabao owning 60 percent of shares. In 2003, Huabao and another company established Huabao Qingdao, which is 70 percent owned by Huabao.
China Tobacco's subsidiary, Hunan China Tobacco Industry Co., based in Hunan, has been in the headlines due to corruption probes.
In October 2020, the Hunan Supervisory Commission placed the company's general manager, Lu Ping, under investigation for "serious violation of discipline and law."
In August 2021, its deputy general manager, Liu Jianfu, was also placed under investigation for the same charge as Lu and turned himself in to the authorities.
As of January 2022, the investigations of the two executives are still ongoing.
According to Chinese news reports, Hunan China Tobacco and Huabao jointly opened a key laboratory. Liu had attended the opening ceremony on March 29, 2011.