A senior Chinese diplomat on Wednesday admitted that he had pulled the hair of a protester who was then beaten at the Consulate General in Manchester.
Consul General Zheng Xiyuan told Sky News that it was his "duty" because the protester had insulted his country and his leader. He also claimed that a man had threatened his colleague's life.
Speaking to The Epoch Times on Wednesday, one China expert said she believes Zheng was enraged by the offensive banners displayed by the Hong Kong pro-democracy protesters, while two other experts argued Zheng wanted Beijing to see him taking an aggressive approach.
Beaten Over a Caricature
On Oct. 16, Bob Chan, a British National (Overseas) migrant from Hong Kong, was attending a peaceful protest outside the consulate when he was dragged onto consulate grounds by a group of men from the consulate and beaten.
Chan said he was trying to stop the men from taking a large poster, which depicted a caricature of Chinese leader Xi Jinping as an emperor wearing no clothes.
Zheng, who wore a mask, a hat, and a scarf, was filmed kicking and ripping two other posters. He then pulled Chan's hair, in an apparent attempt to help drag Chan through the gate.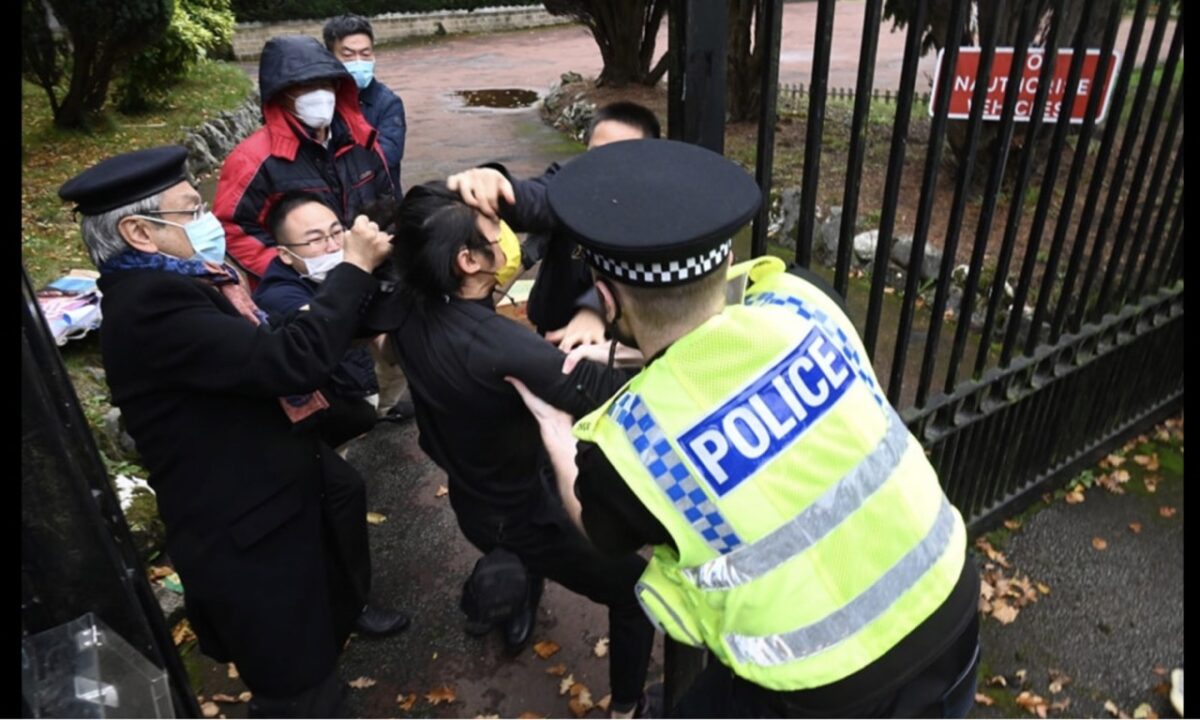 Chan was subsequently punched and kicked on the consular grounds before a police officer ran to his aid.
Other officers lined up at the gate, and one officer was heard saying they couldn't go in.
According to guidance published by the Crown Prosecution Service (CPS), consular premises may not be entered without the consent of the head of the consular post or of the head of the diplomatic mission.
A spokesperson for the protest organiser earlier told The Epoch Times that some of Chan's hair was ripped off. He also had a swollen eye and cuts and bruises on his head and body.
During the scuffle, a man who appeared to be a consular staff was filmed lying on the ground and being kicked several times.
Zheng: It's My Duty
Before Wednesday, it had been widely speculated on social media that Zheng was at the scene based on the appearance of the masked man, who Zheng has now admitted was him.
Asked if he had personally pulled Chan's hair, Zheng told Sky News on Wednesday: "Yeah, … it's because he's abused my country, my leader. I think it's my duty."
"To pull his hair?" Zheng was asked, to which he replied, "Yeah, I think any diplomat [would react in the same way] if faced with such kind of behavior."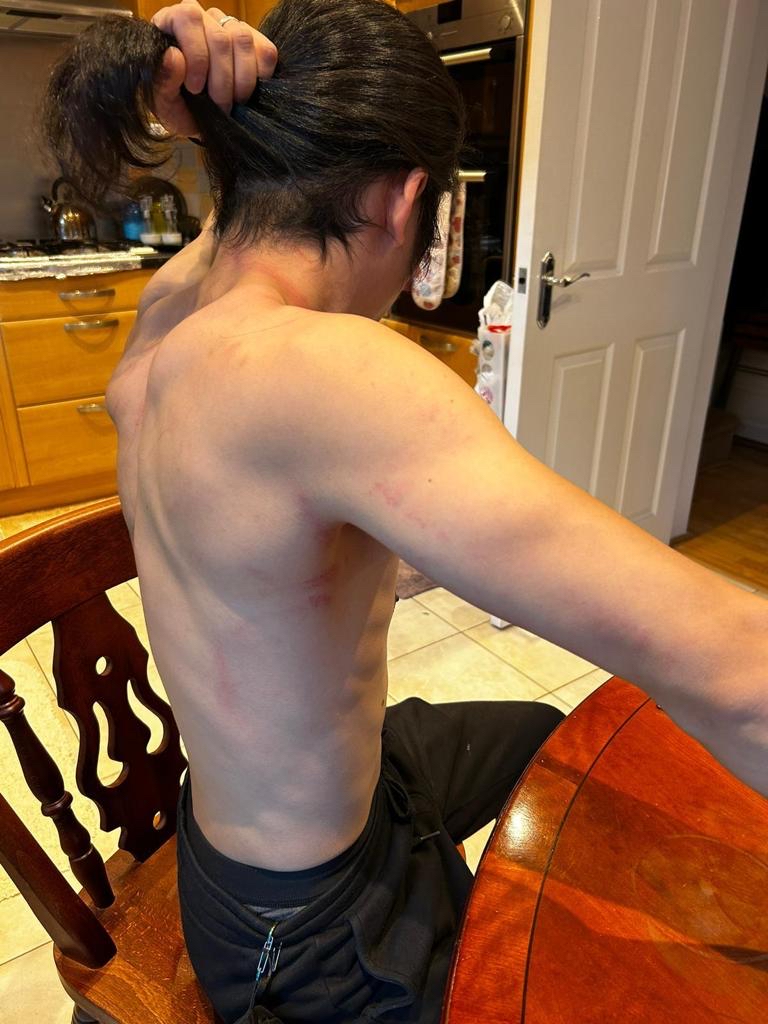 Zheng also said it was an "emergency situation" as "a guy threatened my colleague's life, and … we try [sic] to control this situation."
According to earlier statements from the Great Manchester Police, the officer intervened to pull Chan from the consulate "out of fear for his safety."
'Wolf Warrior' Diplomacy?
In September 2021, Xi told Chinese Communist Party (CCP) members to "abandon illusions and dare to struggle," three months after telling the politburo to create a "reliable, lovable, and respectable" image, prompting concerns that the CCP will take a more aggressive approach on the world stage.
Foreign Minister Wang Yi later encouraged diplomats to fully deploy the "fight spirit," while Vice Foreign Minister Ma Zhaoxu said last month that Chinese diplomats "face challenges head-on and fight resolutely on the Taiwan question and issues related to Hong Kong, Xinjiang, Xizang, maritime affairs, and human rights, among others."
Speaking to The Epoch Times on Wednesday, shortly before Zheng's admission was published, June Teufel Dreyer, professor of political science at the University of Miami and senior fellow at the Foreign Policy Research Institute's Asia program, said the behaviour of the man then-alleged to be Zheng was "anything but lovable," referring to Xi's speech from a year ago.
But Dreyer does not see the incident as an example of the so-called wolf warrior diplomacy, saying footage she had seen suggested Zheng was simply enraged because "he doesn't like the idea of people coming outside its consulate and shouting pro-democracy slogans."
"Wolf warrior diplomacy is like deliberately insulting, and I see this incident as more or less spontaneous," Drey said.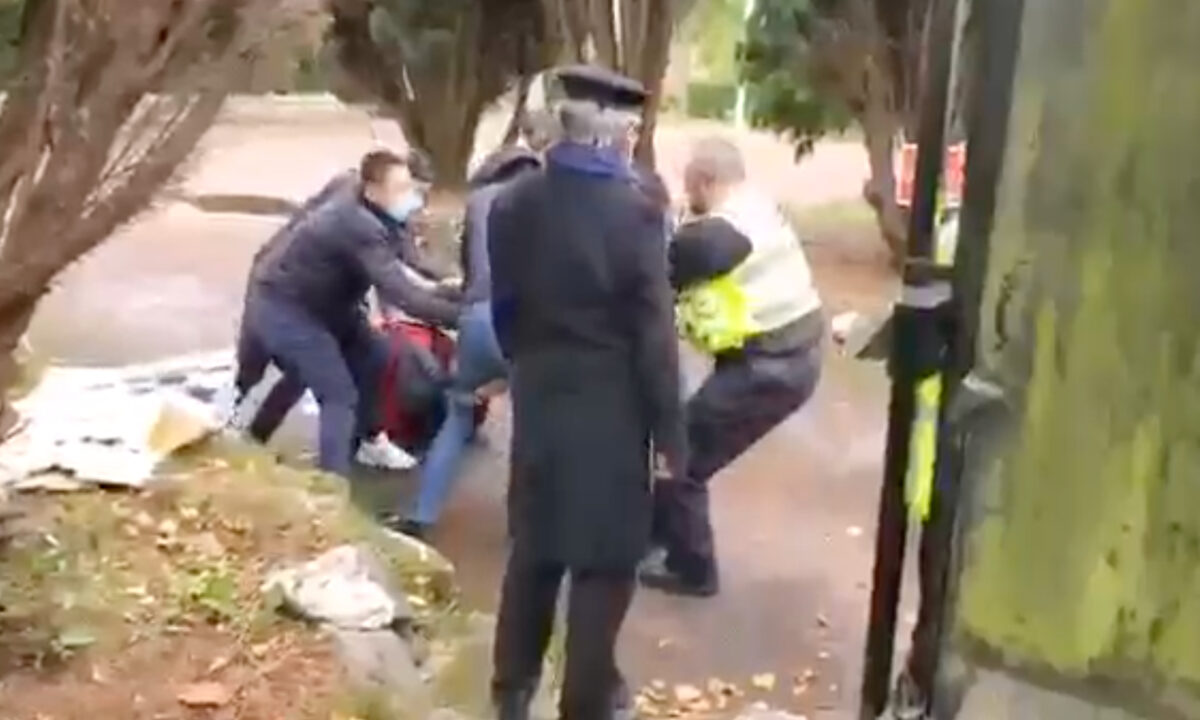 Two former China-stationed British diplomats, however, believe Zheng's move was more calculated.
Charles Parton, senior associate fellow at the Royal United Services Institute, said the beating was not necessarily premeditated, but the incident, which started when consulate personnel tried to take posters by force, "would have been premeditated."
"The officials have to show that they are as keen as mustard," Parton said, saying he suspects Zheng would've thought it was a good idea to do something about the protest.
"I mean, to have them protesting with very rude pictures of Xi Jinping outside your consulate would not be a good career move if you just did nothing about it. You kind of have to tear them down. Otherwise, you'd be very much criticised back in the ministry," he said.
Roger Garside, associate fellow at Henry Jackson Society's Asia Studies Centre, said he believes Zheng was "hoping to distinguish himself in the eyes of his senior colleagues."
There may have been "an element of personal career aspiration," but Zheng "certainly believes he is entirely in line with guidance from Beijing," Garside added.
In a later email to The Epoch Times, Garside said he believes consulate staff "were determined both to seize the banners and punish the protesters" because "they have no respect for British law, let alone the right to protest peacefully."
Asked what the UK government should do, Garside said it needs to weigh its options after the police establish the facts, and if individuals are proven to have used violence against Chan, they must be declared persona non grata and be prosecuted if possible, noting that prosecution may not be possible owing to diplomat immunity.
Parton believes the government could declare those who are involved persona non grata, but he doesn't believe it "necessarily will" and argues the reaction will probably be "somewhat overstepping the mark."
He believed Chinese ambassador Zhen Zeguang should get a warning, reminding him of the British law, "which is you can protest and you can put up posters as you will, even if they are unpleasant."
"If they do it again, then we will ask for them to be withdrawn," Parton said.
In 1984, Libyan diplomats shot and killed Metropolitan Police officer Yvonne Fletcher, leading to a decade-long breaking of diplomatic relations between the UK and Libya.
CCP 'Has Not Changed' Since Cultural Revolution
Both Parton and Garside were reminded of a similar scene 55 years ago when a scuffle broke out between Chinese diplomats and police officers in London.
They also believe we haven't seen the end of the CCP's "wolf warrior" diplomacy.
Xi Jinping's recent speech "was full of the language of struggle," Parton said.
Having been stationed in Beijing during the Cultural Revolution, Garside thought the Manchester incident was particularly "depressing" because it "shows how little the outlook of the communist regime in China has changed in the past 50 years, 55 years since the Cultural Revolution."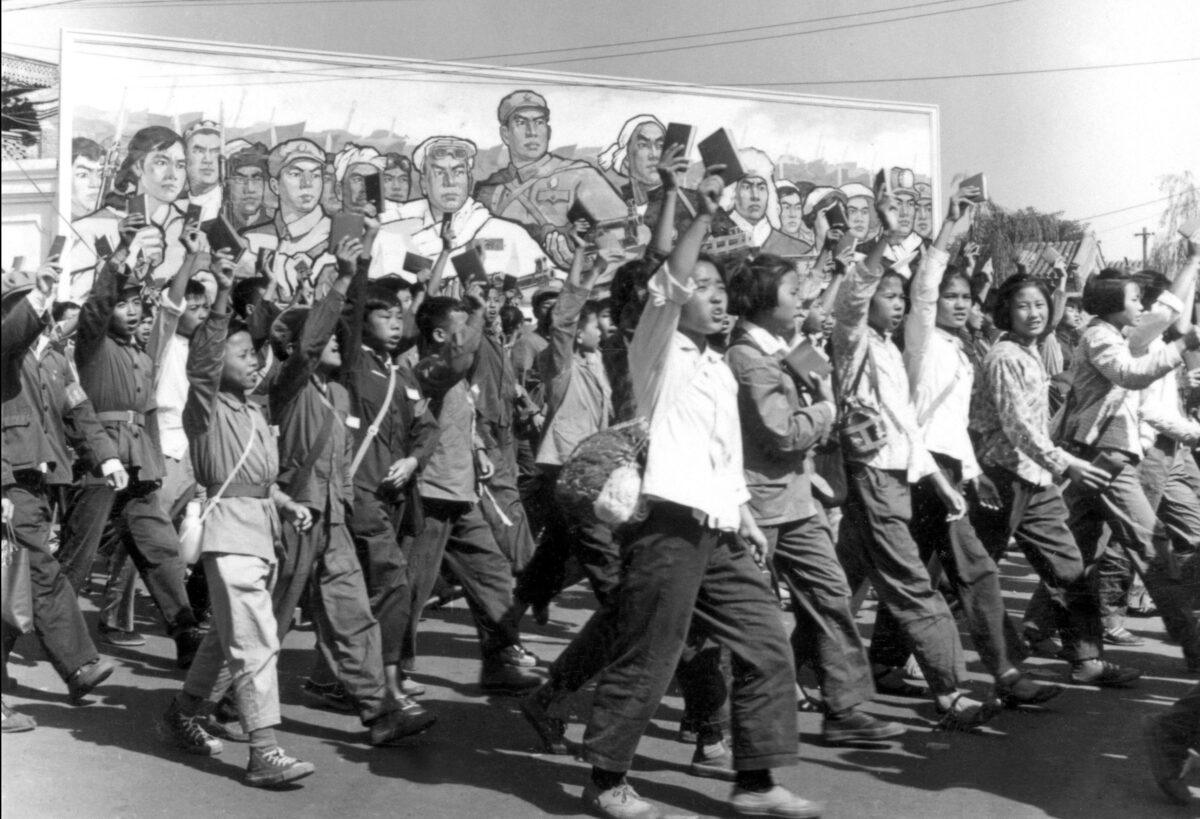 "That is no sense of trust. There's no sense of discipline to the norms of civilized international behavior. And I think it shows the paranoia of this regime, which lurks behind their outward shows of strength and bravado," Garside said, adding, "This kind of wolf warrior diplomacy destroys any prospect of shared mutual trust and friendship."
Garside said he had been part of the UK's effort to "build a new relationship with China and to build trust and friendship" after former Chinese leader Deng Xiaoping launched his "reform era," but the CCP has since "destroyed those efforts and turned what was a benign partnership policy, a benign partnership on our part, into suspicion and hostility."