Chinese Megacity Reports Omicron, Prompting Mass Testing And Panic Buying
A northern Chinese port city on Jan. 9 started mass testing and locked down areas where the highly contagious Omicron variant was reported, prompting residents to stock up on food and supplies.
The megacity of Tianjin has advised residents not to leave town for unnecessary reasons and began testing its 14 million residents on Sunday, less than four weeks before the Winter Olympics will open in neighboring Beijing.
At a press conference on Jan. 8, Zhang Ying, deputy director of the Tianjin Health Commission, highlighted the city may face a potential outbreak of Omicron as the virus has been circulated in communities, according to official news outlet Xinhua.
Tianjin reported a 10-year-old girl and a 29-year-old woman working at an after-school center infected with the Omicron variant on Jan. 8.
Late Saturday, health authorities said another 18 people returned with positive results in the subsequent testing of close contacts. Most of them are students from 8 to 13 years old. There is no word yet on what variant caused the additional infections.
Given the Chinese regime is known to grossly under-report its virus numbers, the official figure is likely not to reflect the true total.
Omicron, the latest variant of the virus, is more infectious than Delta, which has been spreading across parts of China in recent months prompting harsh lockdown and containment measures under Beijing's "zero-COVID" policy.
As of the evening of Jan. 8, Tianjin has sent 75,680 people to centralized quarantine. The citywide testing is to be completed over two days.
Tianjin officials haven't given a full lockdown order so far, but they have sealed off 29 residential communities, according to state-run media Global Times.
The swift measures stoked fears that Tianjin could launch a citywide lockdown like Xi'an, where authorities barred its 13 million residents from leaving neighborhoods unless for Covid tests, leaving many suffering food shortages.
A Tianjin resident who gave his surname Lin told The Epoch Times that panic buying caused a traffic jam in his area on Sunday morning.
"People are crazy!" Lin said. "I saw they got six or seven cabbages; some bought up to a dozen cabbage."
Footage in social media posts show scenes of panic buying, such as people jostling at a grocery market to get vegetables.
A man residing in the Nankai district of Tianjin city told The Epoch Times that he is not anxious to buy as he has stored rice and other food at home.
"But I saw many were stocking up on food…and some [vegetables] were already out of stock," said the man who gave his surname Li.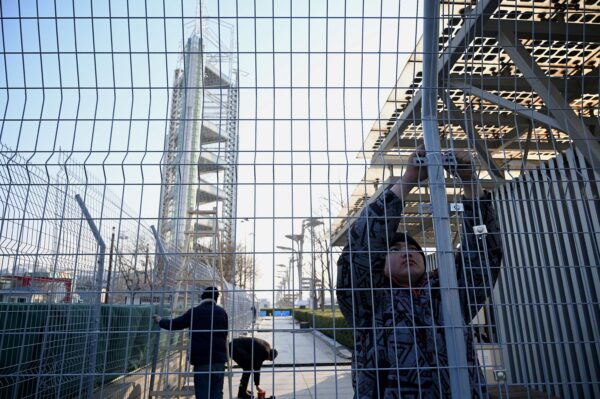 The new infections pose a risk to the Winter Olympics, which opens on Feb. 4 in nearby Beijing. The capital city is about 70 miles northwest of Tianjin, and many people regularly travel back and forth by car or on a high-speed rail link that takes less than one hour.
Beijing health authorities have required people in Tianjin not to travel to the city unless necessary, according to a Sunday notice posted on social media platform Wechat. Officials said it has tightened inspection at highway exits to dissuade those who intend to enter Beijing from Tianjin, according to Beijing News, a Party-backed media outlet.
Tianjin has already closed some subway stations on two lines and canceled some domestic flights.
On social media platform Weibo, some college students in Tianjin worried the travel restrictions would prevent them from going home for the upcoming holiday for Chinese New Year, around three weeks away.
Luo Ya and The Associated Press contributed to this report.