Chinese Military Deliveries of the COVID-19 Vaccine: Exercising Soft Power
News Analysis
The People's Liberation Army (PLA) has been particularly active in projecting China's soft power during the COVID-19 pandemic.
"The fleet follows the flag," goes the old saying. It has its roots in the arguments of the eminent 19th century naval strategist, Alfred Thayer Mahan, who contended that seapower depended on trade. "Commerce was king," he wrote, and the navy acted in support of merchant shipping.
The view that "commerce is king" very much defines China's current approach to power projection. It is evident in Beijing's push for such China-centric initiatives as the Belt and Road Initiative (BRI). In particular, the sea-based aspect of this plan—the so-called Maritime Silk Road—depends heavily on a network of ports and other coastal infrastructure projects, stretching from China to the Mediterranean Sea.
It is also apparent in the establishment of the PLA's first overseas military base in Djibouti, a small country in the Horn of Africa strategically located near some of the world's busiest shipping lanes.
Sometimes, however, the fleet precedes the flag. In other words, the military paves the way for—or else otherwise complements—civilian and commercial efforts to reach out to other nations. This is often called "military diplomacy," also known as "soft power."
Military diplomacy comes in many forms. The most obvious is arms sales, which are a good way to strengthen political (as well as military) bonds between countries. Most weapons-producing countries—China included—use arms exports as a political tool.
Another type of military diplomacy is MOOTW, short for "military assistance other than war" (pronounced moot-wah). This endeavor includes peacekeeping, patrolling the "global commons"—that is, conducting counter-piracy or counter-terrorism operations in the high seas—and especially humanitarian assistance and disaster relief (HADR).
The PLA has become particularly active and proficient in MOOTW over the past decade. During the 2011 Libyan civil war, for example, China conducted its first ever military operational deployment to the Mediterranean, as well as its largest noncombatant evacuation. This operation entailed the deployment of the PLA Navy (PLAN) frigate Xuzhou, along with four PLA Air Force (PLAAF) Il-76 long-range transport aircraft. Utilizing these military assets, along with chartered merchant vessels and aircraft, China removed 35,000 nationals from Libya.
In 2015, the PLAN undertook a similar evacuation of 600 Chinese citizens and over 200 foreigners from Yemen.
Non-war military operations have also provided Beijing—and therefore the Chinese military—with rationales for increasing its global presence. The PLA has greatly upped its contributions to U.N. peacekeeping operations, with over 2,600 personnel involved in missions in Mali, the Democratic Republic of Congo, Darfur, Lebanon, Liberia, and South Sudan. In addition, the PLA has engaged in joint security operations in Afghanistan and anti-crime riverine patrols on the Mekong River.
The PLAN has participated in international counter-piracy efforts off the coast of Somalia.
After Typhoon Haiyan hit the Philippines in 2013, the PLAN dispatched its hospital ship Peace Arc to the islands.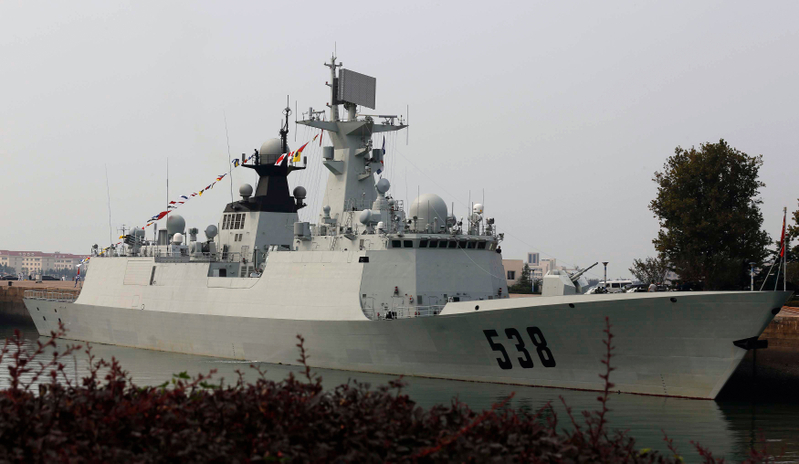 Increasingly, MOOTW is becoming one of China's favorite forms of soft power, in addition to the usual tools (that is, trade, foreign investments, and cultural exchanges). Amid the pandemic, China's military provided a variety of personal protective equipment (PPE) such as masks and clothing, ventilators, testing kits, and other medical supplies to several countries around the world.
The PLA also conducted a one-year-plus mission to Ethiopia, with Chinese medical personnel helping the Ethiopian army establish a COVID-19 testing and treatment center.
The PLA is now engaged in a highly publicized effort to transport Chinese-made vaccines to countries throughout the developing world. According to the Wall Street Journal, the PLA has delivered vaccines to about two dozen countries on four continents.
Interestingly, much of these shipments are going first to these nations' military personnel. In Zimbabwe, for example, where less than 20 percent of the civilian population has received the COVID-19 vaccine, there is actually a surplus of Chinese vaccines among the Zimbabwean military. In the Philippines, Ethiopia, and Sudan, the PLA has helped large swarths of their defense forces get vaccinated.
In particular, priority has been given to Africa, and for good reason. In the first place, Sub-Saharan Africa is one of China's biggest buyers of armaments, and Beijing holds around a third of this market. This is a good reason, therefore, why key purchasers of Chinese weapons, such as Zimbabwe, have also been some of the major recipients of PLA-supplied vaccines.
Beijing also has important economic reasons for supplying vaccines to African militaries. China is a major buyer of crude oil from Africa, particularly Sudan. Earlier this year, the PLA delivered 250,000 doses of the COVID-19 vaccine to Sudanese forces operating on the border with South Sudan, where China also participates in a U.N. peacekeeping force.
In recent years, too, China has become Sub-Saharan Africa's most important trading partner. It has made billions of dollars' worth of investments in the region. Countries like Zimbabwe and Ethiopia are major players in the BRI.
Naturally, Beijing wants to maintain and strengthen its relations with countries in this region, and especially with their militaries that frequently exercise outsized power and influence in domestic politics (Burma, Sudan, and Zimbabwe have all experienced army coups in recent years). Selling arms and directly aiding local militaries helps China bypass civilian governments in building up its relationships with critical power brokers.
MOOTW also helps the PLA gain practical experience in long-range logistics, mobilizing military and civilian assets to serve national interests. They are also good training exercises, helping the PLA gain experience in long-range air transport, sustainable blue-water naval activities, and the like.
All of these capabilities are essential to upgrading China's expanding requirements for power projection, which in turn could be employed against Taiwan, in the South China Sea, or against U.S. forces.
For the PLA, then, hard power and soft power go hand in hand.
Views expressed in this article are the opinions of the author and do not necessarily reflect the views of The Epoch Times.