Chinese State Security Abducts Rights Lawyer Xie Yang: Insider
Chinese human rights lawyer Xie Yang was reported missing on Jan. 11. An insider called for the attention of the international community, believing that he was taken by state security in Changsha city.
Xie was one of the victims of the "709 Crackdown" when more than 300 lawyers and human rights defenders were detained, interrogated, and imprisoned by the regime on July 9, 2015.
On Jan. 13, his wife Chen Guiqiu told the Chinese edition of The Epoch Times that she just learned that Xie Yang was taken away by staff from state security on the 11th. "The last time I talked to Xie Yang was on the morning of the 10th, Beijing time. I would normally call him and pray for him in the mornings. On the 11th, the phone couldn't get through."
She tried again on the 13th, but only got the voicemail. She believed that state security had confiscated his phone.
When asked if she knew which state security, Chen replied, "I don't know, they are simply robbers."
Chen and their two daughters are now in exile in the United States.
A Persistent Fighter for Human Rights
Xie's last tweet was seen on Jan. 7, when he condemned the suppression of the outspoken economics professor, Yang Shaozheng, with a comment "This is inhumane!"
A recent tweet posted by CHRD (Chinese Human Rights Defenders) gives details about Yang Shaozheng's condition. According to the post, Shaozheng went into a coma multiple times because he was routinely beaten and mentally abused during residential surveillance, as revealed by the lawyer.
Shaozheng was formerly a professor at Guizhou University, suspended in November 2017 and fired in August 2018 for his "politically sensitive" academic writings. He was arrested by the Procuratorate on Oct. 5, 2021, with unknown charges. Prior to the arrest, he was put under residential surveillance for 18 months at an unknown place. The lawyer was not permitted to visit him until Jan. 6 and 7.
Li Tiantian is another victim who Xie was concerned about. Earlier, Xie went to Hunan Province with the hope to help Li Tiantian, a pregnant elementary school teacher who was abducted to a mental hospital on Dec. 18, 2021, after exercising her freedom of expression online.
Xie tweeted: "In the wind and snow, we can only persevere!"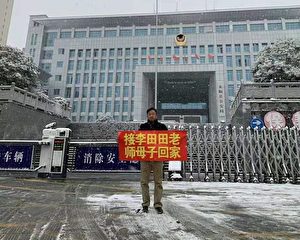 It's not clear if Xie's disappearance is related to his trip to Hunan, but his wife has tried to call the state security, but no one answered the call.
An insider believes the regime was only manipulating Li Tiantian's incident as an excuse. The intention was to retaliate for his human rights activities. "He's abducted by the staff of state security in Changsha city," said the insider.
Qin Yongpei is another lawyer who's been charged and tried on the crime of "incitement to subversion." In a recent court hearing, Xie was also present to show his support of Qin.
'Insufficient Evidence for the Arrest': Insider
The insider told The Epoch Times that the arrest was done unannounced because there's not enough evidence and "they just wanted to keep him quiet."
The insider said, "They think Xie has caused troubles for the regime, it's embarrassing to them."
Another insider told the Chinese edition of The Epoch Times that Xie's family was warned not to accept interviews from the media.
According to this insider, because there are fewer courageous human rights fighters in China today, people like Xie give many who are suppressed hope and confidence. That's what frightens the regime.
He said, "We must cherish a person like him who always brings hope to people."
Xie's wife hopes that the international community will pay attention to Xie's incident.
Lin Cenxin and Hong Ning contributed to this article.