Chinese Villager Targets Officials With Explosive, at Least Five Dead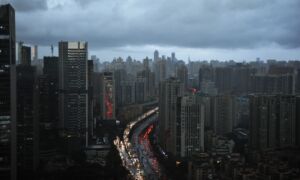 Chinese regime announced five people were killed in a man-made explosion on the outskirts of Guangzhou on the morning of March 22. Local villagers told The Epoch Times that 16 people died or were injured in the blast, caused by a villager angry with village officials.
A 59-year-old local man surnamed Hu is suspected of entering a building in Mingjing village, Panyu District, in Guangzhou, China. Hu then allegedly detonated a homemade explosive device and killed at least five people, including himself, injuring another five, at around 10 a.m. on Monday, local police said on their official Weibo account.
"All the injured have been sent to hospital for treatment and the case is under investigation," the police added.
Dong Baosheng, deputy mayor of Hualong Town where Mingjing is located, told state-owned Jiupai News that the mayor of Mingjing village, Zhou Julin, was injured during the blast and was in critical condition.
A villager from Mingjing who doesn't want to expose his name told the Chinese-language Epoch Times in a phone interview that he and his fellow villagers witnessed 16 people being picked up from the explosion and sent to hospital by ambulances. He accused the police of covering up the true casualty count.
"It's the office building of Mingjing village party committee. All the village officials were having a meeting in it in the morning," the villager said. "It's definitely that the villager felt angry with the Chinese Communist Party [and took revenge by detonating an explosion against the officials]."
The villager said the local police locked down the whole village after the explosion and didn't allow residents to leave their homes.
Chinese netizens posted videos on social media platforms, claiming to show scenes from inside the Mingjing village party committee's building after the explosion. In the video, at least three people are seen lying on the floor without moving, and tables and chairs are all broken into pieces.
State-owned Jiemian News reported that the Mingjing village party committee decided to invest 8 billion yuan ($1.23 billion) to rebuild the village in August 2020, and granted the project to Shanghai Shenglong Investment Group.
The project involves 98.51 hectares of spaces that would be changed into commercial use, displacing up to 3,736 villagers' houses. The report didn't say whether there was dispute between villagers and officials during execution of the project, but these kinds of disputes have been common all over China in the past two decades.
The news report was quickly removed from the internet, but still can be read in an archive.