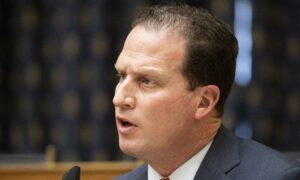 Lawmakers in the House held a hearing on Thursday to discuss efforts by the Chinese regime and its affiliates to surveil the United States, including the recent transit of a high-altitude surveillance balloon over the country and reports of a Chinese secret police station operating in New York City.
"This Chinese surveillance balloon was a brazen display of espionage in the U.S. homeland, but it is ultimately one of many ways the CCP [Chinese Communist Party] is working to exploit our vulnerabilities," Rep. August Pfluger (R-Texas) said in his opening remarks before the House Homeland Security Subcommittee on Counterterrorism, Law Enforcement, and Intelligence on Thursday. "Today, we must take the conversation beyond the balloon and discuss all the avenues the CCP is threatening U.S. homeland security."
Pfluger said the United States still doesn't know what information, if any, the surveillance balloon was able to collect, but said, "[W]e can be certain that the CCP's intention was to exploit sensitive U.S. military sites and critical infrastructure across the country."
During the hearing, Pfluger said China's surveillance activities are of concern and the CCP has pursued a national strategy of "military-civil fusion" with the goal of establishing China's military as the dominant global military force by 2049. He said the Chinese regime is stealing information from U.S. military and civilian targets as part of that strategy.
In recent months, a Chinese firm with ties to the CCP has tried to purchase land near U.S. military bases, raising concerns about efforts to monitor U.S. military activities.
Lawmakers have also shared concerns about the relationship between the CCP and the popular social media app TikTok, amid reports U.S. user data can be accessed by the app's Chinese parent company ByteDance.
Covert Chinese Police Stations
Another specific surveillance concern addressed in the hearing was a report (pdf) published in September by the organization Safeguard Defenders, which alleged that China had established covert "police stations" around the world, including in New York City. The American Chang-Le Association was accused of sharing an office space with Chinese agents in the United States, though the organization has denied such accusations. In January, the FBI reportedly searched the address of the alleged covert Chinese police outpost in New York.
Rep. Seth Magaziner (D-R.I.), the ranking Democratic member of the subcommittee, said the alleged police station is part of a pattern of Chinese officials surveilling Chinese dissidents abroad who are critical of the Chinese communist regime.
"The government of China … is increasingly autocratic and aggressive," Magaziner told NTD. "One of the ways that has manifested itself is the Chinese government operating a series of offices in the United States and around the world, targeting Chinese nationals who may have anti-CCP views."
The United States has accused the Chinese regime of tracking Chinese expatriates and dissidents living abroad. An alleged Chinese effort called "Operation Fox Hunt" entails coercing Chinese dissidents to go back to China by threatening to harass or detain their family members who still reside in China. The Department of Justice recently charged seven individuals in connection with these so-called Fox Hunt operations. Safeguard Defenders believes the alleged covert Chinese police stations in New York City and elsewhere around the world are part of "Operation Fox Hunt."
"The Chinese government, of course, denies that these offices exist, but we know that they do," Magaziner said. "And any harassment of individuals in America based on their political views is inappropriate. We are a First Amendment country, we believe that everyone has the right to advocate for what they believe in—particularly democratic ideals—and for the CCP or any nation to try to harass people on U.S. soil from exercising those rights is deeply concerning."
Pfluger said U.S. officials are just beginning to understand the extent to which these covert police stations may be operating. He said Thursday's hearing was meant to begin questioning where other such covert Chinese police stations may be operating.
"Where are they? How long have they been there? Who has been a victim of those facilities? Again, on this issue and many others, we're just scratching the surface," Pfluger told NTD.
US-China Relations at 'All-Time' Low
Since taking office, President Joe Biden has said he hopes to find some areas where the United States and China can cooperate, such as addressing climate change. But the Biden administration also condemned the Chinese high-altitude balloon's transit over the United States last month.
Biden has said he would push back against Chinese economic abuses but wants to avoid "the reflexive opposition and rigid blocs of the Cold War."
Despite Biden's efforts to find areas of cooperation with China, the two countries may be ending up on opposing sides of a broader set of geo-political conflicts. U.S. Secretary of State Antony Blinken recently alleged China may be considering sending weapons to Russia for use in its war in Ukraine. The Biden administration has been supplying weapons to the Ukrainian side in the conflict and has warned China against arming the Russian side.
"Sadly, the relations between China and the U.S., in my opinion, are very much an all-time low," Rep. Lou Correa (D-Calif.) told NTD.
In terms of the apparent growing competition between the United States and China, Correa said the United States needs to invest in strengthening its workforce, education, and cybersecurity, as well as improving relations with other countries in the Western Hemisphere. He said other countries have demonstrated that they prefer American culture and values over what the Chinese regime is offering.
"We have to capitalize on that. We have to invest in those relationships," Correa said. "We've got to make sure we show up to these countries like Venezuela—can't go there now—but Colombia, other parts of the world, and let them know that we want to be partners."
Pfluger more specifically blamed the Biden administration for showing "weakness" to China. Pfluger said it's not a foregone conclusion that the United States and China will be drawn into a more direct conflict, but said the United States will need to bolster its defenses and push back on Chinese actions like the recent surveillance balloon incident.
"That starts with making sure that our homeland is defended, that we send a strong message to Beijing that if you want to be a trade partner or any other partner with us, that you're going to have to operate under the rules and the laws that we have established and the world order that says you don't attack other countries, you don't penetrate their sovereign airspace," Pfluger said.
From NTD News