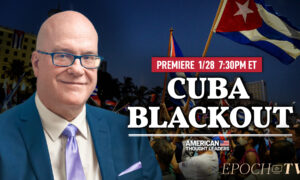 Since July 2020, thousands of Cubans have been protesting against their regime, demanding change, freedom, and an end to communism in their country. Orlando Gutierrez-Boronat is a spokesperson for the Cuban Democratic Directorate, who has spent decades raising awareness about the brutal reality of living under the Cuban regime after he fled the communist island as a child.
"When you look at the collapse of infrastructure that collapsed the economy, they're killing that nation-state. They're killing the Cuban nation," said Gutierrez-Boronat.
His recent book "CUBA: The Doctrine of The Lie" exposes propaganda about Cuba and dispels common myths and misconceptions.
"The regime is the platform for the expansion of Communist tyranny throughout Latin America—in Venezuela, in Nicaragua, in Bolivia, and now perhaps also in Chile and Colombia," he says. "It's very convenient to many powers that be – Russia, China, and others here in the United States—that the regime maintains the illusion of having been successful."
Gutierrez-Boronat has been involved in peaceful protests against Cuba throughout the world, many of which were hijacked by violent, pro-Cuban mobs.
"In Panama, we were attacked by Cuban embassy thugs together with local pawns of the regime. And several of us were badly hurt. I had two ribs broken. My knee was torn. I needed reconstruction surgery on my knee," said Gutierrez-Boronat.
Subscribe to the American Thought Leaders newsletter so you never miss an episode.
* Click the "Save" button below the video to access it later on "My List."
Follow EpochTV on social media:
Twitter: https://twitter.com/EpochTVus
Rumble: https://rumble.com/c/EpochTV
Truth Social: https://truthsocial.com/@EpochTV
Gettr: https://gettr.com/user/epochtv
Facebook: https://www.facebook.com/EpochTVus
Gab: https://gab.com/EpochTV
Telegram: https://t.me/EpochTV