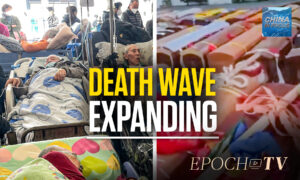 China's wave of virus deaths is expanding across the country—now hitting smaller cities and rural areas.
Flight bookings are falling short in China, despite the upcoming travel season and Beijing's newly-opened borders.
Classified documents were discovered at President Joe Biden's private office. At the heart of the scandal are the Penn Biden Center, the University of Pennsylvania, and its financial ties to China.
A grand jury in Boston indicted a Chinese student at Berklee. We look at the charge that could put the man behind the bars for a decade.
Another Chinese student recounts how he switched from a supporter of the Chinese communist regime to a leader of its opposition.
Topics in this episode:
Death Surges Reach Small Cities, Rural Areas in China
World Health Organization: China Under Reporting COVID-19 Deaths
China Flight Bookings at 15% Pre-Pandemic Levels: Data
More Chinese Quitting Ccp as Covid-19 Deaths Mount
Biden Center: Upenn's Money from China in Spotlight
Berklee Student Indicted in Boston for Threatening Pro-Democracy Supporter
From 'Little Pink' Nationalist to Anti-CCP Group Leader: How a Student in Canada Transformed His Patriotism
Blinken, Austin Meet with Japanese Counterparts
Australia, Papua New Guinea Working on Security Pact
U.S. Companies Should Beat TikTok with New App: Herman