DeSantis Puts Eradicating Cultural Marxism at the Forefront of His Presidential Campaign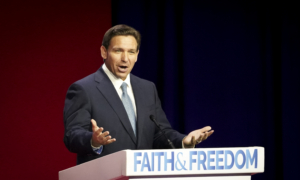 Florida Governor Ron DeSantis has pushed for legislation in his state to combat the "woke" movement led by leftist social groups. In a recent presidential campaign, Mr. DeSantis declared that if elected, he would work to eradicate the erosion of cultural Marxism all across the United States.
During his speech at the Republican Faith & Freedom Coalition's annual gathering on June 23, Mr. DeSantis addressed the audience, expressing concern over what he sees as a cultural revolution initiated by the left.
"The left is lighting the fire of a cultural revolution all across this land. The fire smolders in our schools, it smolders in corporate boardrooms, it smolders in the halls of government. We are told that we must accept that men can get pregnant," he stated.
"As President of the United States, I will lead the effort to extinguish the fire of cultural Marxism once and for all, all across this country. We will restore sanity to this nation. We will return normalcy to our communities, and we will reinstate integrity across institutions."
Marxism is the originator of communism. Independent writer Zhuge Mingyang told The Epoch Times on June 28 that communism has permeated all areas of the world.
"In the East, its central representative is the Chinese Communist Party, which suppresses the people by means of extreme violence, maintains rule by killing, and destroys all moral concepts and beliefs in God from both spiritual and physical aspects," he said. "In the West, it attempts to destroy people's morality from a cultural perspective, by changing people's perception of family and ethics. This non-violent method has confused the entire Western society, and many people regard it as a manifestation of 'individual freedom.'"
Bills to Protect Children
In his speech, Mr. DeSantis spoke of "children being targeted" for gender ideology in schools, and as Florida governor, his efforts to stop it.
"It is inappropriate for a teacher to tell a second grader that they may have been born in the wrong body or that their gender is a choice," he said.
Last March, Mr. DeSantis signed an education bill that banned any classroom indoctrination on sexual orientation and gender awareness for students in kindergarten through third grade.
The bill drew criticism from LGBTQ groups, as well as some schoolteachers. Disney also joined the debate, with then-Disney CEO Bob Chapek publicly criticizing the bill on several occasions.
Florida officials, however, did not back down. In April, the Florida Board of Education voted to further expand the bill to cover all grades in elementary, middle, and high schools.
Florida has also taken action to stop the use of puberty blockers and gender surgeries. "For minors, it is mutilation, it is wrong, and it has no place in a free society," Mr. DeSantis said in his speech.
In May, Mr. DeSantis signed the "Let Kids Be Kids" bill package. One of the bills, SB 254, bans treatments for sex reassignment for minors. Another bill, HB 1521, restricts the use of government and public bathrooms to those of the matching biological sex.
Fighting Communist Erosion
On May 8 of this year, Mr. DeSantis signed three bills to eliminate the pernicious influence of the CCP.
One of the bills, SB264, prohibits Chinese communist agencies, businesses, and citizens from owning land in Florida. Another bill, SB258, prohibits the use of foreign social media applications, including TikTok, on state government equipment, and SB846 prohibits state universities and state colleges from receiving funding from or participating in partnerships or agreements with foreign colleges or universities.
"Florida is taking action to stand against the United States' greatest geopolitical threat—the Chinese Communist Party," Mr. DeSantis said. "I'm proud to sign this legislation to stop the purchase of our farmland and land near our military bases and critical infrastructure by Chinese agents, to stop sensitive digital data from being stored in China, and to stop CCP influence in our education system from grade school to grad school. We are following through on our commitment to crack down on Communist China."
Since April 5 this year, Florida has banned state agencies from using drones from China, Iran, and North Korea, and allocated $25 million to help government departments replace their equipment. This decision prevents many state agencies, including fire departments and mosquito control departments, from using drones made by the Chinese company DJI.
In two bills Mr. DeSantis signed into law in June 2021, the HB1523 bill increases penalties for trade secret theft by making it a third-degree felony to knowingly steal or attempt to steal trade secrets, punishable by up to five years in prison.
The other bill, HB7017, serves to prohibit taxpayer-funded state entities from entering into any agreement with China and several other countries of concern. In addition to protecting public institutions from undue foreign influence, the law also has the effect of prohibiting the CCP from establishing Confucius Institutes in Florida, which export communist ideology under the guise of promoting traditional Chinese culture.
Holding the CCP Responsible for the COVID-19 Pandemic
Mr. DeSantis believes that the CCP bears full responsibility for the global COVID-19 pandemic because it concealed the truth from the world during the initial COVID-19 outbreak in Wuhan.
In June 2021, he publicly stated that "it is pretty clear that this was a virus that almost assuredly leaked out of this lab and Wuhan," and even pointed out that scientists in the lab worked closely with the CCP, as well as the Chinese military.
"When you had these folks fall ill who're working in that lab last fall, the Communist Party of China decided to cover it up. They didn't give any information out. They didn't ask for any assistance they didn't give a heads up to anybody. They tried to cover it up. And basically, the world has had to endure over a year and a half," he said.
Some media have reported that three scientists conducting "gain-of-function" research on SARS-like coronavirus in the Wuhan lab were the "patients zero" who fell ill from COVID-19.
A national poll released by Quinnipiac University on May 24 showed that Mr. DeSantis currently has a slightly higher approval rating among registered voters than President Joe Biden, assuming a presidential runoff between Mr. DeSantis and Mr. Biden.
Another national poll released by Marquette University Law School on the same day also shows that among registered voters, Mr. DeSantis's approval rating is 52 percent, surpassing Mr. Biden's by 4 percentage points, which stood at 48 percent.
"The book 'How the Specter of Communism Is Ruling Our World' has made it clear that the ultimate goal of Communism is to ruin humanity. At the last moment of God's return to save all beings, this evil specter tells people not to believe in the divine, corrupts human morality so as to make people abandon God and tradition, causing people unable to understand the divines' teaching, and leading to their elimination. DeSantis' courage and insight is admirable, and I believe that more 'Florida' will emerge in the United States," said Mr. Zhuge.