Dressmaker of Century-Old Store Recalls Golden Era of Cheongsam in Hong Kong
Cheongsam, which means "long dress" in Cantonese, is the traditional dress style worn by Chinese women and is known as the quintessence of China and the national dress of women. The origin of the cheongsam can be traced back to the Qing Dynasty. It was not until the 1920s that it became popular in the upper class of Shanghai, which soon became the standard outfit for socialites.
In the 1950s and 1960s, a large number of Shanghainese arrived in Hong Kong, setting off a cheongsam craze. No matter what class of ladies—office workers, or housewives, they all wore cheongsam, which inadvertently ushered in the golden era of Hong Kong cheongsam.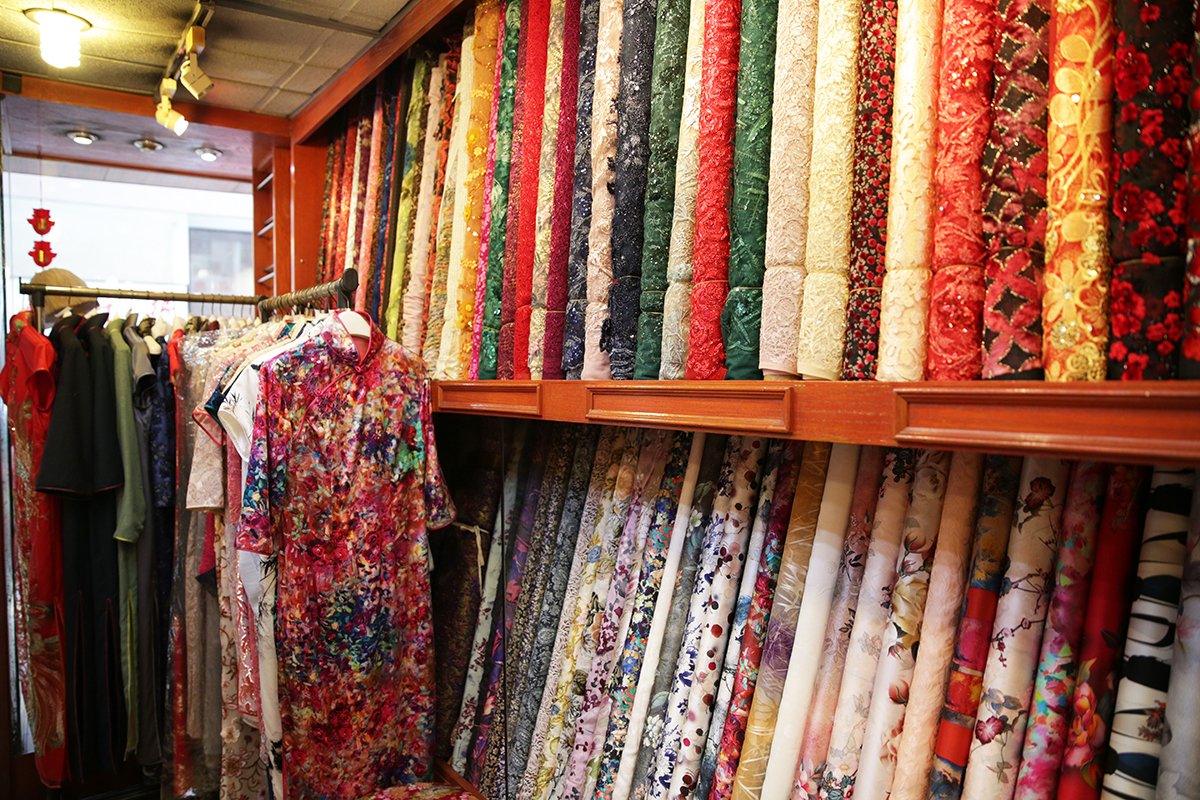 In 2017, the "Hong Kong Cheongsam Making Technique" became one of the items included in the "Representative List of the Intangible Cultural Heritage of Hong Kong." The origin of the cheongsam can be traced back to the Qing Dynasty.
Behind a cheongsam is the combination of craftsmanship, wisdom, and patience, and it is the delicate sewing technique of every stitch. Whether it is the choice of cloth, color matching, tailoring, or sewing, it all shows the profound strength of the tailor. Wearing a cheongsam is also a branch of knowledge as it acts as an artwork to put on the body.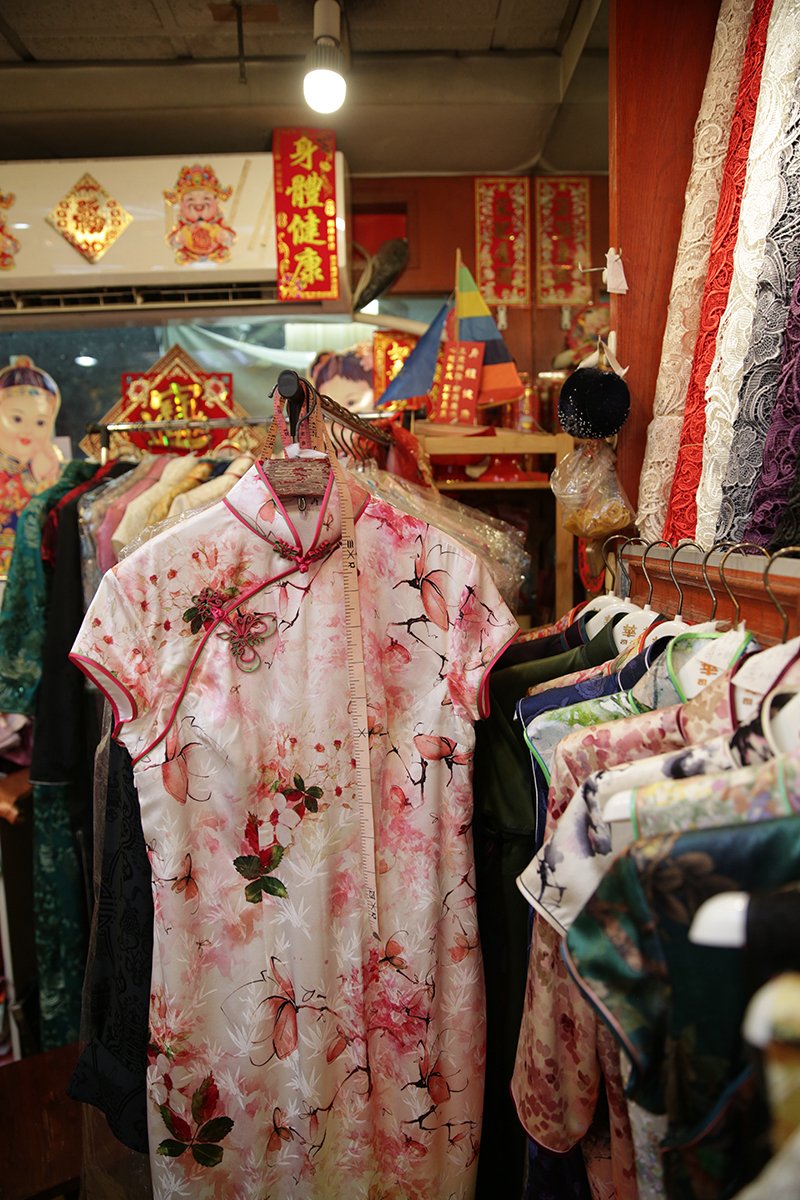 A customized cheongsam that meets the requirements can not only show the beauty of a woman's body but also break the fashion rules. A cheongsam does not have to be worn by a model to look good.
Chinese and Western Cheongsam Craftsmanship
In the 1960s, most of the ladies in Hong Kong wore cheongsams. During the colonial period, Hong Kong blended Chinese and Western styles, creating a cheongsam culture with a unique Hong Kong style, which was not limited by traditional styles: they wore pointed high heels, carried western-style handbags, donned earrings, and even lace was applied.
In today's Hong Kong, women who wear cheongsam are very rare. The cheongsam seems to be a costume, only seen on the stage or screen. Will cheongsam be the disappearing Chinese clothing culture in Hong Kong?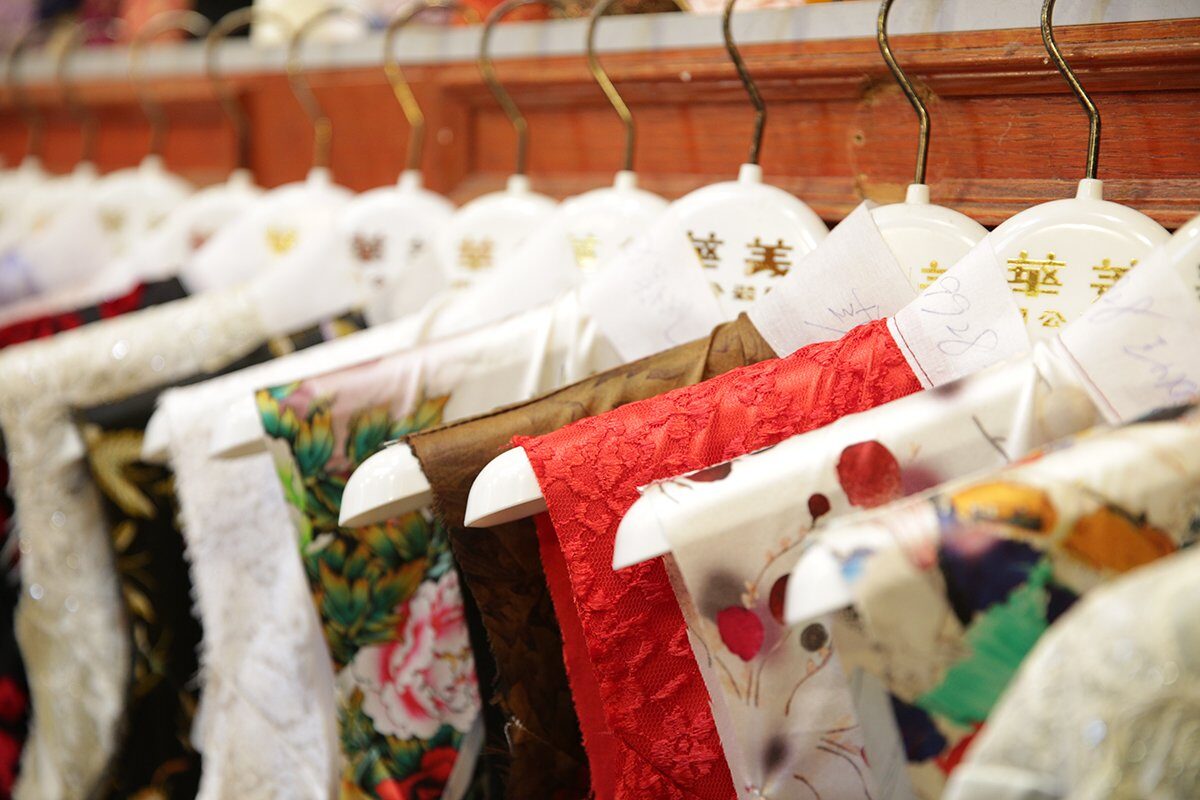 Today, in the Central and Sheung Wan area, the place where most Hongkongers used to wear cheongsam a few decades ago, the third-generation successor of Hong Kong's first cheongsam store "Mei Wah Fashion," Kan Hong-wing, at 63, is still working at the century-old store.
Hong Kong's First Cheongsam Store 'Mei Wah Fashion'
Master Kan's grandfather founded Mei Wah Fashion in Hong Kong a hundred years ago (in the 1920s). Grandpa Kan was born in Foshan, China, and immigrated to Hong Kong as well as lots of people from Shanghai. At that time, regardless of whether it was the upper class or the ordinary people in Hong Kong, they wore cheongsam as their daily clothes not just for special occasions.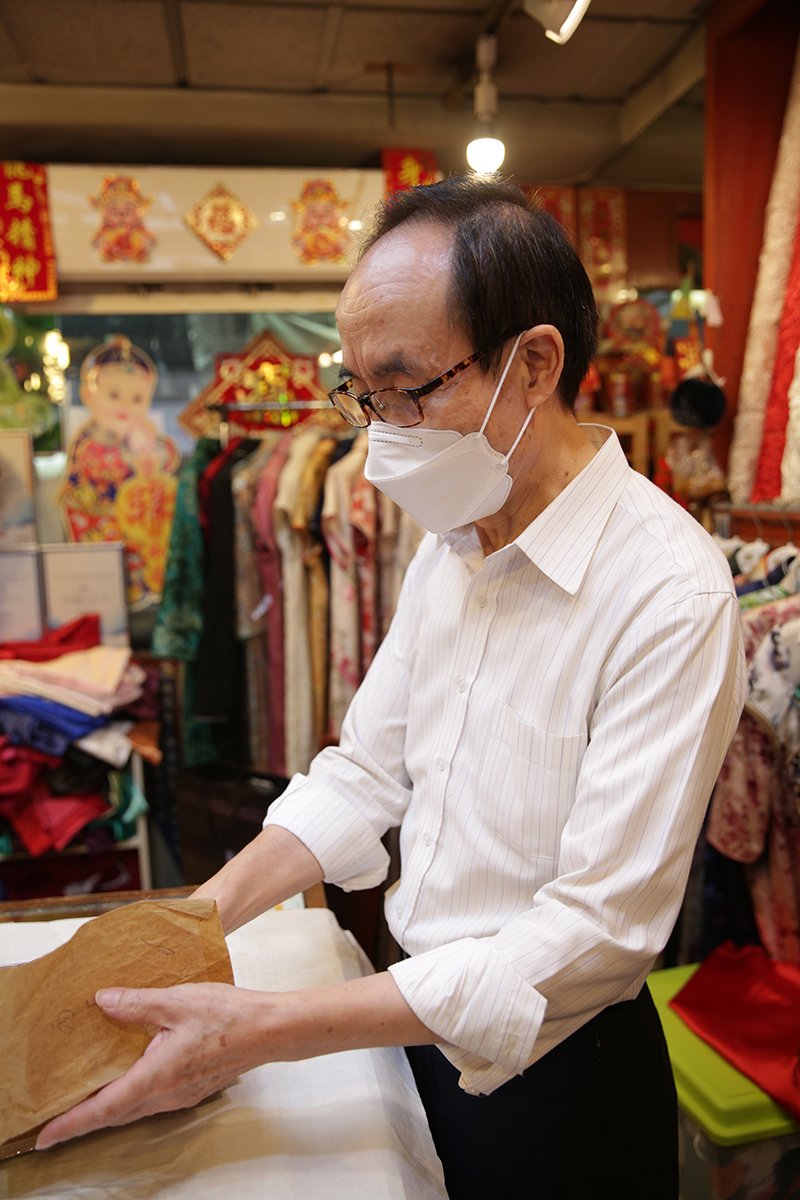 The "Principles of People's Livelihood" includes the four basic needs of "clothing, food, housing, and transportation," and clothing always comes first.
Grandpa Kan, who had a head for business, hired a large number of Shanghai tailors and founded "Mei Wah Fashion," and thus, the first cheongsam store in Hong Kong was born a hundred years ago.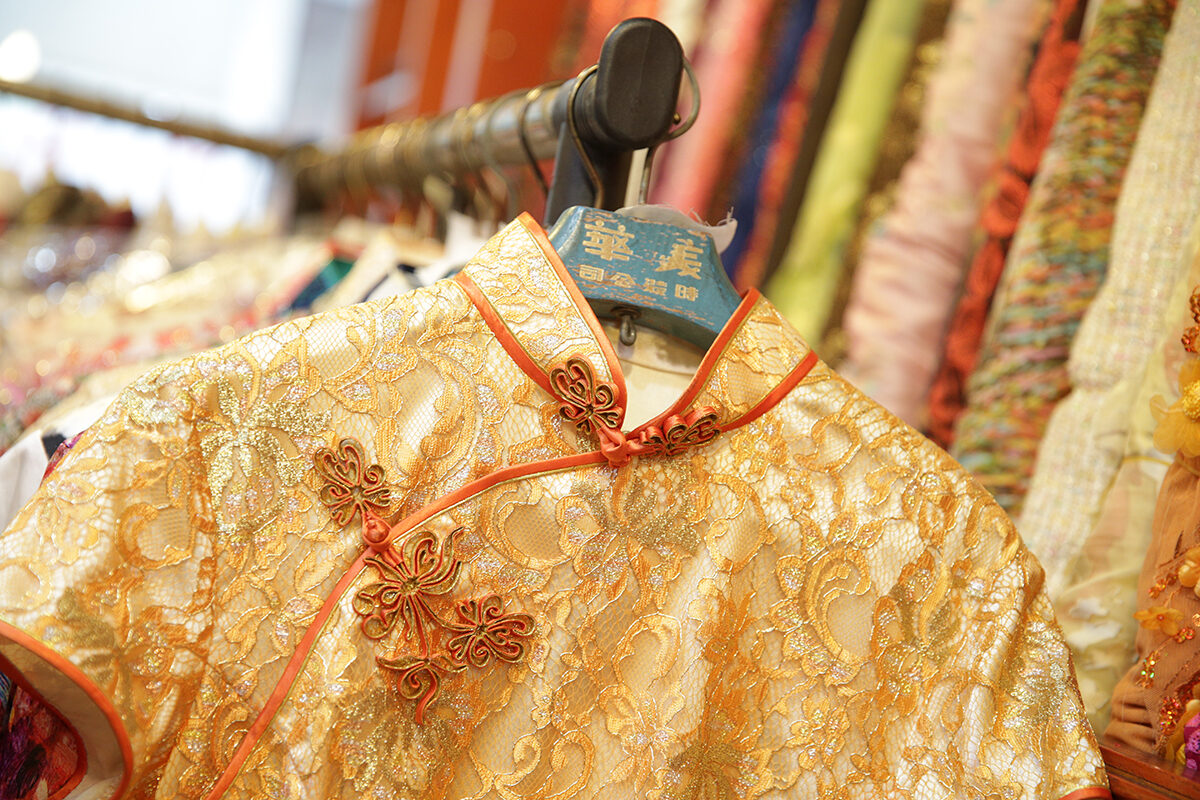 Master Kan has accompanied his father to work since he was a child. He was deeply interested in cheongsam making and voluntarily inherited the family business for more than 50 years. Master Kan still adheres to the cheongsam-making procedure passed down from Shanghai masters to him: after the customer chooses the fabric, he measures the customer's body, then cuts out sewing patterns on paper, makes simple sewing, and then fits it on the customer.
Remove all stitches after fitting and sew it again from the beginning, plus lining, collar, trim, Chinese knot buttons if needed. Every step is meticulous."I work attentively. I make connections with people, a long-term relationship, and a business of affection. Customers are all like my friends," he said.
For more than 50 years, Master Kan has never traveled abroad, and only devoted his life to the craftsmanship of cheongsam. Master Kan has handcrafted more than 10,000 cheongsams for many people including celebrities, high-ranking officials and stars in Hong Kong. He thinks that crafting a handmade cheongsam can easily cost several thousand dollars today, and some people cannot afford it, so he will be more diligent and delicate to make every single piece of them.
Speaking of inheritance, Master Kan's children have no intention of inheriting the century-old family business, and the current building of "Mei Wah Fashion" is also facing reconstruction. Kan Hong-wing, who is over 70 years old, has no intention of retiring, but instead finds a new address to continue serving customers. "To those who I think really want to learn cheongsam, I will hand over the shop to him unconditionally, and I will teach everything I have learned to him for the rest of my life," he said.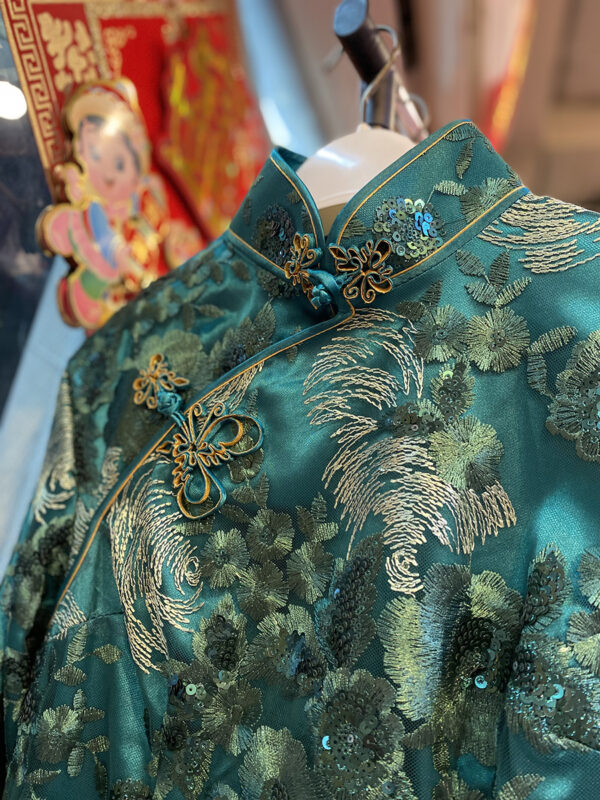 Although Kan's family is from Foshan, the craftsmanship of Master Kan is heired from authentic Shanghai tailors. What the three generations have inherited is not only the craftsmanship, but also the integration of seriousness, responsibility, persistence, endurance, nobility and decency that are sewn into the cheongsam stitch by stitch.
After Master Kan took over "Mei Wah Fashion" in the 1950s, he experienced the cheongsam blooming everywhere in Hong Kong, the changing times, SARS, social movements, and the impact of the epidemic on the business. Master Kan treats guests with his very beginning mind, "In the past, it cost two or three dollars to order a cheongsam, and it took about three days from tailoring to fitting. In this century, it cost several thousand dollars to order a piece of cheongsam, and it took about three months to finish it."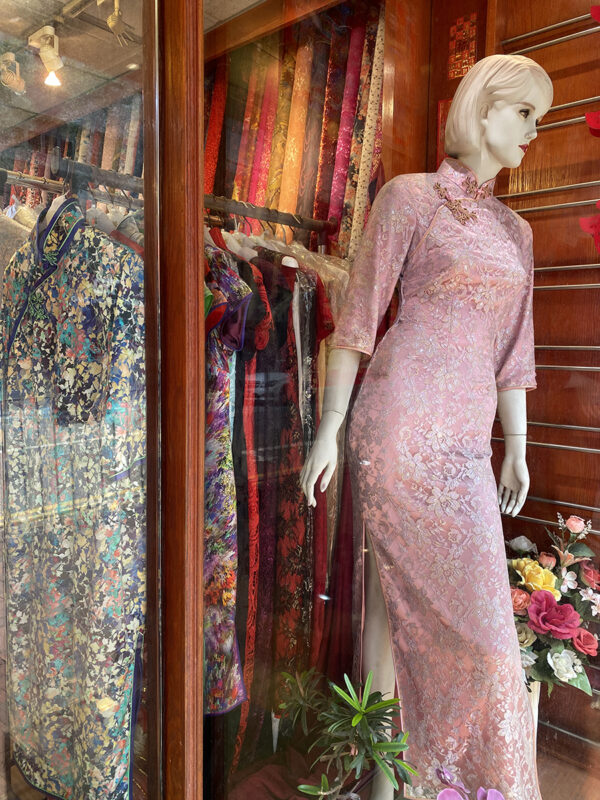 From the cheongsam to the suit and casual wear, hiring more than 30 tailors to currently two masters left, in the past few decades, Master Kan has experienced not only fashion trends and economic issues, but also cultural changes. There are very few people who have entered the profession to make cheongsam.
He understands that it is difficult to make a living by handicrafts in Hong Kong, and the failure of recruiting new cheongsam tailors is also to be expected, but Master Kan believes that cheongsam is a symbol of Chinese clothing, and there will always be people who love wearing it.