Estonian Scientist Sentenced After Caught Spying for China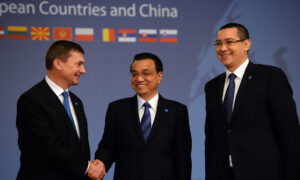 A leading Estonian marine expert with top security clearance was sentenced to three years in jail after pleading guilty to spying for Beijing.
Tarmo Kõuts, 57, was arrested in September last year and has admitted to conducting espionage for a foreign state—charges that stop short of treason. His conviction last week made him the Estonian linked to Chinese espionage since the Baltic country broke from the Soviet Union in 1991.
Kõuts was first recruited by Chinese military intelligence in 2018, according to Aleksander Toots, the deputy director of Estonia's counterintelligence agency, Internal Security Service.
Kõuts was motivated by "traditional human weaknesses" such as money, Toots told Delfi, a major Estonian outlet.
The prosecutors confirmed that Kõuts had profited €17,000 (about $20,296) from the scheme, which they had confiscated from him. A woman who allegedly acted as an accomplice was arrested on the same day as Kõuts and is yet to face trial in court.
Kõuts holds a high-level security clearance as part of the country's NATO Center for Maritime Research. He was also a member of the Estonian Ministry of Defense's scientific council from 2006 to 2012, and a senior researcher at Estonia's only technical university, Tallinn University of Technology. He had worked on projects that focused on the Arctic, one of the issues that, alongside climate and trade, has drawn particular interest from the Chinese regime, Estonians counterintelligence said in a recent annual report.
In 2016, one Arctic-focused project that Kõuts joined received over five million euros (roughly $6 million) from the European Union, according to Delfi.
His knowledge and access to sensitive information was one of the reasons that the prosecutors decided to act early and put a stop to his activities, Toots said.
Toots declined to disclose what information Kõuts has provided to the Chinese but confirmed that Kõuts has not compromised any state secrets.
He noted that a common tactic of the Chinese intelligence to lure recruit targets is to shower them with luxury and gifts.
They approached Kõuts under the cover of a think tank, Toots said. He received cash proceeds and paid trips to Asia that includes high-end hotels stays and dining in Michelin star restaurants, according to the Daily Beast.
Harrys Puusepp, head of the bureau at the Internal Security Service, told Estonia's public broadcaster ERR that the three-year terms that Kõuts received were part of a plea bargain.
"Chinese intelligence certainly has an interest in this field," he said, adding that "it is also important to make clear that this didn't happen accidentally."
He said his agency has been sounding alarms about such espionage risks but "this is the first time that this warning has been confirmed by a court judgment."
The university has suspended the employment contracts with Kõuts, records from the school website show.