Ex-Hong Kong Security Chief to Run for City's Top Job, Pending Beijing's Approval
Hong Kong's number-two official announced on April 6 that he intends to run for the city's chief executive position if Beijing accepts his resignation from his current role.
John Lee, 64, a former deputy commissioner of police, was elevated to chief secretary last June in a move that critics said signaled a further tightening of Beijing's squeeze on the global financial hub.
The office of the city's current leader, Carrie Lam, who has announced that she won't seek a second five-year term, confirmed Lee had submitted his resignation letter, according to a government notice released on Wednesday morning.
"I indicate in the letter the reason for my resignation is that if my resignation is approved, I shall plan to prepare to stand for the upcoming chief executive election," Lee told a press conference.
Lee said he would elaborate on his next move once his resignation was formally approved by Beijing.
In January 2017, Lam stepped down from her position as Hong Kong's chief secretary and was approved as leader by Beijing four days later.
The next leader will be chosen on May 8 by an election committee of some 1,500 members mostly loyal to the Chinese Communist Party.
If Lee is successful, it would be the first time a security specialist has taken the leadership since Hong Kong's handover from British to Chinese rule in 1997. Previous chief executives had extensive economic and social policy-making expertise.
According to his official website, Lee joined the Hong Kong police force in 1997 and became deputy police commissioner in 2010. He was appointed under the secretary for security in 2012 and was promoted to secretary for security by Lam when she took office in 2017.
Lee is the first government official to announce a bid for the city's top political position. The nomination period opened on April 3 and continues until April 16.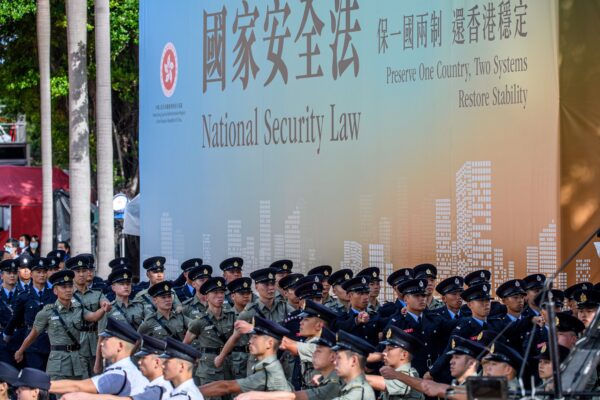 Lee is among the Chinese and Hong Kong officials sanctioned by the United States in 2020 for their roles in curtailing the city's autonomy and freedoms under the national security law.
More than 150 people have been arrested under the national security law, leading to more than 60 charges, mostly against democratic politicians, activists, journalists, and students.
The sweeping legislation criminalizes four broadly defined categories of offenses, including secession, subversion, and collusion with a foreign country. Persons found guilty of violating this law can face up to life in prison.
On Wednesday, six more people were arrested for suspected sedition and contravention of the law. According to local media, those arrested include Leo Tang, a former vice-chairman of the now-disbanded Confederation of Trade Unions, and citizen journalist Siew Yun-long.
The U.S. Department of State warned in a March 31 report that the city's freedom continues to deteriorate as the Chinese regime tightens its grip on Hong Kong.
Reuters contributed to the report.