Father and Son Climb Highest Peak in North America
Hongkong Youth Summits Mt. Denali in Alaska—More Challenging than Mt. Everest 
An 18-year-old Hong Kong youth Bob Tsang Long-kit has climbed the six tallest peaks on seven continents. He completed Mt. Denali, the highest peak in North America at 6,190 metres (20,310 feet)) on June 12 2022.
"Compared with other peaks, climbing Mt. Denali is the most exciting and most harsh, and it is also the most memberable trip for me, since I had to support myself throughout the whole process, carrying 110 pounds of baggage on an 11-day trip. The temperature difference between day and night was 80 degrees Celsius (176 degrees Fahrenheit), the physical requirements were too demanding!" he told the Epoch Times reporter.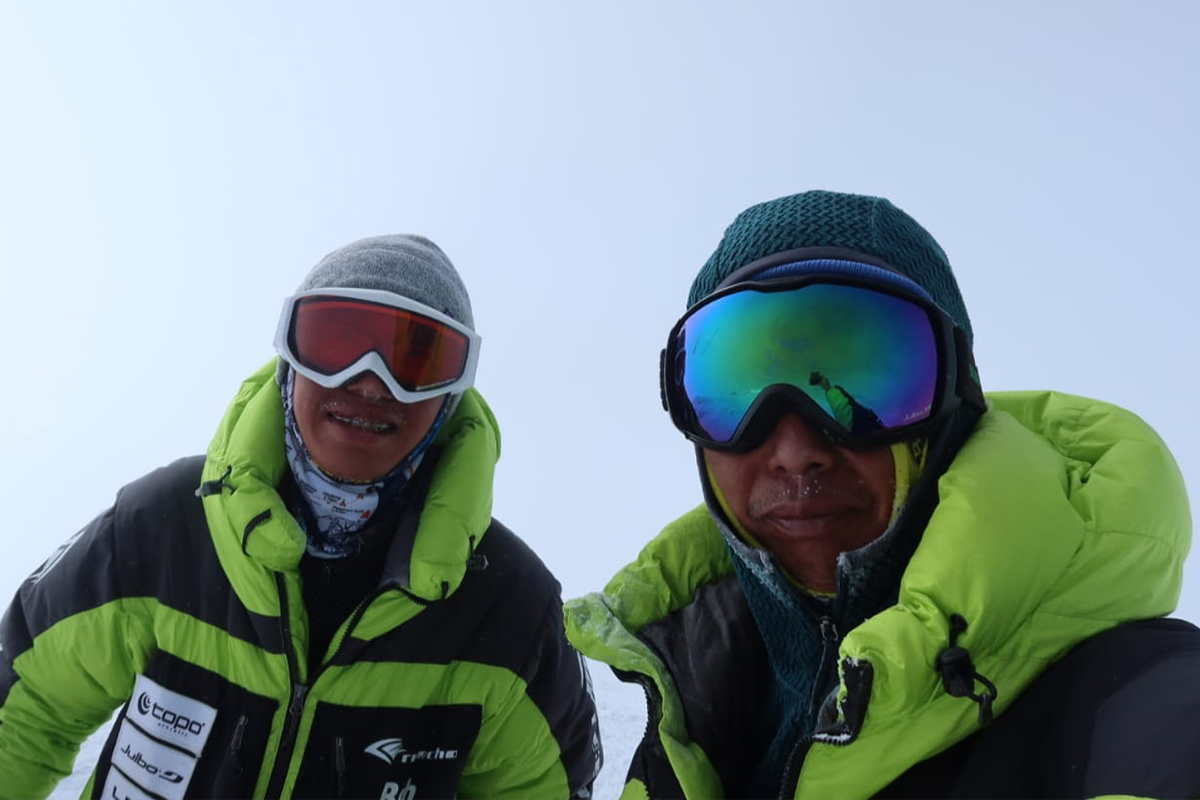 Bob and his 50-year-old father, John Tsang Chi-shing, started in Nepal and climbed Mt. Everest, the highest mountain in the world (8,849-metres-high (29,032.15 feet) on May 12 this year (2022), breaking the record of the youngest Hongkonger to reach the summit of  Mt. Everest.
A month later, father and son went to Alaska to challenge Mt. Denali, the highest peak in North America.
John is a senior mountain climbing expert who has climbed Mt. Everest four times and the world's highest peaks on seven continents.
This was John's fourth time climbing Mt. Denali. But for him, the challenge this time was greater than ever: "The weather was not fine when we climbed Mt. Denali. We set off at 9:30 a.m. on June 12. Due to the strong wind of 30 to 40 km per hour (18.64 to 24.85 miles per hour) on average, three team members decided to descend from the mountain earlier than planned. Climbing teams from all over the world were worried about the unstable weather, and no one else reached the summit on that day, so my son and I decided to try our luck and climb to the top!"
Since there were no other mountaineering teams "queuing up" to reach the summit, the trip was successful, John and his son reached the peak at their quickest speed. 
They only stayed at the peak for about ten minutes, and returned to the camp base at 8:30 in the evening—their climb lasted for 11 hours.
Bob mentioned that fortunately, the weather was not as bad as imagined, and the wind speed was relatively stable. The hardest part was climbing along the slopes and cliffs on the path to the top. Although there were ropes to assist along the way, the climbing required a lot of physical strength and endurance.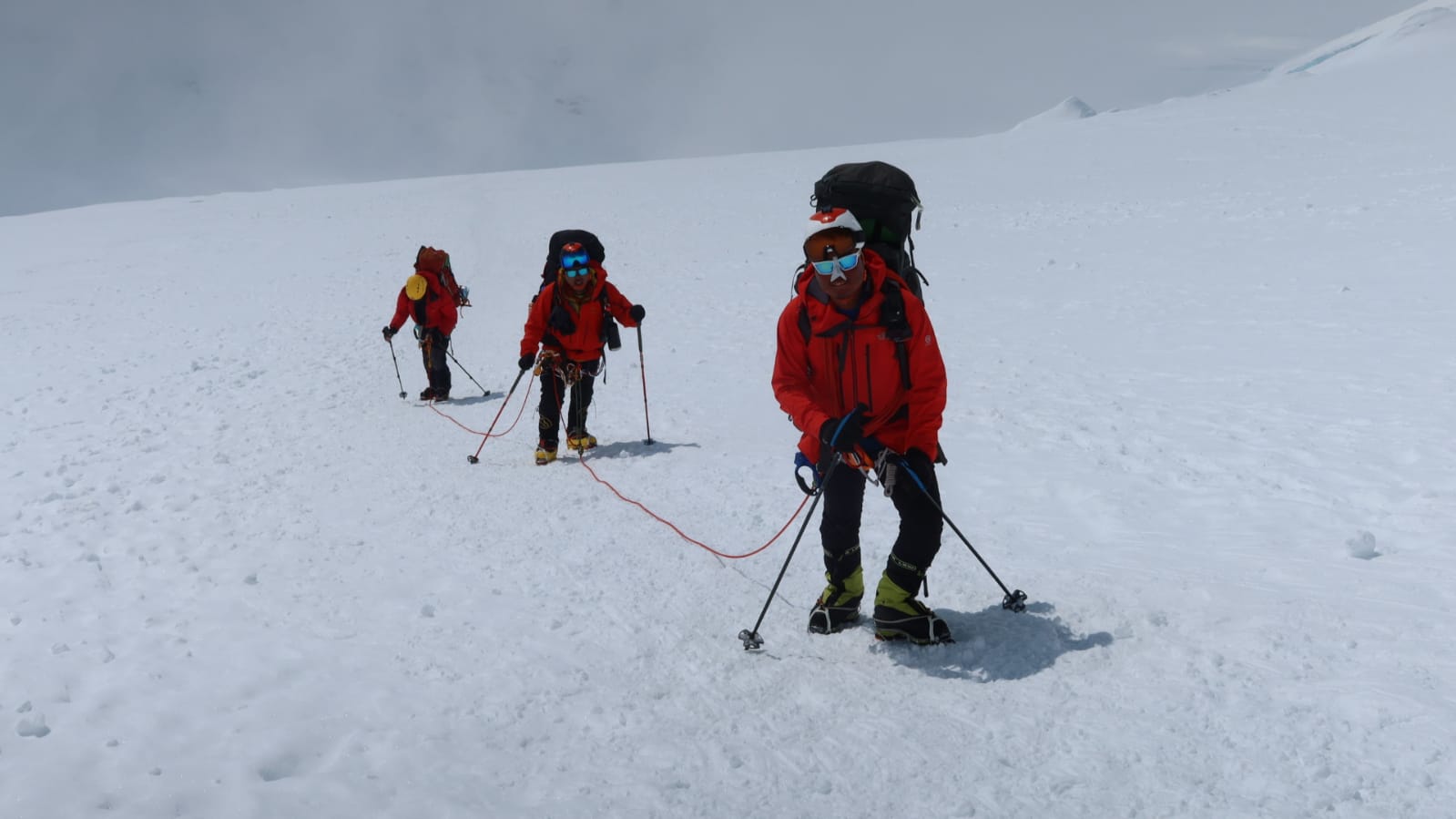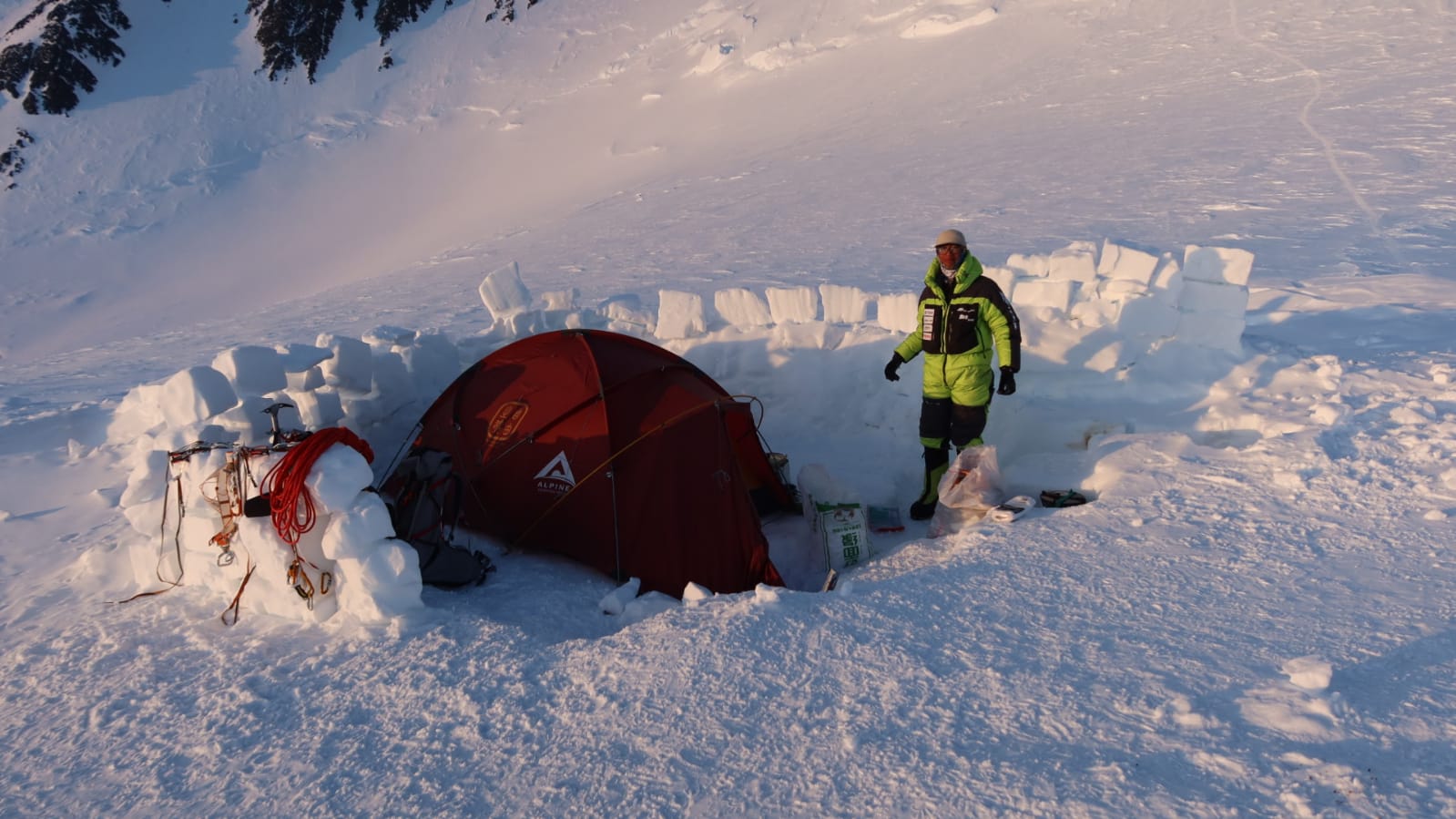 Talking about the experience of climbing Mt. Denali, Bob believed that "speed" and "proficiency" are very important terms. 
Skills such as mountain climbing, rope climbing and encamping were not difficult, but it is more difficult to be proficient in extreme weather.
If one climbs slowly and delays too long, it will increase the danger of climbing. The "Itinerary was very full every day, it was much busier than climbing Mt. Everest. We spent 3 to 4 hours encamping every time. The most uncomfortable thing for us was the temperature. The temperature difference between day and night here was huge, it could be as high as 40 degrees Celsius (104 degrees Fahrenheit) during daytime and minus 40 degrees Celsius (-40 degrees Fahrenheit) at night, so we tried our best to climb during the day."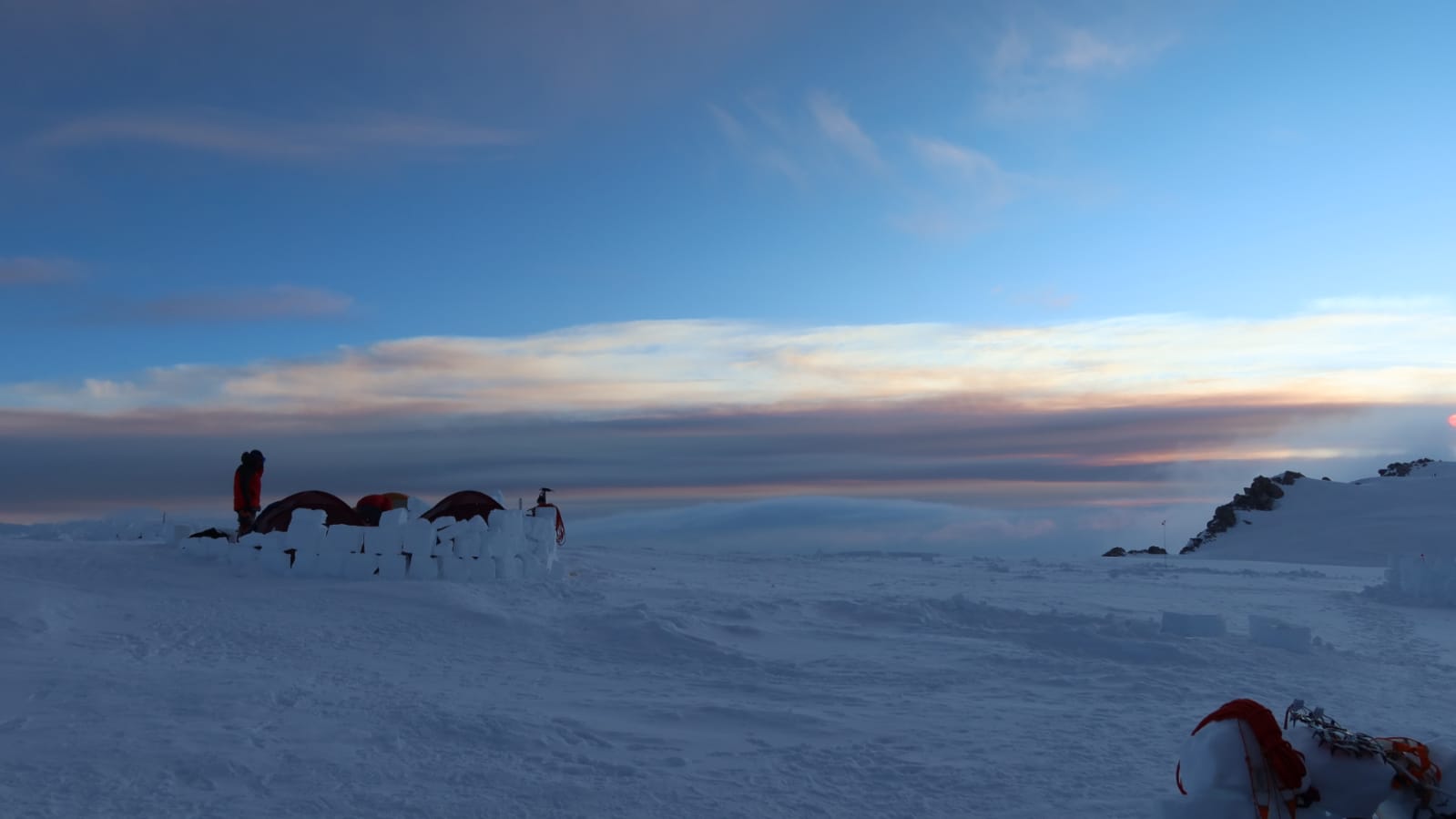 John added that climbing culture in the United States is different from in other regions. People have to carry all the equipment by themselves. When climbing Mt. Everest there are Sherpas's to help. 
They took a turboprop plane to the camp in Alaska, and their luggage and equipment needed to be kept under 125 pounds. During the 11-day trip, the team members needed to pull snow equipment by themselves. There was no supply station, and they needed to set up their own camp and bring their own food and sleeping bags.
On the other hand, people in the U.S. pay more attention to the environment. For example, there is a designated place for the disposal of excrement. If one misses the place, you have to carry it out of the mountain for disposal. People cannot leave rubbish on the mountain.

John explained that Mt. Denali is a "training ground" for many climbers before they go to climb Mt. Everest. 
But the conditions here are worse than Mt. Everest. Low temperature is the biggest challenge. In winter, the temperature here can reach minus 80 to -100 degrees Celsius (-112 to -148 degrees Fahrenheit), the lowest temperature in summer averages minus 40 degrees Celsius (-40 degrees Fahrenheit).
Located in the Arctic Circle, there are almost 24 hours of daylight in summer, but the temperature difference between day and night is huge, with a range of 80 degrees Celsius (176 degrees Fahrenheit), which is a great challenge to the human body.
Many climbers are injured here, most of them get frostbite, affecting fingers, toes, nose, and so on. Improper eye protection during climbing can easily lead to "snow blindness." In addition, the ozone hole above the mountains makes the ultraviolet intensity high, and climbers also need to pay attention to protect themselves. These factors make climbing Mt. Denali even more difficult than Mt. Everest.
John said that even though the weather was not ideal, he was confident to take the challenge of climbing Mt. Denali with his son, because he had climbed the mountain on three previous occasions, he was familiar with the route, and he had the good equipment which he used to climb Mt. Everest the previous month.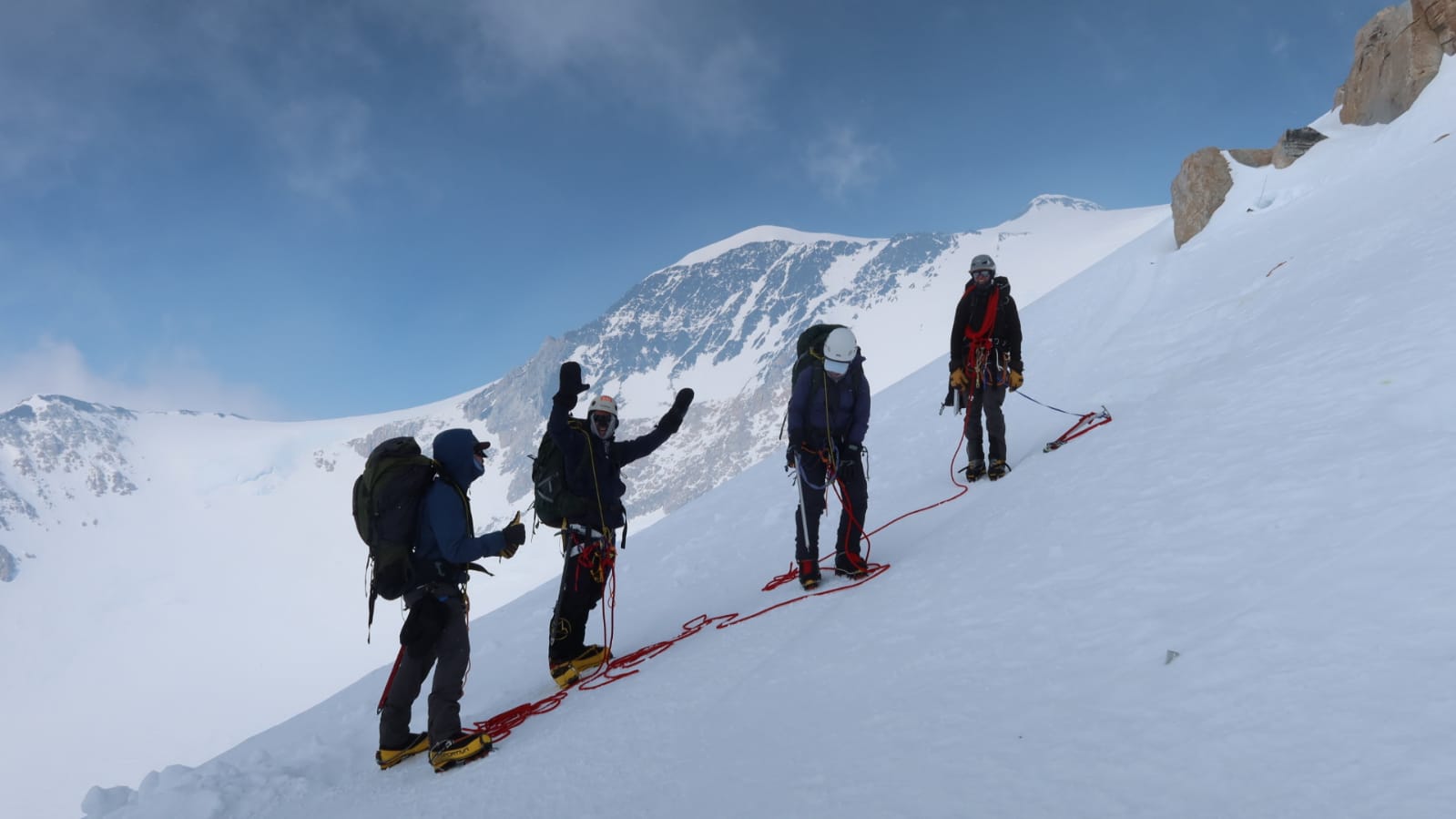 Bob and his father John left Hong Kong for Nepal on March 8, 2022, and returned to Hong Kong on June 22. In the 97-day trip they reached the top of five mountains of over 6,000 meters (19,685 feet)—March 22, Mera Peak, Nepal; April 4, Island Peak, Nepal; April 17, Lobuche, East Nepal; May 12, Mt. Everest, Nepal; June 12, Mt. Denali, U.S.A., successfully completing the entire climbing trip. 
So far, 18-year-old Bob has climbed six of the highest peaks on the seven continents of the world, and there is still Vinson Massif in Antarctica where he has never visited. 
With his experience, he is more confident to challenge Vinson Massif, but he is worried that the cost of the trip will be high, and sponsorship is needed to get a chance to climb Antarctica's highest peak.
John is satisfied with his son's performance. He is very pleased with his son's strength and perseverance in such harsh conditions. 
He evaluated the 3-month challenge with a full score of 100, and he would give his son 80 points, and the gap of 20 points is for "experience." 
He encouraged his son to continue to work hard, and hoped that he could enter a new life with such spirit and strength. 
Bob is about to study film production at the University of York in the United Kingdom. He hopes to turn this climbing journey into a documentary, and leave a video record of this unforgettable memory from his time while 18-years old.