FBI Arrests Chinese Music Student For Allegedly Threatening Pro-Democracy Activist
A Chinese student was charged with stalking for allegedly threatening and harassing a U.S. permanent resident who posted fliers in support of democracy in China, the U.S. attorney's office for the District of Massachusetts said on Dec. 14.
Wu Xiaolei, a Chinese citizen studying at Berklee College of Music, Boston, allegedly threatened a person who posted a flier near the campus supporting democracy and freedom in communist China.
"Post more, I will chop your bastard hands off," Wu told the activist in a group chat on WeChat, a Chinese social media app, according to the charging documents (pdf).
Wu, 25, also said he had reported the activist to the public security agency in China and the Chinese police would visit the activist's family, according to the complaint.
The U.S. authorities didn't reveal the name of the activist but said the person is a U.S. permanent resident from China and has family members there.
The charges against Wu came after a series of similar prosecutions targeting what U.S. officials describe as the Chinese regime's transnational repression. In the past year, more than a dozen, Chinese intelligence agents, officials, and U.S-based individuals allegedly working with the regime have been charged in relation to schemes to allegedly harass, intimidate, and repatriate Chinese dissidents in the United States.
Federal prosecutors in Boston said Wu had been arrested on Dec. 14 on the charge of stalking.
Wu made his appearance in federal court in Boston on Wednesday afternoon.
The charge of stalking carries a sentence of up to five years in prison, three years of supervised release, and a fine of up to $250,000.
Details
On Oct. 22, an individual posted an A-4 paper on a window near the campus, which read "Stand with Chinese People," "We Want Freedom," and "We Want Democracy," according to the charging documents.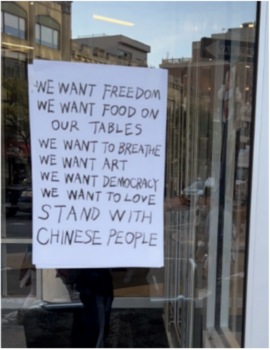 U.S. authorities allege Wu demanded the person take it down and threatened violence through WeChat, a messaging app popular among the Chinese.
Prosecutors said Wu also claimed he reported the person to the public security agency in China.
"I already called the tipoff line in the country, the public security agency will go greet your family," Wu said in a Wechat group with over 300 members, according to the complaint.
Wu was believed to refer to China's Ministry of Public Security or the Ministry of State Security. "Both agencies investigate political dissidents, including those who voice support for democracy," according to the document.
Wu also allegedly sought to solicit others from the Wechat group to find out where the individual lived. According to the charging documents, Wu posted the activist's email address in the Wechat group, named "Berklee Class of 2024," to encourage others to harass the person.
In an Oct. 24 email addressed to the activist, which Wu later posted on his Instagram account, Wu said the person would be arrested upon returning to China, and the person's family members would receive a "political review" from Chinese authorities.
"You should wash dishes for the capitalist dogs," Wu said in the email, according to the charging documents.
"Oh right, you can also sue me for personal attacks against you, but I feel that with your family background, you will not be able to get rid of me. I already got screenshot(s) of your social account(s) number(s). I also read your records at school. I also called the tip-off line in the country. If you can overturn this, I consider you [expletive] awesome. Don't go back to the country, it is not appealing to you."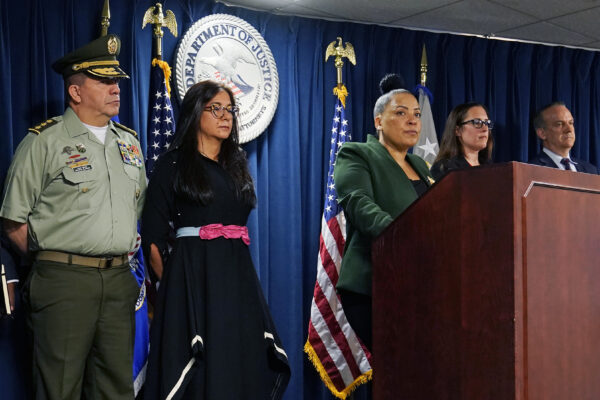 Reaction
U.S. prosecutors said that Wu's threats and harassing behavior were not free speech. "Rather, it was an attempt to silence and intimidate the activist's expressed views dissenting of the PRC," said U.S. Attorney Rachael S. Rollins, referring to China's official name, People's Republic of China.
"We will not tolerate threats, harassment or any other repression attempts against those peacefully promoting their ideas, doing their jobs, or expressing their opinions. Freedom of speech is a constitutional right here in the United States and we will protect and defend it at all costs."
The FBI said that Wu had reported the activist to Chinese police so that it would launch an investigation into the person and her family.
"This alleged conduct is incredibly disturbing and goes completely against our country's democratic values," said Joseph R. Bonavolonta, a special agent in the Boston division of the FBI.
Growing U.S. Alarm
The Berklee student's appearance at the U.S District Court of Massachusetts came after a string of similar cases in which pro-democracy Chinese activists or dissidents were allegedly targeted by the Chinese regime in attempts to silence them.
In March, the Department of Justice (DOJ) announced five individuals were charged with stalking, harassing, and spying on Chinese nationals on U.S. soil. Prosecutors said the defendants were players in Beijing's transnational repression aimed at suppressing critics of the communist regime.
Among those allegedly targeted include a California-based artist and an Army veteran running for the Congressional seat representing a district in Long Island.
In October, the DOJ unsealed an indictment against seven individuals who were allegedly working at the behest of the CCP to force Chinese living in the United States to return to the county, as part of the broad transnational repression campaign, known as Operation Fox Hunt.
The Congressional-Executive Commission on China, a bipartisan congressional commission, in its annual report released in November, highlighted the Chinese regime's ongoing "multi-year campaign of transnational repression against critics, Uyghurs, and others to stifle criticism and enhance control over emigrant and diaspora communities."
Recent reports by a nonprofit revealed that the Chinese regime runs over 100 "police service stations" around the world, including two in New York City, and one in Los Angeles.
The global network has been used by the Chinese Communist Party to carry out its transnational repression, according to the Spain-based human rights group Safeguard Defenders.
The reports raised concerns among lawmakers in the United States, UK, Canada, and other European countries, and at least 14 countries have launched an investigation into the facilities.
FBI Director Christopher Wray said in a November hearing that these outposts are being investigated.
"To me, it is outrageous to think that the Chinese police would attempt to set up shop—you know, in New York let's say—without proper coordination," Wray told lawmakers on Nov. 17. "It violates sovereignty and circumvents standard judicial and law enforcement cooperation processes."
"I'm deeply concerned about this," Wray said." I'm not going to just let it lie."