GOP House Candidate Criticizes CCP Ideologies, China's Organ Harvesting
A Republican candidate seeking a House seat to represent New Hampshire is applauding Falun Gong practitioners for speaking out about their spiritual practice—in a world where the Chinese Communist Party (CCP) is continuing to export its ideologies around the world.
Lily Tang Williams, who finished third in the Republican primary for New Hampshire's 2nd Congressional District in 2022, spoke about her experience as a child living in China, and how she only realized that she had been indoctrinated by the CCP after coming to the United States in 1988. Ms. Williams made her comments in a recent interview with The Epoch Times' sister media NTD.
The CCP's ideologies are "evil," Ms. Williams said, and the communist regime is "trying to sell" them to the rest of the world. What Beijing says about its "socialism with Chinese characteristics" is, in reality, communism with censorship and abuse of human rights, she added.
A survivor of China's Cultural Revolution, Ms. Williams said she was raised as a Buddhist in China but was eventually indoctrinated by the regime's communist propaganda, as she replaced her religious faith with a belief only in the CCP—believing that former Chinese paramount leader Mao Zedong was a "godlike leader."
Only after leaving China did Ms. Williams realize that the CCP had been feeding her a stream of "total lies."
Now, having spent years in the United States, Ms. Williams said she has been following China's persecution of Falun Gong practitioners, and particularly how many of them have become victims of the regime's state-sanctioned practice of forced organ harvesting.
"It is a crime against humanity," Ms. Williams said. "We need to continue to expose this evil and let the world's people know what is happening still in China today."
Falun Gong, also known as Falun Dafa, is a spiritual practice based on the principles of truthfulness, compassion, and tolerance, and teaches a set of slow-moving meditative exercises. By 1999, the practice had become very popular in China, with an estimated 70 to 100 million adherents in mainland China.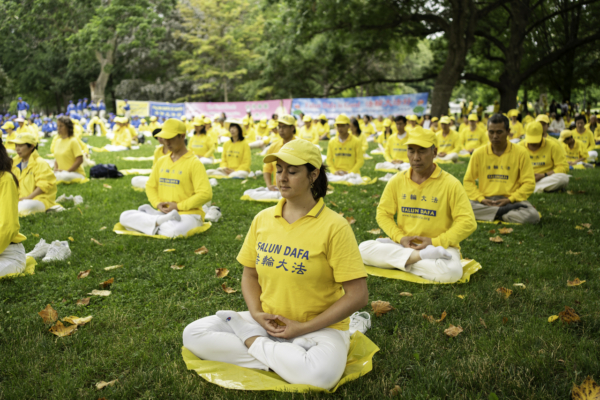 The CCP leadership, seeing the practice's popularity as a threat to its rule, ordered the eradication of Falun Gong in 1999, launching a campaign to violently detain Falun Gong practitioners and throw them into prisons, brainwashing centers, and forced labor camps.
According to the Falun Dafa Information Center, hundreds of thousands of Falun Gong practitioners have been tortured while being detained, and over 5,000 cases of death as a result of the persecution have been documented. Due to strict censorship in China, however, the actual death toll is likely to be many times higher.
This year's July 20 marks 24 years since the communist regime launched its persecution. To commemorate the 24th anniversary, Falun Gong practitioners recently held parades and rallies in several cities, including Kyoto, London, Melbourne, New York City, San Francisco, Taipei, and Toronto.
"So I applaud the people in this country, especially Falun Gong practitioners … they have events every year, and they continue to use media, use social media, to speak the truth and to promote … compassion, and truthfulness, and tolerance."
'Organ Bank'
Dr. G. Weldon Gilcrease, deputy director of U.S.-based advocacy group Doctors Against Forced Organ Harvesting (DAFOH), recently told NTD that China's practice of organ harvesting is a "horrific abuse of medical ethics."
Calling the practice "an evil we've never seen before," Dr. Gilcrease said the CCP "really has the Chinese medical system in its grips," and it turns Falun Gong practitioners into "the de facto organ bank for China's explosion in transplant activity."
The CCP has used its organ bank to turn China into a top destination for transplant tourism because Chinese hospitals often offer short waiting times for matching organs for patients—much faster than developed countries with established organ donation systems.
Allegations of forced organ harvesting from Falun Gong practitioners in detention first emerged in 2006.
In 2019, an independent people's panel called the China Tribunal found that the Chinese regime had been harvesting organs from prisoners of conscience for years "on a significant scale," with Falun Gong practitioners being the primary source of the organs.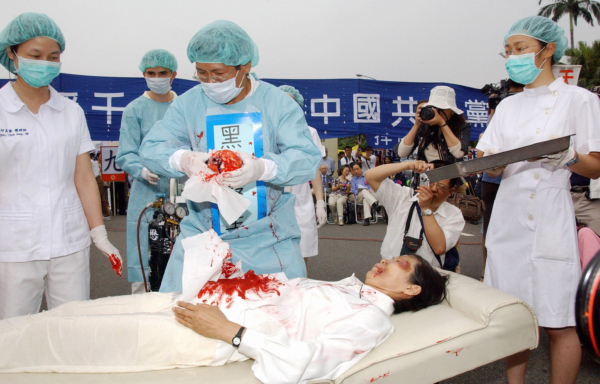 In the United States, there has been legislation at the state and federal levels to confront China's criminal practices. As of Sept. 1, it will be illegal in Texas for health insurance providers to fund organ transplants from China or any other country known to have been involved in forced organ harvesting.
In March, the House passed the Stop Forced Organ Harvesting Act of 2023 (H.R. 1154) after a 413-2 vote, which would sanction anyone involved in the act and require annual government reporting on such activities taking place in foreign countries.
Rep. Scott Perry (R-Pa.) introduced the Falun Gong Protection Act (H.R. 4132) in June. If enacted, it would impose sanctions on complicit individuals and prevent them from entering the United States, as well as making it a U.S. policy to avoid cooperation with China in the organ transplantation field.
Dr. Gilcrease expressed hope that Mr. Perry's bill would be passed and enacted, explaining that surgeons and doctors shouldn't be used by the CCP "in this horrific way of killing innocent people for their organs."
He then encouraged people to support Falun Gong practitioners.
"I think standing in solidarity with Falun Gong practitioners, who have stood up to the tyranny of the Chinese Communist Party, is something that we all should do," he said, before adding that China's practice of organ harvesting "is an evil we've never seen before—and it's an evil that must be stopped."