Government Survey on Canada-China Ties Omits Questions on Foreign Interference: Report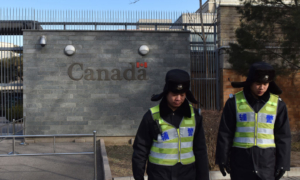 A survey commissioned by Ottawa aimed at studying the views of Chinese-Canadians on the Canada-China relationship did not include questions on Beijing's foreign interference in Canada, according to documents.
The report titled, "Continuous Qualitative Data Collection of Canadians' Views," surveyed a group of residents in Vancouver comprised of Chinese-Canadians in regard to the federal government's current relationship with China.
"All believed this relationship had deteriorated in recent decades and even more so in recent years," the report said. "It was thought by many that this had at least in part been due to China's rise as a larger economic and geopolitical power and its perceived ability to be more assertive in its foreign policy as a result."
The in-house research, conducted by The Strategic Counsel under a $2.4 million contract for monthly focus groups on a range of topics, was published by The Privy Council Office (PCO) on July 20, as first reported by Blacklock's Reporter.
Participants pointed to a number of events and issues they believe had further aggravated the Canada-China relationship, including the arrest of Huawei's senior executive Meng Wanzhou, Canada's close ties to the United States which in turn is seeing a downturn in its relationship with Beijing, and Ottawa's outspoken criticism of human rights abuses in China. Some also cited the COVID-19 pandemic as having further exacerbated the bilateral relationship.
The participants, however, were not surveyed on China's foreign interference or its increasingly aggressive diplomacy, such as the regime's meddling in Canadian elections, or arbitrarily detaining Canadian citizens. The focus group also omitted any mention of widespread demands from MPs and the public for a foreign agent registry in Canada.
In recent months, there have been mounting calls for such a registry to increase transparency surrounding entities working on behalf of a foreign state. The calls came in response to a Chinese diplomat in Toronto who was expelled over targeting Conservative MP Michael Chong's family members in Hong Kong. Mr. Chong, as well as NDP MP Jenny Kwan, have both been targeted for their open criticism of the Chinese Communist regime.
The report noted that some expressed disappointment in how this relationship had devolved, believing that Canadians could "no longer feel safe travelling to China."
Calls for Clearer Strategy
The respondents expressed concerns about the federal government's lack of direction in terms of handling its relationship with China
"Discussing whether the Government of Canada was headed in the right direction in terms of its relationship with China, participants expressed a great deal of uncertainty," the PCO report said. "Several described what they viewed as a lack of direction on the Government of Canada's part related to China and felt that its actions had been mostly reactive."
When asked how they would like the Canada-China relationship to evolve in years to come, several called for a clearer strategy going forward, according to the report. Notably, many called on Ottawa to diversify its trade relationship with other Asian countries to ensure it had multiple trading partners in the region outside of China.
"This was felt to be especially important given participants' concerns that China may become militarily engaged with Taiwan in the near future, an event they believed would significantly harm the trading relationship between Canada and China," the report said.
Asked what the Government of Canada had done well regarding the aforesaid relationship with the superpower, a number spoke positively of its commitment to human rights and Canadian values, including outspoken criticism of China regarding human rights abuses within its borders.
"A number of participants felt that, going forward, the federal government should primarily focus on finding ways for it to mutually benefit with China (such as trade, immigration, and tourism) while not compromising its commitment to upholding and defending human rights," the report said.