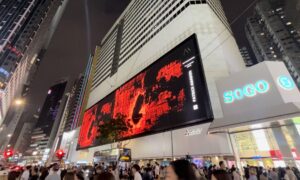 A large LED display outside SOGO Department Store in Hong Kong Causeway Bay recently exhibited works of the Italian art institution Art Innovation Gallery as part of Art Basel 2023. Patrick Amadon, a renowned Los Angeles artist in the United States, was asked to submit a contribution. Still, Art Innovation Gallery said it was taken down because hidden content may connect to the 2019 to 202 protests in the city.
"No Rioters," one of Patrick Amadon's artworks displayed for the Art Innovation Gallery, was said to have hidden messages of convicted protesters from the 2019 Anti-Extradition Movement.
Patrick Amadon, a renowned Los Angeles artist in the United States, shared the news on his Twitter account.
The artist posted on the social platform on March 23, informing his followers that his artwork had been "taken down today at the request of the government."
Francesca Boffetti, the founder and CEO of Art Innovation Gallery, stated in an interview with Artnet News on March 23 that the owner of SOGO made the decision, and they were aware of the sensitivity of the content. "Our intermediary told us that the owners of SOGO were concerned about the sensitive political content hidden behind Patrick's work," Boffetti said they respected the owner's decision.
The artwork in question, an animation, is set in red, with a surveillance camera swinging left and right saying "No rioters," "Tyranny," and "Specialize In Plumbing." Some phone numbers were written on the wall.
The animation occasionally flashes, displaying computer codes for less than a second.
Amadon added that he had hidden data in the animation, such as the names and ages of convicted protesters involved in the anti-extradition movement in 2019.
The title of Amadon's artwork is also a nod to the famous slogan "No rioters, only tyranny" that protesters frequently used during the 2019 demonstrations in Hong Kong.
In response to being labeled as "pro-rioters" by the mouthpiece media of CCP in Hong Kong, he said: "This is correct." He also added an emoji of a fist and a black flag to reflect his support for Hongkongers fighting for democracy.
During an interview with local media, the artist stated his wish to use his artwork to support Hongkongers.
He said he did not want those who sacrificed for principles to be forgotten.
Amadon also said that it was a remarkable opportunity to remind people of what Hong Kong has become and the overlooked tragedies that continue to happen.
The artist is currently not in Hong Kong. Hence, he said he was not concerned about any potential legal risks.