Hong Kong Projects Fiscal Deficit Amid COVID-19 Outbreak
Hong Kong government spending will reach an all-time high this fiscal year, putting it into a budget deficit, its financial chief said Wednesday, as the city grapples with its most severe COVID outbreak.
The city of 7.4 million people is experiencing its fifth wave of COVID-19 infections. Daily cases have reached record highs with 8,798 new cases being reported on Thursday.
The government announced mandatory testing for all residents three times in March, as well as a ban on travel from numerous countries, school closures, and restaurant dining restrictions. Stricter rules may be enacted, causing greater harm to businesses and jobs.
"Economic activity, particularly in consumption-related sectors, will continue to be under intense pressure in the short term," financial secretary Paul Chan said on Wednesday in his annual budget speech delivered via video. 
The city's record spending of HK$807.3 billion ($103.45 billion) in the fiscal year 2022-2023 will outpace government revenue of HK$715.9 billion, resulting in a deficit in the new fiscal year starting April 1, Chan said.
For the current fiscal year, Hong Kong posted a surplus of HK$18.9 billion; the outcome was large because of higher-than-expected revenue from land sales and taxes levied on property transactions.
"The economic performance in the first quarter is not optimistic," he said.  
The financial hub's economic growth will fall to between 2 percent and 3.5 percent in the calendar year 2022 from 6.4 percent last year, Chan predicted, assuming activity recovers in the second part of the year and infections are brought under control. In 2021, the economy recovered from a two-year slowdown caused by the U.S.-China trade war, domestic political upheaval, and the pandemic.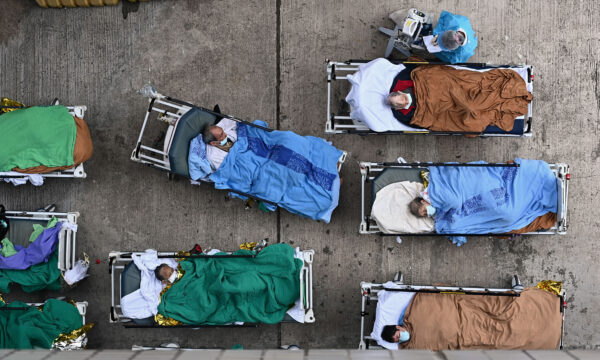 Zero-COVID Policy
Hong Kong has stuck with China's zero-COVID policy, keeping itself greatly shut off from the rest of the world for two years.
Chief executive Carrie Lam claimed to rule out a citywide lockdown last week, but when asked by reporters whether the city's March 27 chief executive election will be held, Lam said she cannot "preclude any possibilities at this moment," given the severity and speed of this latest outbreak.
The government has earmarked more than HK$170 billion worth of stimulation measures to support residents and small- to medium-sized businesses, Chan said on Wednesday, a day after authorities said to extend virus control measures to April 20.
A range of businesses, including beauty salons, gyms, nightclubs, and theme parks have been ordered to shut under stricter new measures, while restaurants are banned from serving dine-in customers after 6 p.m.
Chan is also planning to set aside HK$67.5 billion for pandemic-fighting measures, including HK$47.5 billion for mandatory universal testing, vaccines, and other COVID-19 control measures, while another HK$20 billion will be reserved for "other potential" anti-pandemic needs.
Some commentators have questioned where the government will purchase medical supplies and expressed concern that "the hard-earned money of Hong Kong residents will be transferred to the ruling Chinese Communist Party," as reported by Hong Kong's Epoch Times.
Together with Chinese authorities, the Hong Kong administration has planned to construct a mega makeshift hospital to accommodate growing COVID-19 cases.
Furthermore, in the fiscal year 2022-23, the expenditures of Hong Kong's six regular forces reporting to the Security Bureau will rise by 7 percent to 13 percent. The Police Force received the most money, HK$26.67 billion, a 13 percent increase over the previous year, followed by the Government Flying Service, Customs, and Fire Services.