Hong Kong Traditional Cafe Culture Shown at London Fair
Hong Kong's traditional cafe flavours were reproduced in London in July to show and promote the territory's unique heritage.
The event, called "Bing Sutt (Icehouse Cafe): The Origin of Hong Kong-style Coffee Shops," took place in London's Hackney Chinese Community Services Centre on July 9 and 10. It was co-hosted by several Hong Kong groups such as the Museum of Hong Kong, Shalom Heung Gong, London Ghost Stories, Kong Fook Cheongsam, Hong Kong Culture Square, and Hongkongers in London, all Hongkongers' organizations in Britain.
The event drew around 100 participants, mostly Hongkongers; the rest were locals.
Hongkongers' population has swelled into a colossal group in Britain as 120,000 emigrated there through the BNO visa, outgoing prime minister Boris Johnson announced on July 1. People from the exodus have not lost their identity as Hongkongers. Some of them organize events about Hong Kong's history and culture.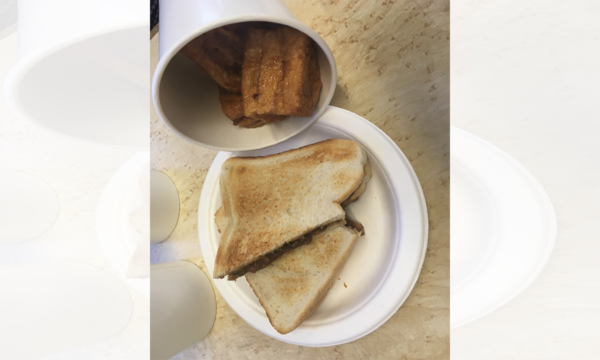 The hosting organizations sold food of the Hong Kong bing-sutts from the 1930s: mini French toasts, buttered toasts enriched with condensed milk or jam or peanut butter, satay beef buns, roll cakes, egg custard tarts, chicken pies, pineapple buns, put chai go (pudding cakes), pineapple jelly, red bean ice, ice lemon tea, coffee, coca cola topped with ice cream, watercress honey drink, yuen yeung (coffee-tea-mix) and pour-over milk tea,
As early as the 1930s, satay beef buns were famous in Hong Kong's bing sutts, according to Calvin, founder of the Museum of Hong Kong. He said pineapple jelly was also a hit before the second world war. So many farmers grew pineapples in the New Territories, especially Tsuen Wan, that left-overs from sales were made into jelly.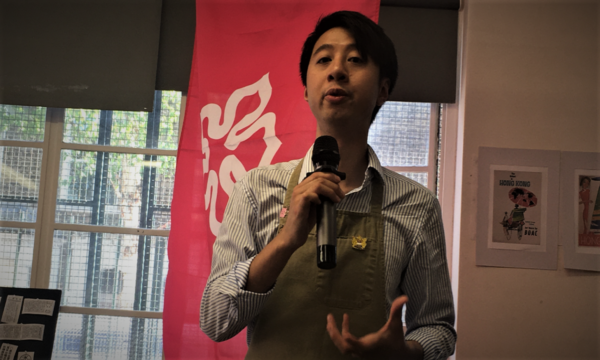 Calvin deemed Hong Kong's bing-sutt culture developed from England's coffee shop culture. He, therefore, hoped to replicate the culture in London.
Promoting Hong Kong with Arts
Arkisan is a painter who moved to Britain a year ago. Her booth sold watercolour paintings and postcards depicting the anti-extradition movement, Hong Kong's food culture, Cantonese songs, and street scenes.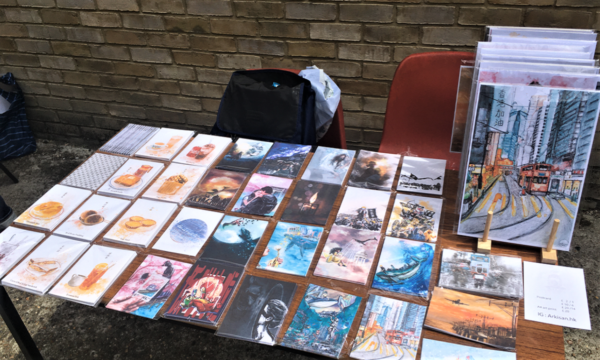 Artkisan was already a full-time creator before the 2019 social movement. At that time, she mainly painted Hong Kong landscapes and expressed her feelings about the territory through her paintings. In an exhibition, this June, many Britons bought her paintings. Some purchasers had lived in Hong Kong for a few years and showed their support for Hongkongers.
Book Exhibits Illustrate Hong Kong History
Political commentator Gordon Poon's booth displayed a collection of books he treasured, including the yearbooks published by the British Hong Kong government in the 1980s, picture albums and postcards of Hong Kong scenes, and Hong Kong history books and books by former governor Chris Patten.
The yearbooks are now difficult to find in Hong Kong's libraries, so he displayed them to show locals and Hongkongers the true history of Hong Kong.
Vincent, the founder of London Ghost Stories, shared some ghost stories in Britain with the audience. He found Hong Kong ghost stories more terrifying than those in Britain. Hong Kong once had components such as marriages of the dead, infant spirits, and demon possession.
But demon possession plots were rare in Britain's ghost stories. Instead, they often involved bloody murders, extramarital affairs, and historical events. And the British ghosts usually lived on in a form similar to a human being.
Vincent hoped Hongkongers would understand Britain's culture and history from the ghost stories, which was a way for him to integrate into England society.