House Select Committee on CCP Launches Probe Into US Venture Firms' Deals in China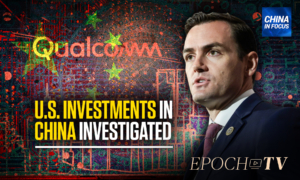 Are U.S. companies pumping money into China's military advancement? A congressional committee is trying to find out.
Chinese e-commerce giants Temu and Shein are duking it out in U.S. courts. Temu is accusing Shein of bullying its suppliers, but that's far from the only legal woes Shein is grappling with.
Thousands are taking to the streets in Washington, D.C. calling for an end to a brutal campaign of human rights abuses spanning decades.
How deadly is China's COVID-19 pandemic? A leaked count of funeral cremations offers a hint. The data was quickly wiped after its release.
Topics in this episode:
House Select Committee on CCP Launches Probe into U.S. Venture Firms' Deals in China
Fast-Fashion Giant Shein Faces Lawsuit from Temu
Rally to End 24 Year Falun Dafa Persecution
House Committee Challenges White House China Strategy
Beijing Holds Joint Naval Drills with Moscow
'China Never Forgets Its Old Friends': Xi Jinping Meets with Kissinger in Beijing
Disappearing Data: Cremations Jump 73% in China's Zhejiang
'A Fool's Bargain': Lighthizer on U.S.-China Trade