How American Companies Became Subservient to Beijing and How to Stop It With Industrial Policy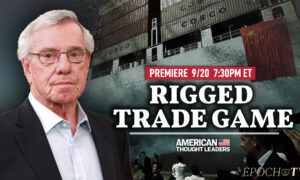 This episode will premiere on Tuesday, Sept. 20, at 7:30 p.m. ET.
From Our Sponsor: Why Now Is the Time to Buy Gold & Silver with Goldco. Call 855-973-0470 for your FREE Wealth Protection Kit Today!
"Because everything it makes is in China … China can compel Apple to do whatever it pleases … And it's not just Apple. Many major American companies are highly reliant on production in China, and all of them are subject to coercion by the Chinese Communist Party."
At the National Conservatism Conference in Miami, Florida, I sat down with leading China expert Clyde Prestowitz, who led the first U.S. trade mission to China in 1982. Prestowitz is the author of "The World Turned Upside Down: America, China, and the Struggle for Global Leadership."
He makes the case for reshoring manufacturing, especially of essential products, and for America to adopt an industrial policy to level the playing field with China.
"To any free, rule-of-law system—U.S., European, Japanese—the Chinese Communist Party is an enemy. Absolutely," Prestowitz says.
Subscribe to the American Thought Leaders newsletter so you never miss an episode.
Buy the DVD of "The Real Story of January 6" Documentary: https://www.epochtv.shop/product-page/dvd-the-real-story-of-january-6, Promo Code "Jan" for 20% off.
* Click the "Save" button below the video to access it later on "My List."
Follow EpochTV on social media:
Twitter: https://twitter.com/EpochTVus
Rumble: https://rumble.com/c/EpochTV
Truth Social: https://truthsocial.com/@EpochTV
Gettr: https://gettr.com/user/epochtv
Facebook: https://www.facebook.com/EpochTVus
Gab: https://gab.com/EpochTV
Telegram: https://t.me/EpochTV