Infection With COVID-19 May Cause Complications in Late Pregnancy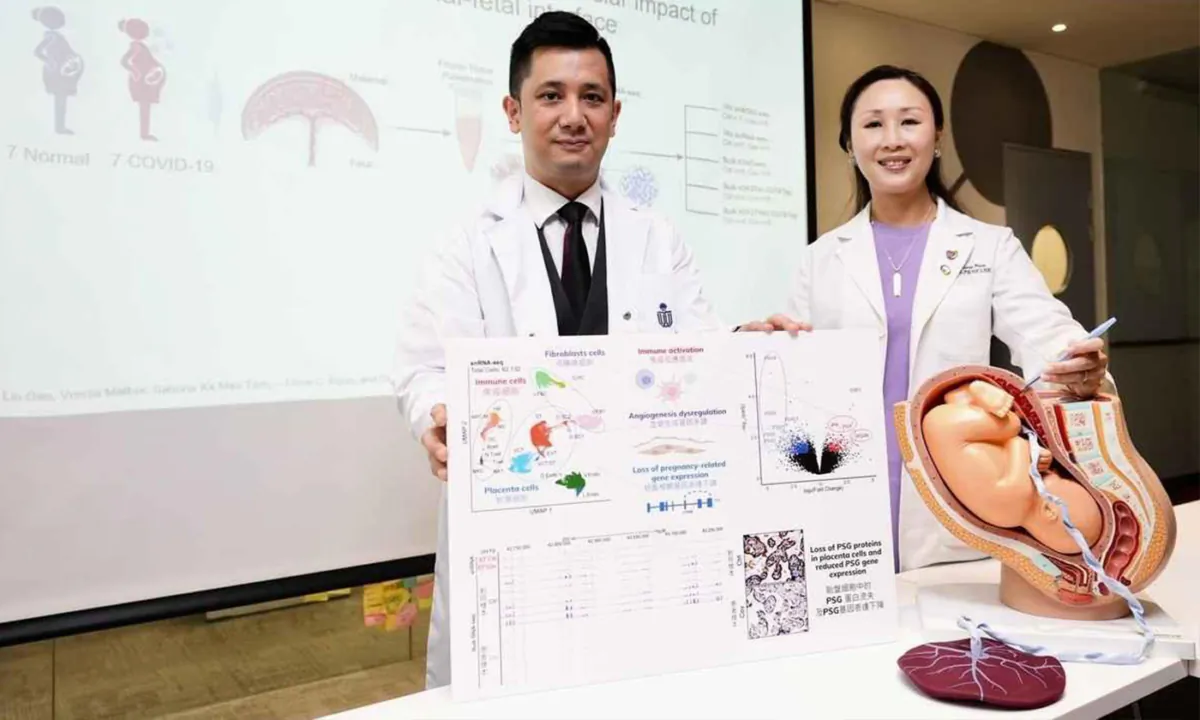 The research team is led by Prof. Danny Leung Chi-yu (L), Associate Professor of HKUST's Division of Life Sciences and Director of HKUST's Centre for Epigenome Research, and Prof. Liona Poon Chiu-yi, Head of Department of Obstetrics and Gynaecology, Faculty of Medicine, CUHK. (Courtesy CUHK)
A joint study by Hong Kong universities HKUST and CUHK found that infection with COVID-19 may lead to complications in late pregnancy and significantly alter the regulation of gene expression of the placenta. The findings have been published in the scientific journal Nature Cell Biology.
Previous studies have shown that infection with COVID-19 can increase the risk of maternal death, severe maternal illness, and fetal and neonatal adverse reactions. Pregnant women with the virus have a higher chance of premature delivery than those without.
From the maternal-fetal interface samples of seven COVID-19 patients and seven healthy donors, the research team found that viral infection can significantly increase the immune response at the maternal-fetal interface and may cause apparent fetal response, causing increased risks in inflammation, hypoxia, and oxidative stress. At the same time, dysregulation of angiogenic genes at the maternal-fetal interface may lead to abnormal placental vascularization limiting healthy fetal development.
The team believes that these changes are likely due to the mother's response to the virus, rather than the virus directly affecting tissues at the maternal-fetal interface. The team also found that the virus can damage placental development and affect the health of the fetus by changing the regulation of pregnancy-related gene expression in specific placental cells.
The team pointed out that this study helps to understand the molecular mechanism of pregnancy complications caused by the absence of direct infection of the maternal-fetal interface with COVID-19 and provides data for future development of targeted medical measures. The research results also show that COVID-19 can bring negative impacts on pregnant women and fetuses, so avoiding infection is key to reducing the risk.
The team also recommends that pregnant women with COVID-19 symptoms must undergo rapid antigen testing. Once confirmed, medical staff should be notified immediately to provide relevant medical advice and follow-up, including increased fetal monitoring.