Kerry Concludes China Trip Calling Climate Talks 'Productive'
U.S. climate envoy John Kerry said he had "extremely warm and productive" talks with high-level Chinese officials in Beijing, though "a little bit more work" is required to achieve "groundbreaking" initiatives.
Mr. Kerry delivered the remarks on July 19 as he wrapped up three days of climate talks in China. The conversations, which critics argue should never have occurred, didn't produce a joint agreement.
'More Work'
"But we had a very extensive set of frank conversations and realized that it's going to take a little bit more work to break the new ground," Mr. Kerry said in a briefing on Wednesday night. "So we've agreed that we're going to meet intensively in the next weeks."
Further conversations would be focused on addressing methane emissions and reducing the reliance on coal in the power sector, among other things, he said.
Mr. Kerry's visit to Beijing marked the first major climate talks between the world's two largest emitters of greenhouse gases in nearly a year. China cut down climate and military communication with the United States last August in apparent retaliation to then-House Speaker Nancy Pelosi's visit to Taiwan.
Earlier on Wednesday, Mr. Kerry told Chinese Vice President Han Zheng that if the two sides "come together" before the 2023 United Nations Climate Change Conference in Dubai in November, there would be "an opportunity to be able to make a profound difference" on climate change.
Mr. Kerry described climate change as a "free-standing" issue that should be handled separately from broader diplomatic tensions.
Mr. Han told Mr. Kerry that Beijing is willing to seek common ground with Washington and contribute to addressing climate change. But the condition, according to Mr. Han, is the two countries "respect each other's core interests," according to state media Xinhua.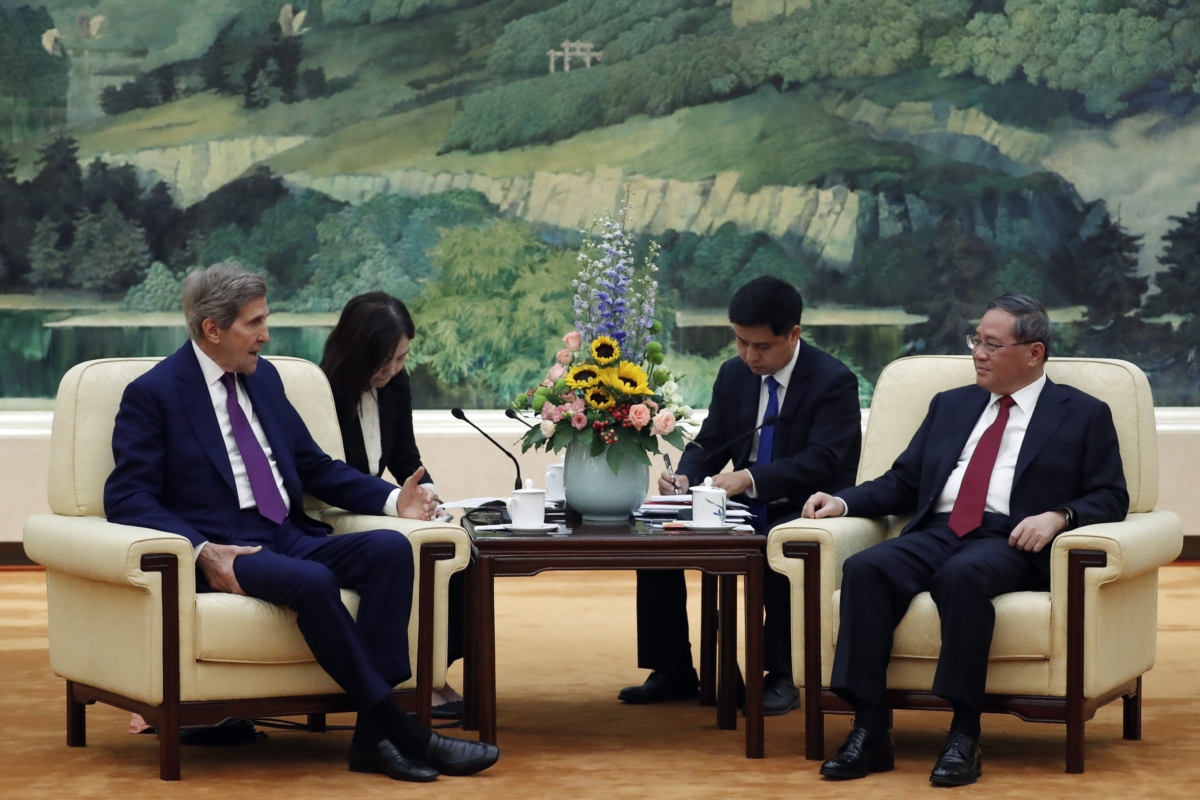 Aside from the meeting with Mr. Han, Mr. Kerry sat down with China's new premier, Li Qiang, the CCP's top foreign affairs officer, Wang Yi, and his counterpart, Xie Zhenhua. No meeting was scheduled with Foreign Minister Qin Gang, who has reportedly vanished from public view for nearly a month.
Mr. Kerry didn't get a chance to meet with CCP leader Xi Jinping, who hosted a separate climate conference with Chinese officials in Beijing on Tuesday. During the meeting, Mr. Xi reiterated the country "remains unwavering" in achieving the dual carbon target of reaching a carbon dioxide emissions peak by 2030 and net zero by 2060.
"But the route, method, and intensity used to achieve this goal should and must be determined by ourselves, and will never be influenced by others," Mr. Xi said, according to Xinhua.
Asked about Mr. Xi's comment, Mr. Kerry said, "We had extremely warm and productive meetings with very high-level officials, none of whom expressed that kind of concern."
"We're not involved in dictating anything to anybody. We're involved in following the science," Mr. Kerry told reporters. "And if anything, the science dictates the parameters that we all need to live by."
'Endless Negotiations'
Former Trump White House trade adviser Peter Navarro said the Biden administration has fallen into a "Chinese trap" as Beijing sees engagement in talks as one of its game plans.
"They love to talk because the status quo favors China," Mr. Navarro told The Epoch Times' sister media NTD in an interview on July 18. "The status quo economically is one in which they engage in all sorts of mercantilist trade policy."
He continued, "It's the counterfeiting and piracy, the forced technology transfer, the currency manipulation, the state-owned enterprises, and they are just totally resistant to any kind of change."
The Commission on the Theft of American Intellectual Property estimated in 2017 that the U.S. economy suffered an annual loss of between $225 billion and $600 billion due to the Chinese regime's theft of U.S. intellectual property.
Two other U.S. officials have visited China recently—Secretary of State Antony Blinken in June, followed by Treasury Secretary Janet Yellen earlier this month. According to Chinese state media, Beijing and Washington have discussed the possibility of Commerce Secretary Gina Raimondo visiting China.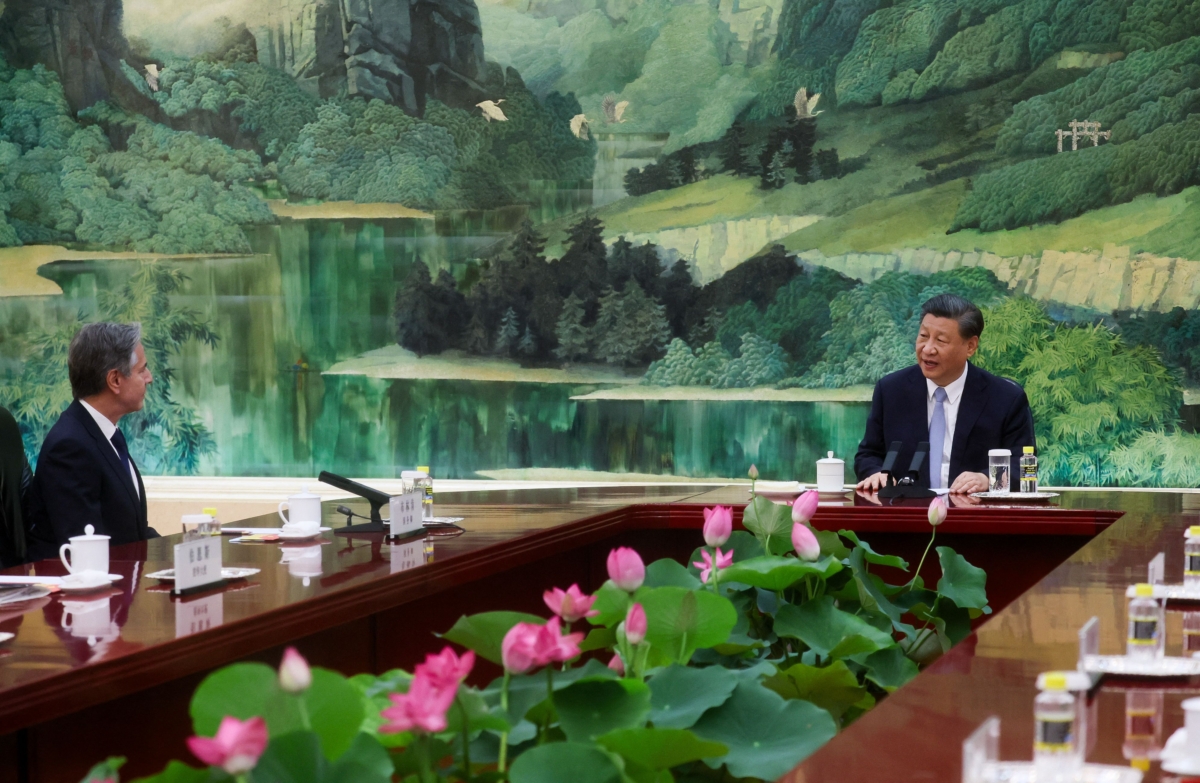 With three consecutive trips to China, Mr. Navarrao said the Biden administration is "falling into the Chinese trap of endless negotiations."
According to Mr. Navarro, China "tried to pull" something similar, getting Trump administration officials to engage in talk, but it "didn't work."
Former President Donald Trump rewrote the U.S. approach to China. He confronted the CCP head-on, such as imposing tariffs on China to address Beijing's unfair trade practices and slapping sanctions on Chinese officials involved in human rights abuses.
"The lesson of the Trump administration was simply that they [China] want to talk endlessly. And even when you get them [China] to agree to something, they don't abide by that," Mr. Navarro added.
"There's really no point in talking with the Chinese, the Chinese only understand doing, and that's what Donald Trump did. That's what Joe Biden is not doing."
'Stall Any Real Progress'
Also on July 18, Sen. Bill Hagerty (R-Tenn.), who sits on the Senate Foreign Relations Committee, dismissed the importance of Mr. Kerry's climate talks in China.
"To the CCP, Kerry's meetings are not meant to resolve anything. They're only meant to signal resolve, assign blame, and stall any real progress on important issues—like recent cyber-attacks—until they have leverage over the U.S. during negotiations," Mr. Hagerty wrote on Twitter. "Biden needs a new strategy."
Chinese hackers recently broke into the email accounts of 25 organizations, including some U.S. government agencies, exploiting a flaw in Microsoft's cloud system.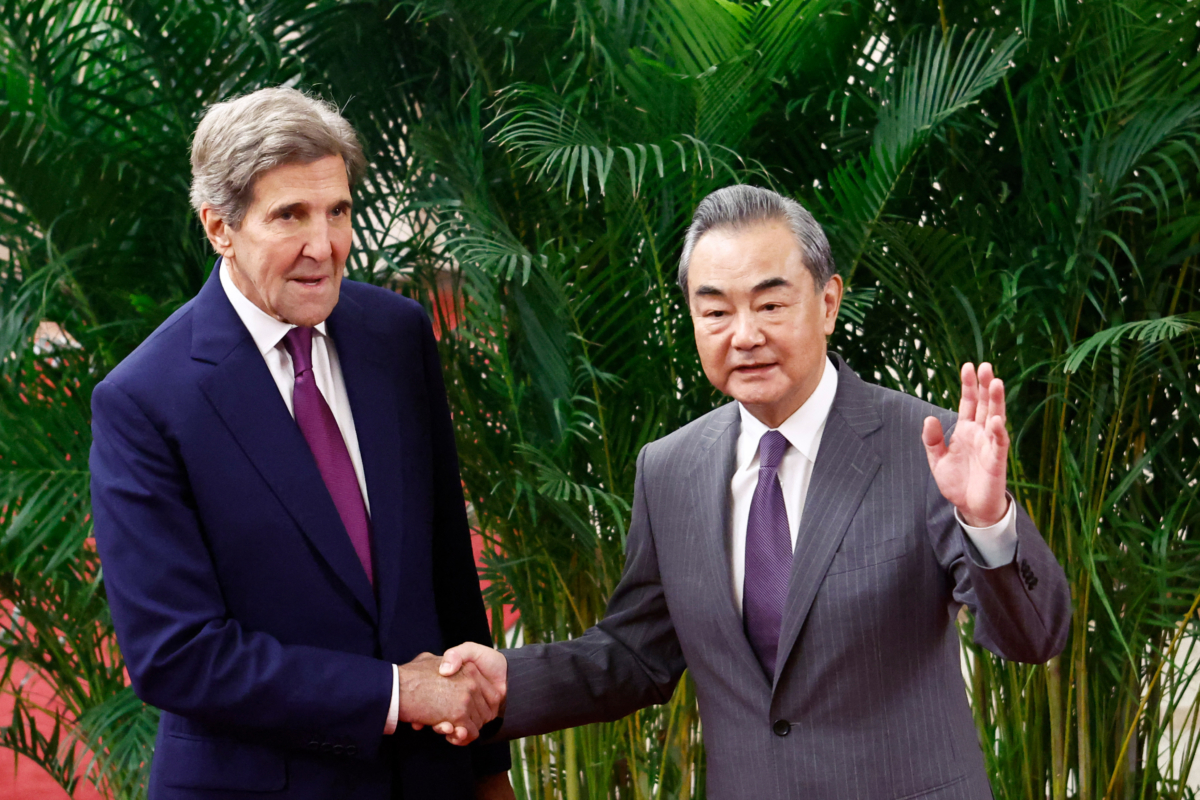 In a separate tweet on the same day, Mr. Hagerty questioned why Mr. Kerry would tell Mr. Li on Tuesday that President Joe Biden and Mr. Xi had put into efforts to "stabilize" bilateral ties.
"Shameful for Kerry to falsely claim Xi Jinping has tried to stabilize the US-China relationship. CCP actions over the last six months—spy balloon, espionage on US soil, cyber-attacks, etc.—tell a different story," wrote Mr. Hagerty.
In January, Ji Chaoqun, a Chinese national and a former Army reservist, was sentenced to eight years in prison on charges related to spying for the CCP. He entered the Army Reserves in 2016 under the Pentagon's Military Accessions Vital to the National Interest Program, which is meant to recruit "legal aliens" whose skills are considered essential to the U.S. military.
J. Kyle Bass, chief investment officer for Hayman Capital Management hedge fund and a board member at the Hudson Institute's China Center, took to Twitter on July 17, saying that the Biden administration "has been misguided in establishing a civil dialogue with China."
Calling Mr. Kerry's trip an "appeasement" toward Beijing, Mr. Bass added that the Biden administration "has not reacted firmly or resolutely" to a number of China's actions, including "reckless air and sea maneuvers" in the Taiwan Strait and the South China Sea, and ongoing repression against Uyghurs in far-western Xinjiang region that has been called a genocide by several Western countries.
"U.S. Foreign Policy is being run by individuals that constantly threaten US National Security (and that of the entire West)," Mr. Bass wrote.
Reuters contributed to this report.