Leaked Documents Reveal Beijing Intends to Militarize Solomon Islands
An official document has been leaked revealing that Beijing has every intention of establishing a military presence in the Solomon Islands, despite denials from the Chinese Foreign Ministry who called such concerns "groundless and ill-intentioned" on April 1.
The leaked letter of intent from Avic International Project Engineering Company, a Beijing-based state-owned aviation company, was addressed to Premier Leslie Kikolo of Isabel Province in the Solomon Islands on Sept. 29, 2020.
The letter, which was seen by news.com.au, was signed by company president, Rong Qian, and opens with the following paragraph: "We, AVIC-INTL Project Engineering Company … present this letter to demonstrate our intent to study the opportunity to develop naval and infrastructure projects on leased land for the People's Liberation Army Navy in Isabel Province with exclusive rights for 75 years."
Rong also promised extensive vocational training opportunities to be established in the province that could help the Solomon Islands improve its "education level and military cooperation with China."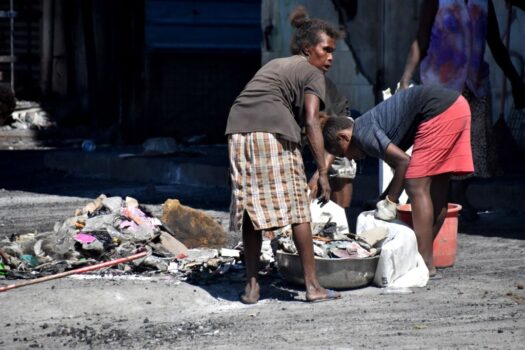 The latest revelations come amid ongoing denials from Chinese and Solomon Islands' leaders that a recently "initialled" security pact would see Beijing establish a permanent military presence in the region akin to the three fully militarised islands in the South China Sea.
The location of the Solomon Islands is critical and was the site of the Battle of Guadalcanal during World War II and fought over tooth and nail because of its influence over sea lanes in the region.
Solomon Islands' Prime Minister Manasseh Sogavare has vowed there would be no naval or military presence in the region.
"It will not be in the interest of Solomon Islands to host any naval or military base of any country, because that will immediately make Solomon Islands a military target for other countries," he said in comments on April 6, obtained by the Solomon Times.
The contentious agreement, which allows Beijing to dispatch forces to "protect the safety of Chinese personnel and major projects in the Solomon Islands," has sparked concern from neighbouring nations.
David Panuelo, president of the Federated States of Micronesia, appealed to Solomons' Prime Minister Manasseh Sogavare to "respectfully reject and give deepest consideration" to the long-term consequences of the deal.
"As much as your bilateral security arrangement may be strictly a matter between your country and the People's Republic of China (PRC), its existence would absolutely affect all countries who call the 'Blue Pacific' their home," he said in a statement.
"The Federated States of Micronesia cannot endorse or agree if your decision is to proceed with a security relationship with the PRC because of its far-reaching and grave security implications for our harmonious and peaceful Blue Pacific Continent."
Meanwhile, Prof. Anne-Marie Brady, a China expert based at the University of Canterbury in New Zealand, accused Beijing of "repeatedly" trying to gain access to militarily significant airfields and ports in the region—it is currently looking to rebuild an airfield in the Pacific nation of Kiribati.
"China provides weapons, military vehicles and vessels, uniforms, training, and military buildings" to the armed forces of Fiji, Papua New Guinea, Tonga, Vanuatu, and now the Solomon Islands, the academic wrote on Twitter.
"China uses People's Liberation Army (PLA)—Navy vessels to conduct regular military visits to the Pacific. PLA Yuanwang space-tracking vessels deploy to the Pacific during missile and satellite launches, using (French Polynesia's capital) Papeete and (Fiji's capital) Suva as their base ports," she said.
"China is using its Pacific embassies as sites for Beidou ground stations. Like GPS, it is a military technology, crucial for missile targeting."
The leaked documents has been revealed as Australian Foreign Minister Marise Payne and U.S. Secretary of State Antony Blinken met in Brussels where they discussed security concerns in the Indo-Pacific.