Lockdown of Shanghai and Shenzhen Exacerbates Supply Chain Crisis and Inflationary Pressure
As Shenzhen and Shanghai, two of China's largest cities and major ports, impose lockdown measures to curb recent COVID spikes, financial experts express concern that it will aggravate global supply chains and inflationary pressures.
Shenzhen's 17.5 million residents were placed under a citywide lockdown from March 14 to 20. One week after Shenzhen emerged from the closure, Shanghai officials imposed a lockdown on the city's 26 million plus residents on March 28 with little notice.
In an interview with The Epoch Times on March 30, Zhang Jinglun, a financial expert living in North America, said that Shenzhen and Shanghai are both important port cities in China, and their successive closures will inevitably disrupt local production and logistics, as well as worsen the global supply chain crisis.
In June last year, Shenzhen's Yantian Port was blocked for nearly a month due to the pandemic, resulting in a backlog of tens of thousands of containers. Many ships had to wait outside the port for weeks, which severely hurt the global supply chain.
Economic Consequence of Lockdown
According to a study conducted by Song Zheng, a professor of economics at the Chinese University of Hong Kong, Chinese authorities' COVID lockdown measures may cost China at least $46 billion per month, equivalent to 0.31 percent of its gross national product (GNP). The impact will be even greater if more Chinese cities join the list of strict control measures.
Song's team analyzed the location data of nearly 2 million trucks in China.
Shenzhen seems to represent the best economic outcome that China's pandemic control can achieve. The mega-city's economic activities dropped 34 percent after the one-week lockdown, and truck activities dropped 20 percent compared to a normal period.
As for Shanghai, current data showed that before the closure of Shanghai on March 28, the pandemic-related restrictions in Shanghai had caused local economic activities to drop by 40 percent compared to a normal period.
In contrast, the lockdown of Changchun City, Jilin province, caused the city's economic activity to drop by more than 66 percent.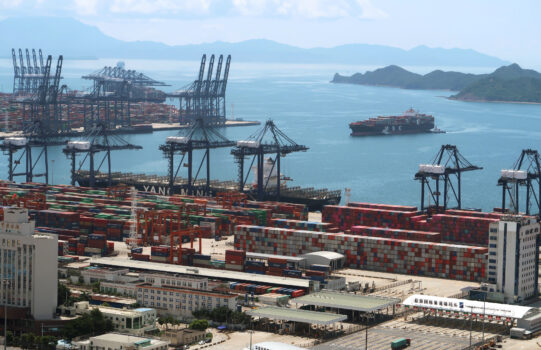 After Shenzhen's lockdown was lifted on March 21, an employee of a local electronics factory told The Epoch Times that after the one-week lockdown, Shenzhen's logistics and production were greatly affected. He and his colleagues did not even get their regular wages, and the boss could not answer their question about when the employees may get paid.
Growing Inflationary pressure
In fact, before the Shenzhen lockdown, some economists warned that even a brief lockdown could lead to several weeks of disruption of the city's supply chain and have ripple effects after the city returns to normal.
Zhang told The Epoch Times that the recent lockdown of the two busiest Chinese cities will cause logistics disruptions and delivery delays, which in turn, will likely exacerbate inflationary pressures around the globe, particularly in the United States.
According to the Personal Consumption Expenditure index (PCE) released by the U.S. Department of Commerce on March 31, the U.S. price index rose 6.4 percent year-on-year in February this year, the highest inflation rate since 1982.
World Highly Dependent on Chinese Manufacturing
China's manufacturing industry accounts for about one-third of the global manufacturing industry.
Shanghai Port is the world's largest port. Its foreign trade throughput comprises about 20 percent of China's major coastal ports.
Shenzhen, China's manufacturing, technology, and logistics hub, accounts for about 10 percent of the container shipments out of China. The city's Yantian Port is the fourth largest container port in the world and the third largest port in China. About 25 percent of the seaborne cargo from China to the United States needs to pass through Yantian Port, and 90 percent of China's electronic products are shipped through Yantian Port.
Data analysis by Interos, a Washington-based operational resilience company, shows that 206,700 companies in the United States rely on suppliers in Shenzhen, Shanghai, and Jilin regions, of which 103,900 companies directly or indirectly source goods from these regions.
Li Songjun, chief researcher at the Institute of Financial and Business Economics, told The Epoch Times after the outbreak of the pandemic in Wuhan in 2020, the global supply chain was severely affected, and many countries around the world began to realize their dependence on China and accelerated their withdrawal from China. However, it takes time to adjust the supply chain. Judging from the current situation, most countries are still highly dependent on China's manufacturing industry. That explains why China's exports maintain a relatively high growth as of today.
At the same time, congestion at U.S. West coast ports has intensified again as Shenzhen lifted its lockdown. On the morning of March 31, local time, the number of ships calling at the ports of Los Angeles and Long Beach had increased to 209, according to data from the online ship-tracking site Marine Traffic.
Zhang analyzed that after Shanghai removed the lockdown on April 5, with production and logistics returning to normal, outgoing shipments from Shanghai ports will increase, which will further aggravate the pressure on ports on the U.S. west coast, and the congestion may last for some time.
Epoch Times reporters Kane Zhang Ellen Wan contributed to this report.