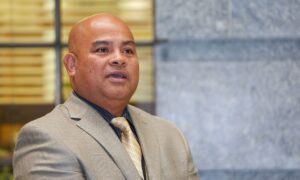 The Federated States of Micronesia's (FSM's) outgoing leader has proposed that his nation switch ties from Beijing to Taiwan as he accused Beijing of waging "political warfare" and making "direct threats" to his safety.
FSM President David Panuelo, whose term is ending in two months, exposed the threats posed by the Chinese Communist Party (CCP) to his nation in a leaked 13-page letter addressed to FSM Congress on March 9.
"I am acutely aware that informing you all of this presents risks to my personal safety; the safety of my family; and the safety of the staff I rely on to support me in this work," Panuelo stated in his letter.
Panuelo claimed to have been followed by two Chinese officials during his visit to Fiji last July, who he claimed were employed by the Chinese Embassy in Suva. One of them was a Chinese military intelligence officer.
"To be clear: I have had direct threats against my personal safety from PRC officials acting in an official capacity," he stated, using the acronym for China's official name, the People's Republic of China.
In his letter, Panuelo alleged that Beijing was attempting to undermine the FSM's sovereignty to ensure that the country would side with the CCP or remain neutral in a potential conflict over self-ruled Taiwan.
"We further know that the FSM has a key role to play in either the prevention of such a conflict, or participation in allowing it to occur," the Micronesian leader stated.
"It is on this basis that Political Warfare and Grey Zone activity occur within our borders; China is seeking to ensure that, in the event of a war in our Blue Pacific Continent between themselves and Taiwan, that the FSM is, at best, aligned with the PRC instead of the United States, and, at worst, that the FSM chooses to abstain altogether," he added.
Chinese Research Vessel
Panuelo cited an incident when the CCP sent its "research vessel" into the FSM's exclusive economic zone with the intention of "mapping our maritime territory for potential resources" and for "submarine travel paths."
"We are aware of PRC activity in our exclusive economic zone whose purpose includes communicating with other PRC assets so as to help ensure that, in the event of a missile—or group of missiles—ever needed to land a strike on the U.S. territory of Guam that they would be successful in doing so," he said.
The FSM had dispatched patrol boats to check on the Chinese research vessel's activity in the Pacific Islands nation's territory, but they were warned "to stay away," Panuelo said.
The United States is bound with the FSM, the Republic of the Marshall Islands, and the Republic of Palau through the Compact of Free Association; these countries are called the Freely Associated States.
The agreement allows these states access to U.S. domestic economic programs and for the United States to operate defense bases in these nations.
'Bribed to Be Silent'
Panuelo said the CCP's political warfare in the FSM included overt activity—such as political alliances and economic measures—and covert activity like "bribery, psychological warfare, and blackmail."
"One of the reasons that China's political warfare is successful in so many arenas is that we are bribed to be complicit, and bribed to be silent. That's a heavy word, but it is an accurate description regardless," he noted.
"It is at this point that I relay, simply as a point of information, that 39 out of 50 members of parliament in Solomon Islands received payments from China prior to their vote on postponing elections that were otherwise scheduled for this year," Panuelo added.
Taiwan's Offers
Panuelo also revealed that he met with Taiwanese Foreign Minister Joseph Wu last month to discuss Taiwan's potential assistance to the FSM if it decided to recognize Taiwan.
"I was transparent with Foreign Minister Wu. We project we need an injection of approximately $50,000,000 to meet our future needs," he said.
"We can and we will receive this, over a three-year period, if and when we establish diplomatic relations with Taiwan," Panuelo added.
It remains unclear where the meeting was held. Wu confirmed in Parliament on March 10 that he exchanged views with Panuelo over the issue but declined to comment further, Taiwan's media reported.
"The government respects and welcomes FSM expanding bilateral ties with Taiwan, but will not comment on the details on establishing official ties which the FSM president mentioned," Taiwan's Foreign Ministry stated.
The Chinese Foreign Ministry said it firmly opposes countries with which Beijing has diplomatic ties "engaging in any form of official interaction" with Taiwan because doing so will violate the "One China principle."
Taiwan has been a self-governing democracy since the Chinese civil war ended in 1949. Still, the CCP regards Taiwan as a breakaway province that must be united with mainland China by any means necessary.
Only four Pacific Island nations—Palau, the Marshall Islands, Nauru, and Tuvalu—recognize Taiwan as a sovereign nation.
Beijing signed multiple agreements with some Pacific Island nations last year, such as Samoa and the Solomon Islands, but it failed to have the region's nations sign a sweeping security and economic deal in May 2022 because of a lack of consensus among Pacific Island leaders.
Venus Upadhayaya contributed to this report.