Mid-Autumn Festival Greetings from Supporters of Falun Gong
During this year's traditional Chinese mid-autumn festival, supporters of Falun Gong sent greetings to Mr. Li Hongzhi, the founder of Falun Gong, praising him for turning the practitioners of Falun Gong around the world into "an extraordinary group of people" whose courage and steadfast determination have inspired the world's people.
Falun Gong is a mind–body meditation practice rooted in traditional Chinese culture. Due to its miraculous health benefits, Falun Gong spread widely in China, garnering close to 100 million followers by the late 1990s. The practice requires practitioners to elevate moral characteristics based on the universal principles of truthfulness, compassion, and tolerance. It reconnects Chinese people with their ancient cultural roots, which the Chinese Communist Party (CCP) seeks to destroy and erase.
Feeling threatened by Falun Gong's popularity, the regime launched a brutal persecution campaign against the group in July 1999, which is still going on today in China. Millions have been jailed and tortured, and a large number of them have been killed via forced organ harvesting. Families are broken and many Falun Gong practitioners in China were forced to leave their homes.
Jane Jin is the chairman of the Chinese Democracy & Human Rights Alliance. She expressed her heartfelt gratitude toward the founder and the practitioners of Falun Gong.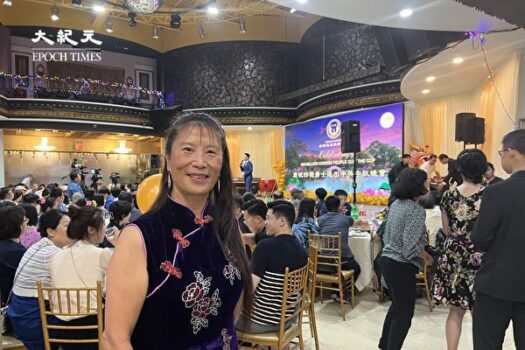 Jin told The Epoch Times that her "entire life [in China] was under the brainwashing of the communist party." She entered the People's Liberation Army when she was 16 years old. Then she worked in a publishing house, where she "sent the Chinese Communist Party's propaganda overseas to brainwash the foreigners." In 1989, Jin witnessed the Tiananmen Square massacre and escaped China shortly after.
Jin is very grateful for the founder of Falun Gong, "Mr. Li is an extraordinary leader. I admire him and thank him for teaching his students, the practitioners of Falun Gong."
Jin said that her family members had been arrested and tortured by the Chinese police, so she is especially moved by the uncompromising courage displayed by the Falun Gong practitioners under the regime's persecution. "Throughout the 23 years of persecution, you never backed down, you never gave up, you are not afraid, you dare to speak the truth. You are an extraordinary group of people taught by a great teacher. You represent the true beauty of the Chinese culture and people."
On this mid-autumn festival, Jin wishes "all Falun Gong practitioners in China freedom and to reunite with their families."
New York-based human rights attorney Ning Ye told The Epoch Times: "On this day of gathering, we cannot forget about the tens of thousands of Falun Gong practitioners who gave their lives for the freedom of the people."
Referring to Falun Gong practitioners efforts to counter the CCP's persecution, Ye said, "I admire the founder of Falun Gong. He has taught his students well. They have been facing an unprecedented evil persecution with steadfast determination and courage. Their peaceful efforts to counter the brutal persecution is unprecedented.
"China's future is with the Falun Gong practitioners. Freedom will return to the land of China!" Ye praised the movement to quit the CCP, "I thank the founder of Falun Gong and the countless Falun Gong practitioners who help the Chinese quit the Party."
A former student leader who survived the 1989 Tiananmen Square massacre, Yan Xiong is a retired major who served in the U.S. Army for 27 years and a Protestant chaplain.
Xiong told The Epoch Times: "I wish Mr. Li a happy mid-autumn festival. I respect and admire Mr. Li because Falun Gong's truthfulness, compassion and tolerance is what the Chinese people need the most. It is very important in raising people's moral standards. Falun Gong is freeing people from the control of the communist party."
Elizabeth Ahlers is a Councilmember of the town of Crescenta Valley in Los Angeles County, California. On Sept. 10, Ahlers sent greetings to Mr. Li via The Epoch Times.
"As a local Councilmember of Crescenta Valley, I would like to honor Mr. Li Hongzhi on this auspicious occasion for leading a movement of peace and good-will with courage and wisdom," Ahlers wrote.
Ahlers is an American of Chinese descent. Her ancestors came to America over a century ago and she has fond memories of family gatherings at her grandmother's house.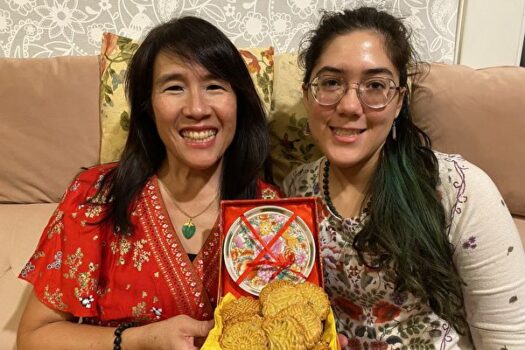 "To those who are imprisoned and cannot celebrate today with your families, to those who have been forced to flee your homes and scatter across the seas into other countries far from your families and your culture, to those who are persecuted and oppressed by unrighteous governments, to you, I pray a word of peace and a word of hope. You are not without friends. You are loved," Ahlers wrote.
Ahlers wishes Mr. Li and Falun Gong practitioners "all the dignity, freedom, and joyful hope."
In traditional Chinese culture, the full moon symbolizes life blessed with harmony, abundance, and togetherness. Hence people celebrate the mid-autumn festival on the fifteenth day of the eighth month of the lunar calendar, when the moon is believed to be the fullest of the year.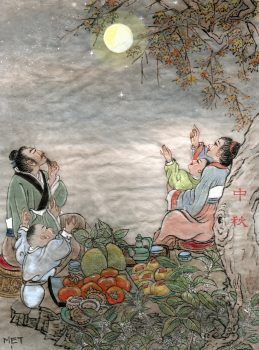 Families and loved ones gather on that day to enjoy tea with delicate pastries called moon cakes, while appreciating each other under the moon.
This year, the mid-autumn festival was on Sept. 10.