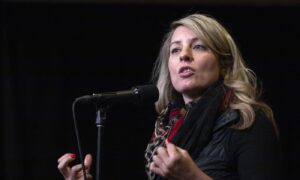 The Canadian government denied a diplomatic visa to a member of the Chinese regime, Minister of Foreign Affairs Mélanie Joly told a committee on March 9.
"When China wanted to send a political operative last fall, we decided to deny a visa, which obviously is the right thing to do," she said while testifying before the House of Commons Procedure and House Affairs Committee (PROC).
The Globe and Mail reported on March 8 that Global Affairs Canada (GAC) refused to give a visa to a Chinese diplomat in the fall of 2022, for a new position called the "International Liaison Department of the Chinese Communist Party."
A source reportedly told the newspaper the new position was "transparently not a diplomatic position" and more likely to involve foreign interference activities.
NDP MP Rachel Blaney asked Joly how a diplomat who boasted about successfully interfering in a Canadian election could remain in the country in relation to the visa denial.
Blaney was referring to information from the Canadian Security Intelligence Service revealed by the Globe and Mail on Feb. 17.
It says that Tong Xiaoling, China's former consul-general in Vancouver, reportedly bragged about helping defeat two Conservative MPs in the 2021 election.
"I'm trying to get some clarity. Was there a specific change within the process?" Blaney asked.
Joly answered that there has been a "higher level of awareness" in the last months at GAC regarding handing out visas to diplomats.
"I've instructed my department to never shy away from denying a visa if it's a political operative, and therefore linked to the Communist Party of China," she said.
The minister also mentioned that it's easier to prevent a diplomat from coming than from expelling him.
On the issue of expulsion, Joly said there have been no expulsions since 2015.
She said concerns about retaliation and a lack of evidence are the reasons Canada has not expelled Chinese diplomats over their regime's interference.
"If there are ever Chinese diplomats that flout the Vienna Convention, then we will take action," said Joly.
The minister said that consular cases in China keep her up at night and that losing diplomatic representation over retaliation would impact those efforts.
The Canadian government sits on a massive body of intelligence pertaining to foreign interference by the Chinese Communist Party, with parcels of it released in recent months by news organizations.
This has led to calls for a public inquiry, which Prime Minister Justin Trudeau has rejected.
Trudeau will instead appoint a special rapporteur to advise on the next step to take on the matter of foreign interference and has tasked intelligence bodies to review the past elections.
Meanwhile the Commons PROC committee has pursued its study of foreign interference and heard from Joly for the second time on March 9. She had previously appeared on Dec. 13.
Opposition MPs are currently trying to have Trudeau's Chief of Staff testify at committee but Liberal MPs have been filibustering to avoid a vote on the motion they would lose.