MPs Unanimously Pass Motion Endorsing Taiwan's Bid for WHO Membership
A motion supporting Taiwan's bid to join the World Health Organization passed unanimously in the House of Commons on Oct. 5, ahead of the island's annual National Day celebration on Oct. 10.
The motion concurs with the Commons health committee's recommendation back in May to endorse Taiwan's full participation in the World Health Organization (WHO) and World Health Assembly (WHA), WHO's governing body.
"It is in the interest of global public health to have Taiwan's full participation in the WHO and WHA," said Conservative MP Michael Cooper during a speech at the Taiwan National Day celebration in Ottawa on Oct. 5, shortly after the motion was carried in the House.
"We must double our effort to support Taiwan's full participation throughout the U.N. system, including ICAO [International Civil Aviation Organization], Interpol, and other multilateral forums," said Cooper, who co-sponsored the motion.
"It is disappointing that as the 41st ICAO convenes in Montreal as we speak, Taiwan is yet again wrongly excluded."
Taiwan is shut out of all U.N. affiliated international forums due to the objections of the Chinese regime, including WHO, WHA, ICAO, and Interpol, though Taiwan participated in the WHO as an observer from 2009 to 2016.
"Taiwan deserves a seat at the table and should be allowed to participate on the world stage," said Conservative MP Michael Barrett, who sponsored the motion, during debate in the House of Commons on May 16.
"Now, more than ever, the need for rational states in the regions influenced by aggressive, authoritarian regimes has been made clear."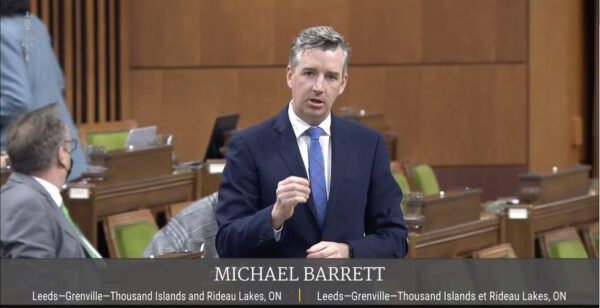 Cooper said during the debate that there is no legitimate reason for Taiwan's exclusion from the WHA.
"There is only one reason and one reason alone for Taiwan's exclusion, and that is politics by the Chinese communist regime to deny Taiwan its rightful seat at the table since 2017," he said.
"This is part of a broader campaign of aggression being perpetrated by the Chinese communist regime to delegitimize and isolate our democratic ally Taiwan."
Taiwan has received more support in its efforts to participate in the WHO in the wake of its success in fighting the COVID-19 pandemic.
Barrett noted that when Taiwan's disease surveillance systems picked up on COVID in December 2019, it "advised the world about the person-to-person transmission of the COVID-19 virus at the end of 2019, … while the Communist Party of China was saying the opposite."
"Taiwan was able to provide pandemic information on the leading edge in 2019, while we were being met with misinformation and coverups from the very country that would see Taiwan denied admission to the WHO and the WHA," he said.
"From a health perspective alone, it is outrageous that Taiwan is not given the opportunity to participate."