NB in Talks With Taiwan to Bring in Chinese-Language Program to Replace Confucius Institutes
New Brunswick is in talks with Taiwan to bring in a Mandarin-language program that will replace that of communist China's Confucius Institute, the province's education minister told a Commons committee on June 21.
Some of the institutes have already been removed from N.B.'s school system, with the rest to be closed by 2022.
"One of my goals is to work with … Taiwan to try and replace any programming that's lost because of the end of our relationship with Confucius Institutes with a country that will respect our democratic values," Dominic Cardy told the House of Commons Special Committee on Canada-China Relations.
"We're already in those discussions, and I hope those will come to fruition very shortly."

Cardy, who has been a driving force behind removing Confucius Institutes (CI) in his province, said they are a tentacle of the Chinese Communist Party (CCP) that extends deep "inside public schools and universities in different places across Canada."
He told the committee that the program began in New Brunswick in the late 2000s and has been responsible for spreading misinformation to thousands of students on subjects censored by the CCP.

"Programs supposedly focusing on culture and language in many cases included overt political propaganda," he said.
"This included having elementary school students drawing maps of China that would erase the border with Taiwan, included the denial of the reality of Tiananmen Square [massacre], included the disciplining of students who raised questions around China's abysmal human rights record."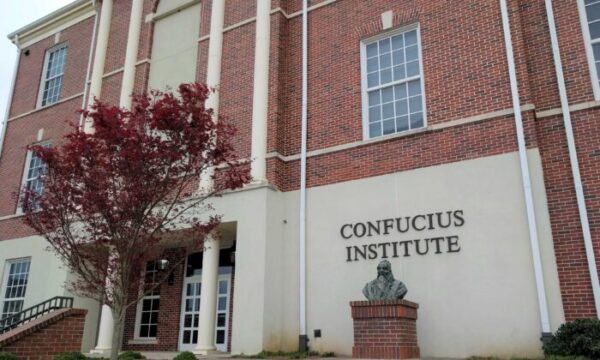 In August 2019, New Brunswick announced a two-stage plan to remove the institutes from its school system, starting with closing the program at 18 schools by the end of that month and the rest by 2022. 

At the committee hearing, Cardy said he wanted the program removed much sooner but some of the institutes can only be terminated next year due to contractual obligations. The previous Liberal government, under Brian Gallant as premier, had signed a contract at China's request that removed the right of the province to cancel the contract outright.

Asked by Liberal MP Jean Yip what his basis was for wanting the CI shut down, Cardy said he "would not tolerate supporting a program run and managed by a foreign political party operating in our public school system."

He also based his decision on studies that were conducted around the world on the institute, he said.
"There is a huge body of evidence talking about why the Confucius Institutes are a danger to the countries in which they are located, and I used those as the basis for that decision," he explained.
"It was done largely prior to my time as minister, and the evidence that I received afterwards from the way this program was operationalized in New Brunswick schools only confirmed my decision."

Cardy told MPs that he had heard from the Chinese diaspora how CCP agents working for the CI program have access to the databases and information of N.B. students. In addition, his study of Chinese foreign policy operations, and the correspondence and complaints he received over the years from Chinese and non-Chinese Canadians on how CIs operate, played a critical role.
He also recounted how at one time China's consul general from Montreal visited his office "without any of the normal diplomatic protocols" and tried to pressure him into reversing the government's decision, "including threats of economic retaliation and turning this into a two-nation issue rather than a question of a disagreement over schooling."

"We need to take all possible actions to reduce the influence by Beijing in all our institutions, and our policies, our politics, or in our economy," Cardy said.
"My hope is that through conversations like this, we can move to recognize the threat that China poses and move quickly to try and distance ourselves from a country that does not share our values."