The Chinese government was shamed by netizens for taking credit for the success of Olympic gold medal-winner Margaret Mac Neil, blasting China's one-child policy which was in place for decades.
On July 26 in Tokyo, Mac Neil gained international fame after winning the first gold medal for Canada in the women's 100-metre butterfly, defeating Chinese swimmer Zhang Yufei and setting an Americas region record at the same time.
Mac Neil's success also drew attention to her Chinese heritage, when both Western and Chinese state-run media reported the 21-year-old to have been an abandoned baby in China who was later adopted by a Canadian couple, Edward Mac Neil and Susan McNair.
Speculation about Mac Neil's biological parents led netizens on the Chinese blogging website Weibo to condemn the country's one-child policy, which according to official estimates had prevented at least 400 million births as of 2014, when the campaign was terminated.
Launched by the ruling Chinese Communist Party (CCP) in 1979, the one-child policy was an attempt to artificially control China's population. To enforce the draconian campaign, roughly 324 million Chinese women were routinely implanted with contraceptive intrauterine devices, and 108 million were sterilized between 1980 to 2014.
According to her profile on the Canadian Olympic Committee website, Mac Neil was born in February 2000 in Jiujiang, a city in northwest China's Jiangxi Province.

The CCP-censored Weibo lauded Mac Neil as a "Chinese contestant" with a hashtag about her victory. By Aug. 6 it had received over 400 million views, with some users even proposing to help seek out her biological parents in China.
"Canadian contestant Mac Neil wins gold medal in women's 100-metre butterfly by 0.05 seconds. Notably, Mac Neil is a Chinese contestant," says the lead sentence on the page.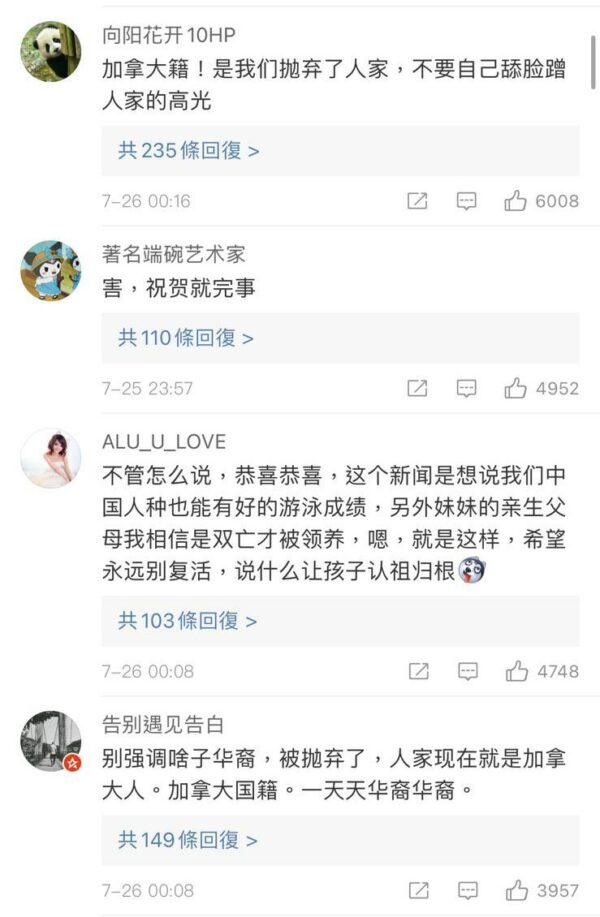 But Chinese netizens lashed out against Beijing for its attempts to take credit for Mac Neil's ancestry.
"[She is] Canadian! We abandoned her, stop trying to benefit from her glory," one netizen wrote.
"Isn't bias for sons over daughters a fact under China's overall social context? There are many [cases] around me, isn't it an inherent bad habit?" another netizen wrote. "Her being Chinese of descent is not an embarrassment, and that she won representing Canada is not an embarrassment, but the people who think that 'it is shameful because she is of Chinese descent but won representing Canada'—they are the real embarrassment."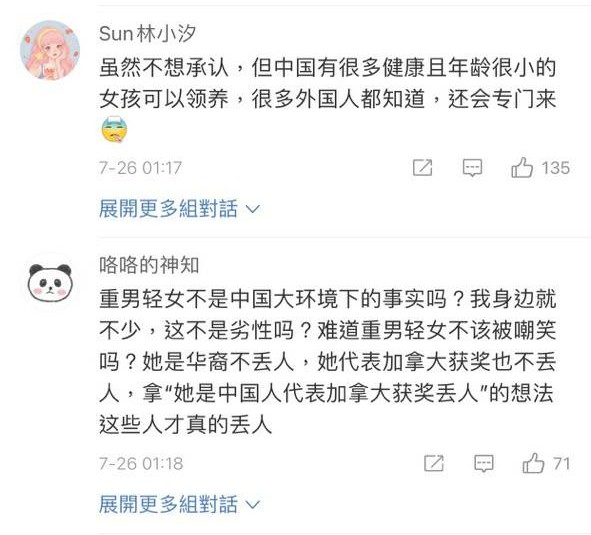 Another netizen said there are "many healthy and young girls suitable for adoption in China," and many foreigners visit the country just for that reason.
The CCP's one-child policy fuelled gender inequality, particularly in rural China, where traditional beliefs prefer male children who are a better fit for doing farm labour and are responsible for carrying on the family bloodline.
According to China's 2000 census data, the mortality rate of male infants was 31.36 percent at that time in Jiangxi Province, compared to 78.5 percent for females.
Zhu Ting, a star outside hitter who led China's women's volleyball team to victory in the 2016 Rio de Janeiro Olympics, also found herself the focus of netizens criticizing the one-child policy.
With six daughters, Zhu's family clearly violated the CCP's policy. However, officials heaped praise on the athlete, including dubbing the family "the most beautiful family of Henan Province."
This came in for scathing comments by netizens, with one writing on Weibo: "Had we completely followed the birth control policy, there would not be Zhu Ting today. Four hundred million babies… How many olyimpic champions, tech giants, and maestros would there be?"
Eva Fu and Frank Fang contributed to this article