New Zealand Public Servant Accused of Spying for CCP
[ad_1]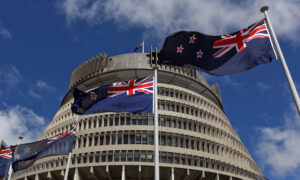 The New Zealand Security Intelligence Service (NZSIS) has declined to comment on reports that it had detained a Chinese-born New Zealand citizen who worked as a public servant on the alleged suspicion of spying for the Chinese Communist Party (CCP).
"The NZSIS has a long-standing approach of not discussing what may or may not be specific areas of operational focus or individuals," a spokesperson for the NZSIS told The Epoch Times.
It comes after New Zealand media outlet, Stuff, reported that Yuan "Jason" Zhao, a senior analyst for the NZ Public Service Commission, said he had been accused of being an "insider threat."
According to Stuff, Zhao said in a deleted fundraising website that he had been accused of providing "privileged insights" to the Chinese communist regime and for holding "close personal relationships" with officials from a foreign government.
"I'm innocent. Someone framed me up," Zhao told Stuff.
On its website, the NZSIS defines insider threat as "any person who exploits, or intends to exploit their legitimate access to an agency's assets to harm the security of their agency or New Zealand, either wittingly or unwittingly, through espionage, terrorism, unauthorised disclosure or information, or loss or degradation of a resource or capability."
On another fundraising website, Zhao alleged that he and his family were detained by the NZSIS at Wellington International Airport on Oct. 20, 2022, while returning from a holiday.
He accused the NZSIS of prohibiting any outside contact for several hours and that his family felt "deprived of our human rights."
The passports, luggage, and phones of Zhao, his wife, and their children, as well as his son's laptop, were also allegedly taken away and checked.
Zhao then alleges he was taken to a room and presented a form asking him to voluntarily accept an interview. He said he "felt forced" to sign the paper as his family was being held.
After the interview, the Public Service Commission suspended him from work.
The NZSIS told The Epoch Times that it does not have enforcement powers "and cannot detain or arrest anyone, or require them to speak to us."
"Anyone can complain to the Inspector-General of Intelligence and Security if they consider that they have been, or maybe, adversely affected by something done by the NZSIS," the NZSIS spokesperson added.
The Epoch Times also contacted the New Zealand Public Service Commission for comment.
New Zealand's Role as Indo-Pacific Tensions Rise
The espionage allegations come on the eve of the AUKUS announcement, a trilateral agreement that will arm Australia with a nuclear submarine capability in the face of the growing threat from Beijing in the Indo-Pacific.
Retired Australian major general, Mick Ryan, said that while New Zealand was not a part of the AUKUS, it would not be able to "sit on the sidelines" during any potential conflict.
"This isn't just about submarines; this is about diplomacy, this is about economics, this is about influence. And New Zealand is very much in the picture when it comes to all these aspects of competition with China," he told Newshub.
Ryan noted that, like New Zealand, Australia's biggest trading partner was China, yet it still stood up to the regime in the face of a $20 billion (US$14 billion) economic coercion campaign.
"At some point, you just have to take a stand for your values. China's values are not aligned with ours, and I'd suggest they're probably not aligned with New Zealand's," he said.
"Our foreign interference legislation, our views on 5G are something that New Zealand might like to look at."
During his first visit to Australia as prime minister of New Zealand, Chris Hipkins said in a press conference that China was an "incredibly important" trading partner.
"That doesn't mean there aren't going to be areas where we disagree from time to time, and we'll continue to voice our disagreements with China when that happens, and we'll always continue to strive to strengthen that ongoing relationship," he said.
[ad_2]

Source link