NZ Officials Summoned by Chinese Embassy Following Condemnation of Cyberattacks
The Chinese Embassy summoned New Zealand officials following the release of a joint international statement condemning Beijing's involvement in malicious cyber activity.
NZ Foreign Minister Nanaia Mahuta issued a statement after saying, "Areas of difference need not define our relationship, but we will continue to promote the things that we believe in and support the international rules-based system."
"Our relationship with China is one of our most significant, impacting a wide range of sectors and groups across Aotearoa New Zealand."
On July 19, Andrew Little, NZ's minister for the Government Communications Security Bureau, issued a statement in the first-time coalition with ministers from Australia, the United States, United Kingdom, Canada, Japan, European Union, and NATO, to jointly condemned and expose Beijing's "destabilising behaviour" in cyberspace.
The statements publicly condemned and attributed blame to Beijing for ransomware attacks, cyber-enabled extortion, crypto-jacking, and rank theft from victims worldwide, all for financial gain.
It also condemned Beijing's Ministry of State Security for engaging third-party hackers to carry out these activities.
Little said in his statement, "NZ is today joining other countries in strongly condemning this malicious activity undertaken by the Chinese Ministry of State Security (MSS)–both in New Zealand and globally."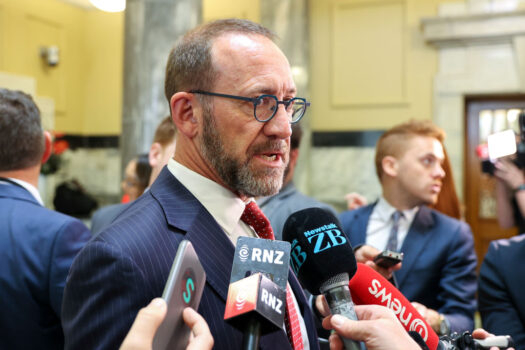 "Separately, the GCSB has also confirmed Chinese state-sponsored actors were responsible for the exploitation of Microsoft Exchange vulnerabilities in New Zealand in early 2021," he added.
"We call for an end to this type of malicious activity, which undermines global stability and security, and we urge China to take appropriate action in relation to such activity emanating from its territory."
The NZ-based Embassy released its own statement a day after calling on NZ to abandon its "Cold War mentality" and tackle any challenges through "dialogue and cooperation."
NZ Opposition Minister Judith Collins warned the country needed to be prepared for potential retaliation.
"Quite obviously, China is likely to take some form of retaliation against New Zealand where it comes to trade … we most likely will see something," she told RNZ. "And I believe we will see that because of what's happened in Australia."
Australia has endured a year-long economic coercion from Beijing following calls by Foreign Minister Marise Payne for an independent investigation into the origins of COVID-19.
Beijing instigated a series of bans, suspensions, or new tariffs on Australian exports to China, including coal, beef, barley, lobster, timber, lamb, and cotton.
The NZ government and businesses have been keen to avoid a similar fate and have pursued a quiet diplomatic approach to its dealing with Beijing while implementing new initiatives to shore up its national security.
This approach, however, has been criticised by NZ-based China expert Anne-Marie Brady as being "too subtle" for international partners to notice.
In recent months, the NZ government has been more public in its criticisms of Beijing, including a May joint statement between Australia and NZ warning against foreign actors seeking to "divide" the two nations, and the recent statement by Little on Beijing's cyberattacks.