Official Who Supports CCP's Suppression of Pro-Democracy Activists to Run for Hong Kong's Top Job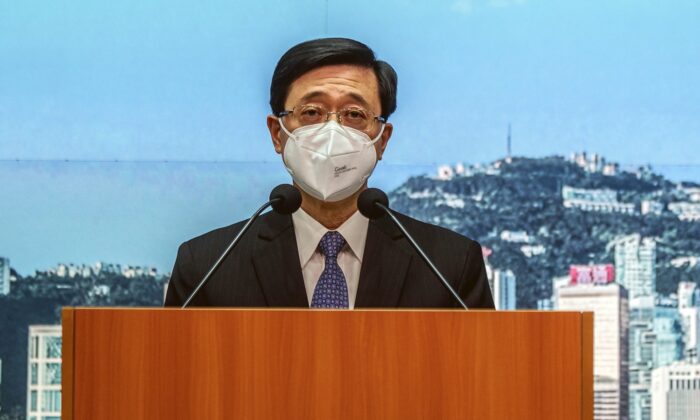 John Lee, Hong Kong's Chief Secretary, speaks during a news conference in Hong Kong, on April 6, 2022. (Lam Yik-Pool/Getty Images)
Hong Kong's No. 2 official John Lee, who's bidding to become the city's next leader, said Friday he'd been relieved of his duties and would soon inform the public of his "next moves."
John Lee, a staunch supporter of a Beijing-backed clampdown on pro-democracy activists, said the central government had accepted his resignation from his most recent post as chief secretary for administration.
That paves the way for him to put in a formal request to be anointed chief executive of Hong Kong.
Lee, who is seen as the Chinese Communist Party's (CCP) favored candidate for the chief executive position, is an advocate of the city's national security law, which has been used since 2020 to target pro-democracy activists, supporters, and media, diminishing freedoms promised to Hong Kong at Britain's handover to China in 1997.
His potential leadership of Hong Kong could signal a further tightening of the CCP's grip on the city.