Pelosi to Visit Taiwan on Tuesday: Sources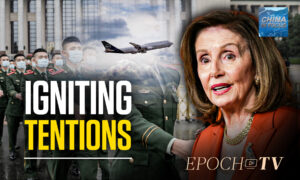 House Speaker Nancy Pelosi is expected to land in Taiwan on Tuesday. The potential trip is igniting tensions between the United States and China to a historical high—with Beijing threatening to take action.
After passing both chambers of Congress, an over $200 billion spending bill is heading to President Joe Biden's desk. Supporters say it will boost America's semiconductor manufacturing. Critics say it's a free giveaway for big corporations.
The United States and Japan are pledging deeper cooperation in a few key industries. America's ambassador to Japan says the move will help counter China.
Australian officials are partly blaming China for inflation at home. They say it involves Beijing's strict COVID-19 policy.
Topics in this episode:
Pelosi to Visit Taiwan on Tuesday: Sources
House Passes $280B Semiconductor Bill
Japanese Minister: China Uses 'Logic of Brute Force'
U.S., Japan Deepen Cooperation to Counter China
U.S., Japan to Cooperate on Semiconductor Research
Australia: Chinese Virus Control Worsening Inflation
China to Lend $148B in Financing for Developers
Fmr Ambassador: Lessons from Sanctions on Russia
Have other topics you want us to cover? Drop us a line: chinainfocus@ntdtv.org
And if you'd like to buy us a coffee: https://donorbox.org/china-in-focus
Subscribe to our newsletterfor more first-hand news from China.
Follow China in Focuson social media:
Twitter: https://twitter.com/ChinaInFocusNTD
Truth Social: https://truthsocial.com/@chinainfocus
Gettr: https://gettr.com/user/chinainfocus
Facebook: https://www.facebook.com/NTDChinainFocus
Gab: https://gab.com/ChinaInFocus
Telegram: https://t.me/ChinainFocusNTD
Click the "Save" button below the video to access it later on "My List"