Pelosi's Proposed Taiwan Trip Wins Bipartisan Support
U.S. Congress is rallying behind House Speaker Nancy Pelosi's potential trip to Taiwan in seemingly bipartisan unity as lawmakers on both sides urge her to visit the self-governing island democracy despite warnings from China.
The move has seen a rare intraparty rift emerging with President Joe Biden, who is wary about escalating tensions with China's communist regime. Pelosi, the top congressional Democrat and the third in line to the presidency, would be the highest-ranking U.S. politician since 1997 to travel to the island of Taiwan, which China has claimed as its own in past decades.
Beijing had threatened "serious consequences" last week if the speaker follows through on her reported plan.
The next day, Biden cast doubt on the proposed visit, while Pelosi deflected questions about the trip, citing "a security issue."
Nevertheless, she said at a news conference that it was "important for us to show support for Taiwan" and she believed Biden could be simply repeating warnings issued by the military.
"It's important that she goes and it's important eventually that Biden gets a backbone," Sen. Rick Scott (R-Fla.), the chairman of the Senate Republican campaign arm, told Breitbart News. "Unfortunately the Biden administration doesn't know how to have backbones, but we've gotta stand up for our allies," Scott said.
'Policy Crisis'
Sen. Tom Cotton (R-Ark.) said "a major foreign policy crisis" would occur if Washington bows down to China's threat by calling off the visit.
"Imagine what it will signal for the Chinese communists if they think they can threaten us into merely not traveling to Taiwan. It might in fact incite them and tempt them to go for the jugular in Taiwan," he told Fox News on July 26.
Former Speaker of the House Newt Gingrich, a Republican who visited Taiwan in 1997, also called on Pelosi to visit Taiwan and ignore China's threat.
"What is the Pentagon thinking when it publicly warns against Speaker Pelosi going to Taiwan?" he wrote in a Twitter post on July 24. "If we are so intimidated by the Chinese Communists [that] we can't even protect an American Speaker of the House, why should Beijing believe we can help Taiwan survive. Timidity is dangerous."
The White House and the Department of Defense did not immediately reply to a request for comment by The Epoch Times.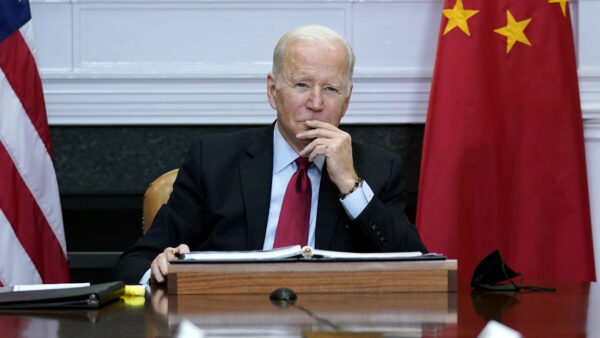 House Armed Services Committee Chair Rep. Adam Smith (D-Wash.) said, "I just don't think we can let China dictate to us where the Speaker of the House travels to." In a July 25 appearance on CNN's "At This Hour," the Democrat criticized Beijing's outrage, drawing a comparison with the Kremlin, both of which see "everything as provocative and threatening."
Congressman Ro Khanna (D-Calif.) shared a similar view on CNN's "Situation Room," asserting that a military response by China "would be the worst thing they could do."
Pelosi had planned to visit Taiwan in April but postponed travel after contracting COVID-19. The top U.S. lawmaker has positioned herself as a vocal critic of China almost since the time she was sworn into Congress in 1987.
Some Democrats, however, said the current timing of a Taiwan trip carries both economic and geopolitical risks, as Biden and Chinese leader Xi Jinping held a phone conference on Thursday.
Reaction
A series of upcoming events could also animate a Chinese response to a Pelosi visit. One of those events is the convening of the Chinese Communist Party congress in November, at which Xi intends to further cement his hold on power.
Earlier on July 25, Taipei staged air raid drills and the island's military performed routine defense exercises amid rising tensions over the potential visit, although there was no direct link between those exercises and threats posed by Beijing should Pelosi make the trip.
China has dispatched hundreds of sorties in Taiwanese airspace since Biden took office 18 months ago. Washington is legally obligated to ensure that the island democracy can defend itself and treats any threats against it with grave concern.
At his weekly news conference on July 26, Senate Minority Leader Mitch McConnell (R-Ky.), whose wife, former Transportation Secretary Elaine Chao, was born in Taipei, said it's "much more important" to make sure Taiwan is self-sufficient when it comes to potential threats from mainland China.
"We ought to refocus on what kind of military equipment they have—is that the right kind? And if not, working with them to make sure they actually have weapons that will deter the Chinese in case there is such an attack," McConnell said.
The Associated Press contributed to this report.