Rep. Perry on China Threat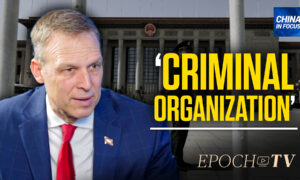 In this special episode, we hear from Rep. Scott Perry (R-Pa.) and former Deputy National Security Adviser of the United States KT McFarland.
Perry said, "The Chinese market is huge, and everybody wants the cash associated with the Chinese market. Sooner or later, we're going to have to deal with China and their market. And it's not the Chinese people that we take issue with. It is the communists, the ruling party in China."
And as to ways to counter that, KT McFarland said, "The only way we solve this is a national policy, to say American corporations are not going to invest in Chinese companies that are endangering American national security. American companies cannot, maybe, sell things to Chinese [companies]. We need to have a national policy so that it's a level playing field for all American companies."
Have other topics you want us to cover? Drop us a line: chinainfocus@ntdtv.org
And if you'd like to buy us a coffee: https://donorbox.org/china-in-focus
Subscribe to our newsletter for more first-hand news from China.
For more news and videos, please visit us on Gettr and Twitter.