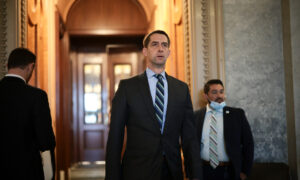 A group of Republican lawmakers is introducing legislation that would strip communist China of its special permanent trade status with the United States.
The "China Trade Relations Act" was introduced on Jan. 27 by GOP Sens. Tom Cotton (Ark.), Rick Scott (Fla.), Ted Budd (N.C.), and J.D. Vance (Ohio).
The legislation would end China's permanent status as a "most favored nation" (MFN). Instead, China would be required to seek presidential approval on an annual basis in order to maintain its MFN status.
"For twenty years, Communist China has held permanent most-favored-nation status, which has supercharged the loss of American manufacturing jobs," Cotton said in a prepared statement. "China never deserved this privilege in the first place, and China certainly does not deserve it today.
"It's time to protect American jobs and hold the Chinese Communist Party accountable for their forced labor camps and egregious human rights violations."
Bill to Punish CCP for Human Rights Abuses

MFN status, also known as normal trade relations (NTR), confers select nations with free trade benefits and acknowledges that the recipient nation will receive all the same trade benefits as any other nation with the designation.
China's communist regime has maintained MFN status since 1980, though there have been numerous efforts over the decades to revoke it, particularly after the 1989 Tiananmen Square massacre. The regime's MFN/NTR status was made permanent by the Clinton administration in 2000.
Vance said that the designation had allowed China's communist regime to effectively gut the American job market and that undoing such status is necessary to resurrect U.S. manufacturing efforts.
"In the state of Ohio, we have lost over 130,000 jobs since Congress made the catastrophic mistake of granting China special trade privileges two decades ago," Vance said. "I have seen the devastating effects of this job loss firsthand, and I know it's past time we did something to reverse that trend.
"This legislation is a strong step toward defending American jobs and revitalizing our domestic manufacturing capacity."
Alternatively, Sens. Scott and Budd argued that it was improper for the United States to allow the Chinese Communist Party (CCP) to maintain permanent MFN status due to its continued efforts to undermine U.S. national security and its record of human rights violations in Xinjiang, which the United States has recognized as a genocide.
"The Chinese Communist Party is not America's friend, and it is not a force for good in the world," Budd said. "From human rights abuses to the theft of U.S. jobs and intellectual property, the CCP must be held accountable. One of the most effective ways to push back on the CCP is to enact Senator Cotton's bill to end China's Permanent Normal Trade Relations status."
The China Trade Relations Act, in addition to requiring annual presidential approval for MFN status, would also expand the list of human rights violations that could result in the termination of such status.
Among the violations that could see China's MFN status revoked are the regime's use of slave labor, concentration camps, forced sterilization, forced organ harvesting, transnational repression schemes, and economic espionage against the United States.
"The CCP cares about one thing: undermining America," Scott said. "There is no reason why the United States should be helping a communist government's trade operation through preferential treatment and 'most-favored-nation' status.
"That is absolutely absurd when they are working against us. It is time to put American interests first, not the CCP, and reverse this antiquated law."