Scholar Uncovers Scars Left by Communist Rule in China: An Accident of History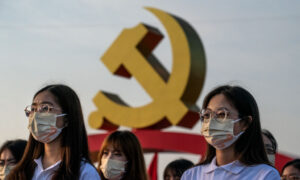 While the Communist Party was commemorating the 100th birthday of its inception in Beijing on July 1, a U.S. scholar highlighted the historical scars left by its rule.
"The communist party is an accident of history," said Minxin Pei, a professor at Claremont McKenna College, accusing the regime of leaving Chinese society "a very bloody legacy."
Pei was one of the four guest speakers at "The Chinese Communist Party At 100: Is The Past Prologue To The Future," a 90-minute panel discussion hosted online by the U.S.-based National Endowment for Democracy.
"If you look at the number of people killed in the campaign to suppress counter-revolutionaries…the number is approaching 10 million," he said, referring to the ideological projects of Land Reform, the Great Leap Forward, and the Cultural Revolution the Communist Party carried out during its rule.
Over 300,000 people on average, died annually due to disastrous policies in peacetime under the Chinese communist leader Mao Zedong's governance, according to Pei.
"It is probably the most consequential political regime in Chinese history," he said.
During the orchestrated events on Tiananmen Square on Thursday morning, regime leader Xi Jinping said, "At the same time, the Chinese people will never allow foreign forces to bully, oppress or enslave us."
"The party is its own worst enemy. When you look at what has actually destroyed the party, it's not some outside forces. It's all the party itself," said Pei.
Founded in July 1921, the Chinese Communist Party has been in national power since 1949. The number of Party members topped 95 million, according to the latest official data.
Pei doubted the figure indicates party allegiance, as the Chinese officials are "Liang Mian Ren," (a Chinese term meaning two-faced people) driven to join by material benefits or "out of fear," he added.
"The party does not know how many of its own … party members are actually loyal. And the party probably doesn't want to find that," he said.
A popular communist propaganda song was sung during the anniversary celebration, named "Without the Communist Party, There Would Be No New China."
"When the Party says the Chinese people or history picked [the] Communist Party, I think the Chinese people certainly did not have a say in this," said Pei.
The panel also discussed trade wars with the United States and Australia, Beijing's cover-up of the CCP virus pandemic, and suppression in Xinjiang, Tibet, and Hong Kong.