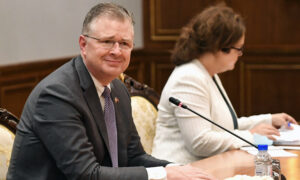 The U.S. State Department said on the eve of the 34th anniversary of the Chinese Communist Party's Tiananmen Square Massacre that a senior official would be visiting China from June 4.
Assistant Secretary of State for East Asian and Pacific Affairs Daniel Kritenbrink will be traveling to China from June 4, and then travel on to New Zealand, the department said in a statement on June 3.
In Beijing, Kritenbrink will be accompanied by National Security Council Senior Director for China and Taiwan Affairs Sarah Beran to "discuss key issues in the bilateral relationship" with Chinese Communist Party (CCP) officials.
According to a department spokesperson, Kritenbrink's official meetings in Beijing will begin on Monday. As always, Kritenbrink will raise human rights concerns with Chinese officials and continue to advocate for fundamental freedoms in China.
Kritenbrink is then scheduled to deliver a speech at the New Zealand Institute of International Affairs Conference in Auckland on 8 June and will travel to Wellington through June 10 to participate in the U.S.-New Zealand Strategic Dialogue.
He previously served as U.S. Ambassador to Vietnam during the Trump administration.
Daniel Kritenbrink, US Assistant Secretary of State for East Asian and Pacific Affairs, joins the keynote speakers for our flagship conference on 8 June. #NZIIA2023 Limited registrations are available here: https://t.co/zca1r0jcJG pic.twitter.com/Pbw0DP1HBe

— New Zealand Institute of International Affairs (@NZIIA_live) June 1, 2023
Secretary of State Antony Blinken also noted in a statement late June 3 that the United States would be observing the upcoming 34th anniversary of the Tiananmen Square Massacre.
"On June 4th, 1989, the Government of the People's Republic of China (PRC) sent tanks into Tiananmen Square to brutally repress peaceful Chinese pro-democracy protesters and bystanders alike," he said. "The victims' bravery will not be forgotten and continues to inspire advocates for these principles around the world."
An estimated 300,000 Chinese soldiers—many only 18 or 19 years old—were deployed to disperse the student protesters in what would become a bloody massacre.
According to the journal article "Why the People's Army Fired on the People: The Chinese Military and Tiananmen," there were around 100,000 students protesting in Tiananmen Square on June 4, cheered on by an estimated half a million onlookers.
When the soldiers opened fire, hundreds—potentially thousands—of protesters were estimated killed for standing up to say no to the CCP's oppression of human rights and freedoms in China under its one-party rule.
Official CCP figures claim that 241 died in the incident, including soldiers, and that 7,000 were wounded.
According to declassified documents provided by an unnamed whistleblower in December 2017, at least 10,000 were killed.
According to Andrew Nathan, professor of political science at Columbia University, the soldiers in the lead-up to June 4 were kept in isolation and thoroughly prepared via "political thought work" for a "clearing of Tiananmen Square," citing secret CCP documents with comments from former Chinese president and military leader Yang Shangkun who orchestrated the bloody assault.
Yang was working alongside Chinese leader Deng Xiaoping, who had earlier said that the PLA must be willing "to spill some blood" to restore order.
"The party leaders feared that the whole edifice of communism was going to collapse," said journalist John Pomfret, who was witness to the infamous event. "They needed to make a stand, and a bloody stand, to show their population, and in effect, to cow their population, back into submission."
Remembering the human rights tragedy, Blinken said in his statement: "The United States will continue advocating for people's human rights and fundamental freedoms in China and around the world."
Tensions Simmer
Kritenbrink's visit comes after a secret China visit by CIA Director William Burns last month following a crisis over what President Joe Biden called a "silly balloon" that the United States alleged to be a spy balloon belonging to China.
The balloon flew through U.S. airspace over sensitive military sites and was shot down by a U.S. fighter jet only after it had traversed the mainland and reached the Atlantic Ocean.
After the meeting, in which Burns had "emphasized the importance of maintaining open lines of communication in intelligence channels" with his Chinese counterparts, Biden said on May 21 that he expected a "thaw" in relations with China in the short term.
On May 25, U.S. Secretary of Commerce Gina Raimondo met with her Chinese counterpart Wang Wentao in Washington and expressed willingness to "build on the engagement between President Biden and President Xi" at the November 2022 G20 leaders' summit in Bali, Indonesia before the spy balloon diplomatic crisis.
Then on May 26, U.S. Trade Representative Katherine Tai met with China's Minister of Commerce Wang Wentao at an APEC Trade Ministers meeting in Detroit.
The White House has said it is working to facilitate visits to China by Blinken, as well as Treasury Secretary Janet Yellen and Raimondo.
Over the weekend, China still refused to hold military talks with U.S. officials at the Shangri-La Dialogue in Singapore—Asia's top security summit.
U.S. Defense Secretary Lloyd Austin warned the CCP that its reluctance to talk was undermining efforts to maintain peace in the region where tensions are running high.
Reuters contributed to this report.