Shanghai Lifts Lockdown After 9 Weeks, But Residents Remain Cautious
Cars roar down the streets. Dog walkers roam through city parks. Luxury malls open their doors and light up.
Sixty-five days later, Shanghai has finally come back to life—but normality seems a distance away.
On June 1, officials reopened shops, restaurants, buses, trains, and offices to many of the cities' 25 million, who had been cooped up in their apartments for more than two months.
The prolonged lockdown of China's most cosmopolitan city has caused shortages of food and daily necessities. Non-COVID patients struggled to obtain medicine or emergency care. Residents, including the elderly and children, suffered fears of being separated from their families and sent to quarantine facilities.
As the clock struck midnight on Tuesday, people cheered, cars honked, and fireworks exploded overhead.
But not everyone was in a celebratory mood.
"We could go out of communities freely today. But I don't want to celebrate yet. They might seal off again once a single positive case is recorded," a Pudong resident surnamed Wang told The Epoch Times on June 1.
"I'd rather be cautious," said another resident surnamed Wu, who lives in Yangpu district. She added she didn't venture outdoors on the first day of reopening.
New Frustrations
For newly released Shanghai residents, the conditions attached to reopening have brought a fresh set of frustrations.
A negative PCR test result from within 72 hours is essential to take the bus, and enter offices, shops, and other public venues.
Long queues became a common sight outside neighborhoods on Wednesday and Thursday. Many people endured an hours-long wait for white-suited healthcare workers to swab their throats as part of nucleic acid testing.
On the microblogging platform Weibo, one person posted a picture of a sign at a booth warning of a 4.5 hour wait. Commuters shared worries about not getting a PCR test on time. The hashtag "Shanghai Nucleic Acid Test" garnered 220 million views on Weibo on Thursday.
The mandatory screening, along with the previous citywide lockdown, was a result of the Chinese regime's harsh "zero-COVID" strategy, aimed at eliminating every infection among communities through mass testing and centrally quarantining anyone at risk.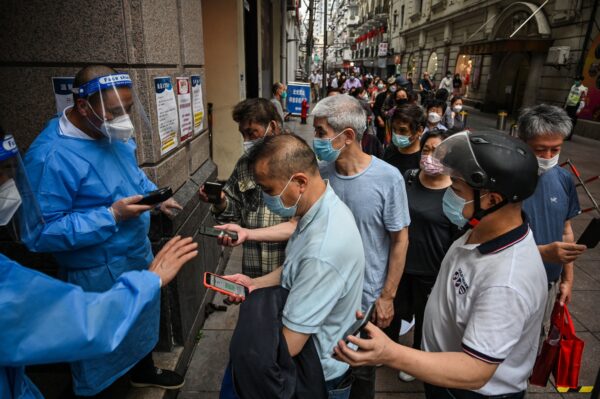 The Chinese regime has announced a plan to set up testing sites within a 15 minute walk for everyone in the country, with officials calling it "normalized" nucleic acid tests.
The requirements mean residents need to bring their phones and present a green health code on an official app wherever they go, allowing the authorities to track their movements and contacts constantly.
Discontent
From Wednesday, shopping malls and supermarkets were allowed to run at 75 percent capacity. Restaurants could resume operation, but dining in services are banned. Gyms, museums, and cinemas remain closed.
Still, some 2.5 million in the city remain under lockdown, according to officials, and the consequences of testing positive are the same as before: all positive cases will be sent to a centralized quarantine facility, and their close contacts—including neighbors—will be barred from leaving home.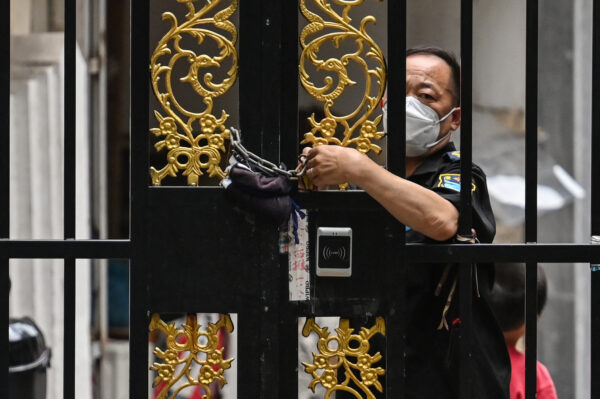 The regime's heavy-handed COVID-19 containment measures has provoked rare protests in the tightly controlled country, both online and onsite. Some fenced-in Shanghai residents had banged pans and pots out of their windows and screamed from their balconies to express discontent.
Shanghai authorities on June 1 issued a thank you letter to residents, with medical staff, health officials, residential committees staff, police, army among many receiving a special mention for their contributions.
"Under the strong leadership of CCP's Central Committee with Comrade Xi Jinping at the core, after more than two months of continuous fighting, the arduous battle to defend Shanghai has achieved a major milestone," it said.
The letter was met with widespread criticism on Weibo.
"Shouldn't those who wield great power and can arbitrarily inflict harm on others be held accountable?" one user commented.
"What we want is not a thank you, but an apology," another user wrote.
Luo Ya and Reuters contributed to the report.